Gome Chairman Says China Sales Growth to Accelerate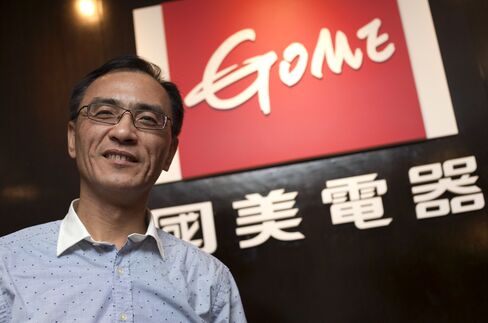 Gome Electrical Appliances Holdings Ltd., whose billionaire founder Huang Guangyu is facing bribery charges, forecasts sales growth will accelerate in China even as the government moves to curb speculation in the housing market.
China's largest electronics retailer by stores has also seen revenue unaffected by financial market turmoil in Europe and the U.S., Chairman Chen Xiao said yesterday. Gome is still benefiting as China increases subsidies for rural home-appliance spending and for urban residents to replace old units with new products, he said.
"We're still seeing strong sales because the property measures are aimed at easing rising prices, and not curbing local consumption," Chen said in an interview in Hong Kong, without giving figures. "China's economy won't be shielded from external factors but it has shown that it can rebound very quickly and continue to grow."
Gome, also China's second-biggest electronics retailer by market value, posted a 35 percent gain in 2009 profit after closing unprofitable stores and revamping outlets. The company also paid down debt after securing $431 million of financing last year as Huang, the largest shareholder with a 28 percent stake, was detained for "economic crimes."
"The company has improved the quality of its stores network by closing down underperforming outlets, while expanding in some areas," said Winnie Fong, an analyst at TaiFook Securities in Hong Kong. "The government incentives for consumer purchases of electronics will also support Gome's sales growth."
Property prices in 70 Chinese cities gained a record 12.8 percent in April from a year earlier. After a then-record 11.7 percent increase in March, the government unveiled measures to rein in speculation in the housing market.
Property Curbs
Last month, China tightened real-estate financing by requiring developers to submit fund-raising plans for review, in addition to introducing curbs on loans for third-home purchases, increased down-payment requirements and higher mortgage rates.
"Psychologically, there were concerns that such curbs would crimp consumption but we didn't see any slowdown in sales," Chen said. "Home buyers who made their housing purchases the past two years are now only starting to purchase appliances."
Gome fell 1.7 percent to close at HK$2.34 in Hong Kong today. The stock has fallen 17 percent this year, compared with a 7.9 percent decline in the benchmark Hang Seng Index.
Suning Appliance Co., China's biggest electronics retailer by market value, fell 1.9 percent to close at 10.15 yuan in Shenzhen trading. The stock has declined 27 percent this year.
Bribery Charges
Chen replaced Huang as Gome's chairman in January 2009. Huang's trial in Beijing ended last month after a one-day hearing of insider-trading and bribery charges.
Huang, once China's richest person, traded shares of Shenzhen-listed Beijing Centergate Technologies (Holding) Co. Ltd. worth more than 1.4 billion yuan with inside information and bought $106 million of Hong Kong currency illegally, according to the official Xinhua News Agency.
Huang, who had been held by police for 15 months, was also charged with bribing five government officials with 4.5 million yuan in cash and property between 2006 and 2008, Xinhua reported.
"The trial is now at the final stages of the legal proceedings and Huang is no longer involved in any of the company's operations," Chen said. "His status as a shareholder and the outcome of the trial won't have any effect on the company's operations and management style."
Bain Capital
Gome said March 1 its mainland unit Gome Appliance Co. was indicted for bribery at the Second Intermediate People's Court of Beijing. Gome Appliance was suspected of the offence between 2006 and 2008, when Huang, also known as Wong Kwong Yu, was the Chinese unit's legal representative, the retailer said.
"We won't know if the shareholding structure will change in the future and if there are any changes, this can also be viewed as a positive development," Chen said, adding other minority shareholders including Bain Capital LLC have wanted to increase their stake in the retailer.
Gome's net income in 2009 rose to 1.41 billion yuan ($207 million) from 1.05 billion yuan, while sales fell 7 percent to 42.7 billion yuan.
The retailer had 726 stores at the end of 2009, compared with 859 a year ago, the company said April 7. Same-store sales, which show how outlets are faring without the effect of newly opened shops, rose 2.81 percent last year, Gome said.
Staying Home
"The first-quarter same-store sales growth was very good," said Ashley Cheung, an analyst at BOCI Research Ltd. in Hong Kong. "Still, the full-year outlook remains to be seen because a drop in property transactions is a concern."
China will remain the core market for Gome in the next five years as the company has no plans to expand overseas, Chen said. "Our sales network is still not vast enough to fully tap the opportunities in China," Chen said. "There's no need for us to expand our resources in markets outside as yet.
"The Chinese people's aspirations to improve their standards of living are very strong. It's a good time to be in an industry with accelerating growth where some consumers are just learning to consume and some are renewing their purchases."
Before it's here, it's on the Bloomberg Terminal.
LEARN MORE