Goldman Sachs's Infrequent Losses Prove Client Focus, Cohn Says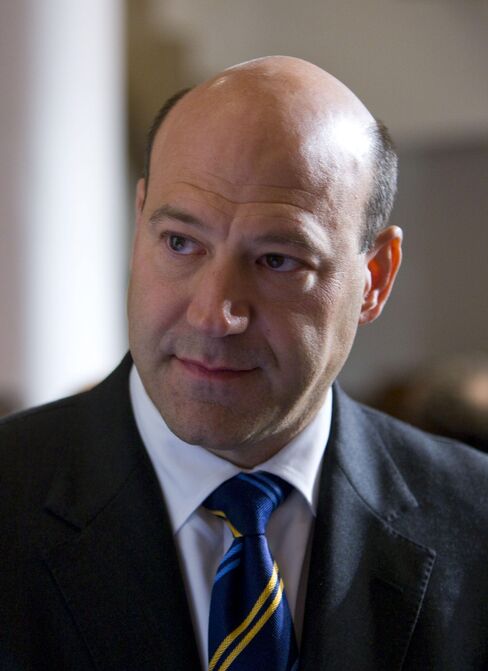 Goldman Sachs Group Inc.'s infrequent sales and trading losses are evidence that the division doesn't depend on proprietary trading to generate revenue, President and Chief Operating Officer Gary Cohn said.
"There is often speculation that proprietary trading revenues drive our outperformance in these businesses," Cohn said today at a financial services conference hosted by UBS AG in New York. "Over the last 12 months we have only recorded 11 loss days. It is implausible that a proprietary-driven business model could be right 96 percent of the time."
Goldman Sachs, which makes more money from sales and trading than any Wall Street firm, reported yesterday that it made at least $25 million trading every single day of the first quarter, the first perfect quarter in the company's history. The company's fixed-income, currencies and commodities business, known as FICC, and equities unit generate those returns by making markets for clients rather than betting the firm's own money, Cohn said.
"The simple answer is that our FICC and equities businesses are largely global market-making businesses where we intermediate flows and commit capital and liquidity and in the process generate revenue including bid-offer spreads," Cohn said. "These franchises create numerous opportunities for the firm."
Fraud Suit
Goldman Sachs is contesting a fraud lawsuit from the U.S. Securities and Exchange Commission, which alleges the firm misled investors about a mortgage-linked security in 2007. At a U.S. Senate subcommittee hearing last week, Goldman Sachs executives defended the company against accusations it made bets against the same securities it was selling to clients.
"Our business model is client-driven and given the dynamic and unpredictable world in which we operate, the needs of our clients will continue to drive our future strategic decisions," Cohn said today.
In response to an investor's question about how the firm views its fiduciary responsibility, Cohn replied that just one of Goldman Sachs's units has a fiduciary duty to clients: the asset-management division. He said markets would not work if market-makers like Goldman Sachs's sales and trading division were required to serve as fiduciaries to clients.
European policymakers came up with a "good response" to market concern about the euro this week when they unveiled a set of policies including a rescue package that amounts to nearly $1 trillion, Cohn said. Still, he said he expects more volatility in the markets as investors digest the potential consequences of the aid measures.
"We will continue to have relatively volatile markets until we get a better understanding," Cohn said. "And to the extent that the understanding is that it is a socialization of the risk into many of the other European economies, we may have continued negative fallout from that because there is an overall view that some of those other European economies are not strong enough themselves to be part of a global bailout."
*T *T