Gold Climbs to Record as Investors Seek Alternative to Currency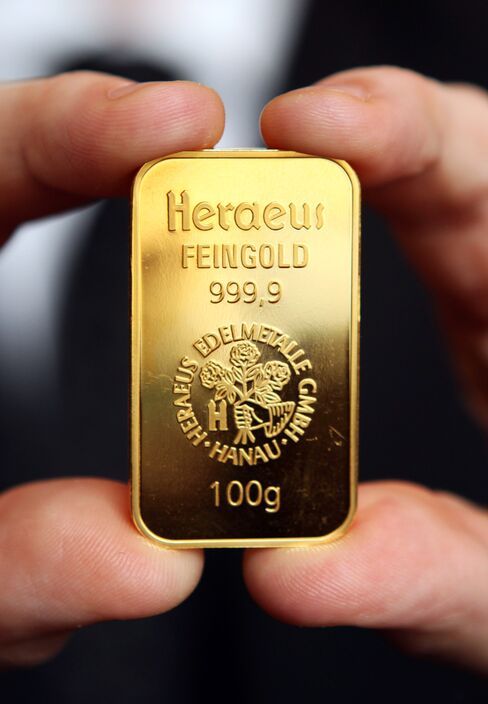 Gold rose to a record in New York and London on investor speculation that international financial support for indebted European states will depress currencies.
Gold has gained as investors questioned whether a loan package worth almost $1 trillion will prevent a repetition of Greece's debt crisis in other European states. Bullion rose to all-time highs in euros, British pounds and Swiss francs today. Holdings in the world's biggest exchange-traded fund backed by the metal have advanced 5.2 percent this year to a record.
"All we can do is to put our money into real assets, because paper money everywhere is being debased," Jim Rogers, the commodity investor who is chairman of Rogers Holdings in Singapore, told Bloomberg Television today.
Gold futures for June delivery climbed as much as $25.10, or 2.1 percent, to $1,245.40 an ounce and were at $1,239.40 at 7:52 a.m. on the Comex in New York. Gold for immediate delivery rose 0.5 percent to $1,239.05.
The metal advanced to $1,241.25 an ounce in the morning "fixing" in London, used by some mining companies to sell production, from $1,222.50 at yesterday's afternoon fixing. Spot prices have climbed in seven of the past eight weeks.
Gold is up 13 percent this year, heading for its 10th consecutive annual gain. The euro has dropped 11 percent against the dollar in 2010, the MSCI World Index of shares has slipped 1.7 percent and returns on benchmark U.S. Treasuries have advanced.
'Overbought' Market?
"Even though we believe the market is slightly overbought in the short run, it still has some way to go in case risk sentiment remains sour," said Andrey Kryuchenkov, an analyst at VTB Capital in London.
Gold's 14-day relative strength index, a gauge of whether a commodity or security is overbought or sold too heavily, climbed to about 75. To some technical analysts, a reading over 70 signals that prices may head lower soon.
Europe's debt crisis "isn't going to be that easy to fix," said Gavin Wendt, senior resource analyst with Mine Life Pty in Sydney. Gold is being driven by "fear that even though they're throwing a hell of a lot of money at this, it won't be resolved and that these debt issues will continue to spread to other countries, primarily Spain and Portugal."
European policy makers agreed at the weekend to a region-wide lending plan after a 110 billion-euro ($139 billion) support package for debt-laden Greece a week earlier failed to convince investors that similar sovereign debt crises would not be repeated in other nations.
More Debt
"They've waved this magic trillion-dollar wand in front of everyone, but where is it going to come from?" Frank McGhee, head dealer at Integrated Brokerage Services LLC in Chicago, said yesterday. "They're stopping a debt problem by creating more debt. Sooner or later, everybody stops trusting paper, and that's the lure of gold."
Bullion rose to 980.0135 euros an ounce, 833.6573 pounds and 1,381.505 Swiss francs today. The metal climbed to 115,523.3 yen, the highest price since February 1983.
There are "more reasons to hold gold now than there were even 12 months ago, when we had the remnants of the financial crisis," Mine Life's Wendt said. A forecast for prices of $1,500 an ounce by year-end would be "quite a reasonable target" given renewed demand, he said.
Gold in one month will be at $1,300 an ounce, up from a previous forecast of $1,200, and silver will be at $18.50, up from $16, UBS AG analyst Edel Tully said today in a report. She increased her three-month price forecasts for gold to $1,200 and silver to $17.25.
$1,800 an Ounce
"A bubble is forming with sovereign debt," said Peter Sorrentino, who helps manage $13.8 billion at Huntington Asset Advisors in Cincinnati, adding that gold may soar to $1,800 an ounce within three years. "We want to hold gold as a reserve of wealth, because there's a big devaluation of G-7 currencies ahead."
Among other precious metals futures, silver for July delivery rose as much as 1.9 percent to $19.665 an ounce, the highest price since March 2008, and was last up 1.4 percent at $19.56. Platinum added 0.6 percent to $1,711.50 an ounce, its third consecutive gain. Palladium advanced 1 percent to $537.50 an ounce.
Silver and platinum are likely to "wax and wane" with the economic outlook because of their industrial uses, Wendt said. Silver, often associated with photography and jewelry, is used in industrial products from ball bearings to chemical catalysts, according to the Silver Institute. Platinum is employed in automotive pollution-control gear.
Before it's here, it's on the Bloomberg Terminal.
LEARN MORE