Apollo, Carlyle Sell IPOs as Volatility Surges Most in 20 Years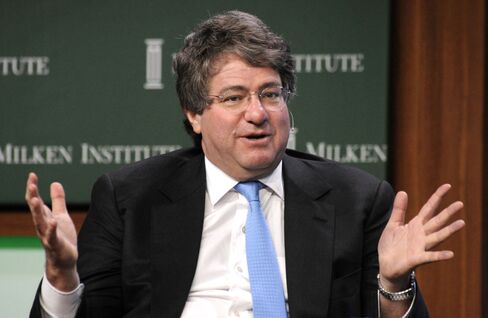 Apollo Global Management LLC and Carlyle Group are leading almost $1.3 billion in U.S. initial public offerings by private-equity firms this week, looking for the biggest advance in stocks in 13 months to outweigh the most volatile equity markets in two decades.
Noranda Aluminum Holding Corp., the maker of rolled coils controlled by Leon Black's Apollo, is seeking $267 million in an IPO tomorrow, its filing with the Securities and Exchange Commission showed. Niska Gas Storage Partners LLC, the natural gas storage operator owned by Carlyle, plans to sell $385 million. Express Inc., the specialty apparel retailer backed by Golden Gate Capital, is asking for $320 million.
At least 11 companies around the world postponed or withdrew IPOs this month as equities fell the most since 2008 and a gauge of U.S. stock-market volatility posted the biggest surge in its two-decade history. The Standard & Poor's 500 Index rallied the most since March 2009 yesterday after European policy makers announced an almost $1 trillion loan package to aid the region's most indebted nations, encouraging private-equity firms to go ahead with sales this week.
"There's no question that the weekend surprise package has helped," said Michael Holland, who oversees more than $4 billion as chairman of Holland & Co. in New York. "It still doesn't change the fact that investors remain very, very circumspect. The private equity-backed deals will have to be priced realistically."
1987 Crash
The biggest intraday decline in the Dow Jones Industrial Average since the crash of 1987 on May 6 helped derail what was scheduled to be the busiest week for U.S. IPOs.
Billionaire Ron Burkle's Americold Realty Trust of Atlanta, Ryerson Holding Corp. in Chicago and Santa Ana, California-based Smile Brands Group Inc. all postponed initial sales as the Dow Industrials sank as much as 9.2 percent. Waves of computerized trading exacerbated a selloff sparked by Europe's debt crisis, helping send the VIX, as the Chicago Board Options Exchange Volatility Index is known, to an 86 percent weekly jump.
The VIX sank 30 percent yesterday, the biggest drop on record, while the S&P 500 climbed 4.4 percent as the 16 euro nations agreed to offer assistance to countries struggling to finance budget deficits.
The rally came as nine companies prepared to price IPOs this week, making it the busiest period for deals this year. The five biggest sales are all backed by private-equity firms, according to Bloomberg data.
'High-Growth, High-Risk'
"U.S. IPOs have a more challenging environment," said Josef Schuster, the Chicago-based manager of the Direxion Long/Short Global IPO Fund. "I don't think all nine will happen. You can't expect people to jump on the small- and mid-cap, high-growth, high-risk, IPOs."
Noranda Aluminum is selling 16.67 million shares at $14 to $16 each, according to its SEC filing. The company plans to use the proceeds to repay debt.
At the midpoint price, the Franklin, Tennessee-based company is valued at 6.42 times its earnings before interest, taxes, depreciation and amortization of $141.2 million over a full year, based on Noranda's first-quarter results. That's higher than the median of 6.33 times 2010 Ebitda for 27 aluminum producers globally, data compiled by Bloomberg show.
The Noranda deal would exceed Apollo's $240 million offering of Metals USA Holdings Corp., becoming the largest IPO of one of the private-equity firm's portfolio companies since the credit crisis. Fort Lauderdale, Florida-based Metals USA has slumped 27 percent since its initial sale.
Carlyle, Riverstone Holdings
Niska, controlled by Carlyle and Riverstone Holdings LLC, is selling shares at $20 to $22 each. At the midpoint price, Niska is valued at 6.65 times its tangible book value. That's almost three times more than the median of 2.4 times for 39 publicly-traded U.S. competitors, according to Bloomberg data.
Carlyle, the Washington-based buyout firm that oversees more than $88.6 billion, and Riverstone, the New York-based firm that manages $17 billion and specializes in energy and power investments, offered shares of Houston-based Cobalt International Energy Inc. in December. Buyers in the $958 million IPO have lost 32 percent of their investment since.
Express, which operates 573 outlets across the U.S. targeting consumers between 20 and 30 years old, plans to sell 16 million shares at $18 to $20 each. Golden Gate Capital, the San Francisco-based buyout firm that oversees $9 billion, owns a 67 percent stake.
'Best They Can'
At the midpoint price, the Columbus, Ohio-company is valued at 22.39 times its 2009 per-share net income. That's more than twice as much as the median price-earnings ratio for 30 publicly traded U.S. competitors, Bloomberg data show.
LBO firms have been forced to take some of the biggest discounts among 2010's IPOs after distributions to clients last year decreased to the lowest since at least 2000, data from London-based Preqin Ltd. showed.
Blackstone Group LP in New York, the world's largest private-equity firm, raised less than half of what it sought for York, Pennsylvania-based Graham Packaging Co. in February.
"This market volatility will make it difficult for IPOs," said Giri Cherukuri, who helps manage $1.8 billion at Oakbrook Investments in Lisle, Illinois. "These PE deals are trying to raise liquidity and doing the best they can to sell. They'll take what they can so they can cash out on their investments."