U.S. Judge Won't Dismiss Ghailani Terror Indictment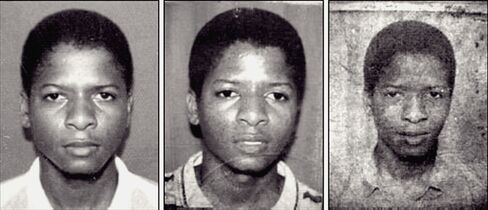 A federal judge refused to dismiss charges against a Tanzanian accused in the 1998 bombings of two U.S. embassies, after the man alleged he was tortured while in U.S. custody.
Lawyers for Ahmed Khalfan Ghailani had asked U.S. District Judge Lewis Kaplan in Manhattan to throw out all charges against their client, saying that he was tortured while being held at Guantanamo Bay, Cuba. The lawyers also said Ghailani's 57-month detention violated speedy-trial laws.
The defendant, who has pleaded not guilty, is accused of being part of a criminal terrorist conspiracy in the bombings of U.S. embassies in Dar es Salaam, Tanzania, and Nairobi, Kenya, that killed 224 people, including 12 Americans. Ghailani, who was captured in July 2004 in Pakistan, was taken to Guantanamo in 2006 and transferred to the U.S. in June. He is the first detainee from Guantanamo to be tried in a U.S. civilian court.
"If, as Ghailani claims, he was tortured in violation of the Due Process Clause, he may have remedies," Kaplan said in a ruling issued today. "In this case, Ghailani has not identified explicitly the component of his due process rights that allegedly was violated." Kaplan didn't rule on Ghailani's speedy-trial motion.
'Active Participant'
Peter Quijano, a lawyer for Ghailani, didn't return a voicemail message left at his office seeking comment. Janice Oh, a spokeswoman for Manhattan U.S. Attorney Preet Bharara, declined comment.
The U.S. said in court papers that Ghailani fled Africa after the bombing and "remained an active participant in al-Qaeda." After he was captured, Ghailani was held and questioned by the Central Intelligence Agency and later the Department of Defense, the U.S. said in court papers, much of which are redacted and remain under seal.
Lawyers for Ghailani, who was added to the indictment in December, 1998, had argued all 286 counts should be dismissed, including a charge of cooperating with Osama Bin Laden and other members of al-Qaeda to kill Americans around the world.
He was later transferred to Guantanamo where he remained until June 2009, when he was moved to civilian court to be prosecuted in federal court in New York.
"On many occasions, Mr. Ghailani was subjected to physical and psychological abusive treatment with an aim of obtaining compliance and extracting additional information," his lawyers said in court papers.
'Outrageous' Violation
"We respectfully submit that the Government violated the Due Process Clause of the Fifth Amendment to the United States Constitution." the lawyers said. "We further submit that this violation was 'so outrageous' that it requires the ultimate sanction of dismissal."
Judge Kaplan rejected Ghailani's motion, saying Ghailani had failed to "explicitly identify" how his rights were violated. The judge also noted that prosecutors have said they wouldn't use any evidence learned from the CIA or Department of Defense interrogations to be used against him at trial.
"He argues that both the CIA's use of 'enhanced interrogation techniques' -in his word, torture- to question him and the fact that the use of those techniques was authorized by the 'highest levels of our government' are 'so fundamentally unfair,'" that the indictment should be dismissed, Kaplan said.
Due Process Denied
"The defendant's motion to dismiss the indictment on the grounds of allegedly outrageous government conduct in violation of his Fifth Amendment due process right is denied," he said.
The government argued Ghailani was an al-Qaeda terrorist who purchased components for the Tanzania attack, including explosives and detonators.
U.S. prosecutors didn't address whether or not Ghailani had been mistreated while in U.S. custody.
During a court hearing in January, U.S. Attorney Michael Farbiarz said Ghailani provided "actionable useful intelligence." Farbiarz said the "the incredible importance of national security" should justify the delay in Ghailani's civilian trial.
"The government was not trying to gain any advantage over the defendant," he said. "The government was trying, based on information provided by the defendant, to incapacitate here. The U.S. has the need to prosecute and the need to protect."
Four others were convicted of the conspiracy in a 2001 federal trial in New York and are serving life sentences.
The case is U.S. v. Ghailani, 98-cr-1023, U.S. District Court, Southern District of New York (Manhattan).