Pound Set to Rally as Gordon Brown's Economy Rebounds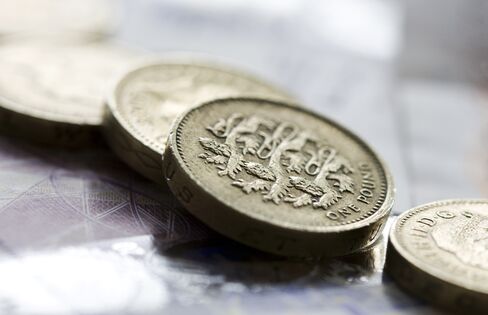 Investors are turning the most bullish on the pound versus the euro since the collapse of Lehman Brothers Holdings Inc. in 2008 as they judge the U.K. economy a better bet than the rest of Europe's.
Even as general elections failed to produce a winner for the first time in more than 30 years and the nation's debt load threatens a credit downgrade, the premium traders pay to bet sterling will weaken against the euro has all but evaporated in the past 10 weeks. The pound gained 4 percent versus the euro in that time. Purchasing power parity, a measure of the relative cost of goods, shows the U.K. currency is 13 percent undervalued, based on data compiled by Bloomberg.
Growth in home-loan approvals and consumer confidence, as well as falling claims for jobless benefits, are buoying Britain's currency, ahead of a new government that will replace Prime Minister Gordon Brown's defeated Labour administration. The euro tumbled 4.1 percent against the dollar last week as Greece's debt crisis spread.
"Europe is getting worse and worse every week and Britain is getting better," said John Taylor, who helps oversee $7.5 billion as chairman of New York-based FX Concepts Inc., manager of the world's largest currency hedge fund. "The pound isn't a great currency but it's a hell of a lot better than the euro."
Changing Forecasts
Sterling, rose to 85.62 pence per euro at 10:29 a.m. in New York today after earlier dropping 0.6 percent, will appreciate to 80 pence by the end of the year, BNP Paribas SA said on May 6, changing its forecast from a decline to 97 pence. Bank of Nova Scotia, Canada's third-largest lender, changed its prediction to 82 pence from 90. European policy makers yesterday unveiled an unprecedented loan package worth almost $1 trillion and a program of bond purchases to resolve the sovereign-debt crisis that's undermining the euro.
"The weaknesses in the EU framework that have emerged are much bigger than we initially thought," said Camilla Sutton, a Bank of Nova Scotia currency strategist in Toronto. "The problems for the U.K. are significant. The problems facing the euro zone are far bigger."
The last time sterling traded at 80 pence per euro was in November 2008, less than two months after Lehman filed for bankruptcy on Sept. 15 amid a banking crisis that drove the global economy into its deepest postwar recession.
The pound is up 2.4 percent from its low this year on March 10, after falling 7.4 percent the previous six weeks, Bloomberg Correlation-Weighted Indexes show.
'Disappointed' Traders
"People who bet a few months ago that the pound will fall because of the prospect of a hung parliament must have been disappointed because the pound has been quite resilient," said Stephen Jen, a managing director at hedge fund BlueGold Capital Management LLP in London and a former International Monetary Fund economist. "When it comes to currencies, I tend to look at the economic outlook and valuation. The U.K. economy is flexible and recovering and it's cheap."
Factory production, which Bank of England policy maker Kate Barker said on March 9 was failing to benefit from the pound's weakness, is rebounding.
A manufacturing index based on a survey of companies by Markit Economics and the Chartered Institute of Purchasing and Supply rose to 58 in April, the highest level in 15 1/2 years, according to a May 4 survey. Cookson Group Plc, the world's biggest maker of ceramic linings for metal smelters, said April 26 that first-half profit will rise as much as 20 percent. Dyson Ltd., a maker of bagless vacuum cleaners, said last month it plans to recruit 350 engineers and scientists to work on new products.
Risk Reversals
Mortgage approvals increased for the first time in four months in March, the Bank of England said May 4.
Traders turned the most bullish on the pound versus the euro last week since October 2008. The premium for one-month call options, which grant the right to buy the euro against the pound, fell to a low of minus 0.5 percentage point on May 6, relative to puts, which grant the right to sell. It closed at 1.4 percentage points on March 1.
Economic growth will accelerate to a 2.2 percent annual rate by the end of the year, from minus 0.3 percent in the first quarter of 2010, according to the median of nine analyst forecasts compiled by Bloomberg. Europe's economy may grow 1 percent, the data show.
Interest Rates
As the economy expands, the Bank of England may raise interest rates to cool inflation, according to HSBC Holdings Plc and Goldman Sachs Group Inc. Consumer prices rose 3.4 percent in March from a year earlier, breaching the central bank's upper limit for the second time this year, the National Office of Statistics said April 20. The European Central Bank may cut rates to stave off a slump fueled by Greece's debt crisis, Citigroup Inc. said May 4.
"The BOE will try to be proactive in bringing inflation under control," said Paul Mackel, a director of currency strategy at HSBC in London. "Growth will be strong enough to stomach any particular tightening."
While HSBC expects rates will rise to 1.25 percent this year from the record low 0.5 percent, "if the political situation turns out to be much more uncertain than has been the case that type of view would be less warranted," Mackel said.
Liberal Democrat leader Nick Clegg, who holds the balance of power after the election, is in talks with Conservative David Cameron on a proposed alliance to oust Brown.
"The negotiating teams are working really well together," William Hague, the former Conservative leader, said after a 90-minute meeting today, the fourth with lawmakers from the third-biggest party. "Bear with us a little longer," Clegg told reporters.
1974 Precedent
The last time a British election failed to produce a clear winner, it took four days before Conservative leader Edward Heath resigned as premier, allowing the Queen to name Labour's Harold Wilson to head a minority government. The pound fell 28 percent the next two years and the government's failure to rein in the budget deficit led to an IMF bailout.
A deficit that is almost 12 percent of the economy, compared with 3.3 percent in Germany, may weigh on sterling.
Standard & Poor's affirmed its "negative" outlook on the U.K.'s AAA rating on March 29 "in the absence of a strong fiscal consolidation plan." Moody's said March 15 that Britain has moved "substantially" closer to losing the top rank as debt costs climb. Fitch Ratings said March 24 the pace of deficit reduction is too slow.
"The problems aren't radically different than those that are plaguing southern Europe," said David Gerstenhaber, founder of New York-based Argonaut Management LP, which oversees about $1 billion. "On a structural basis, it's running a major budget deficit and has engaged in significant quantitative easing; more may be in store, which would challenge the currency if that comes to pass."
'Slim' Chance
The likelihood that a U.K. coalition government will hurt the pound "seems slim," Mansoor Mohi-uddin, global head of the currency strategy at UBS AG in Singapore, wrote in a report April 26. "All political parties are committed to cutting Britain's record budget deficit. Any future coalition government would agree to tighten fiscal policy through a new budget this summer. Moreover, the U.K. doesn't face runaway inflation as it did in the 1970s."
Rising yields on British government bonds relative to German bunds may attract investors to the pound, according to Citigroup. Two-year gilts yield 0.54 percentage point more than bunds, up from minus 0.02 percentage point at the start of the year.
Purchasing Power Parity
Surpassing 0.3 percentage point "was a key pivot towards the end of 2008," when the pound gained 3.4 percent in the final quarter of the year, Citigroup technical analysts including Tom Fitzpatrick in New York and London-based Shyam Devani wrote in a note to clients on April 21. "Euro-sterling is vulnerable."
Purchasing power parity, a measure of the cost of goods relative to other countries, shows the pound is 13 percent below its true value against the euro, the fourth-largest disparity among the currencies of the Group of 10 countries, Bloomberg data show.
"You'll know the pound has gone too far when the Brits are flying over to Europe to do their shopping," said Jacob Bourne, head of inflation trading at Capstone Investment Advisors in New York.
Before it's here, it's on the Bloomberg Terminal.
LEARN MORE