Kagan Nomination Gives Sestak Chance to Scold Specter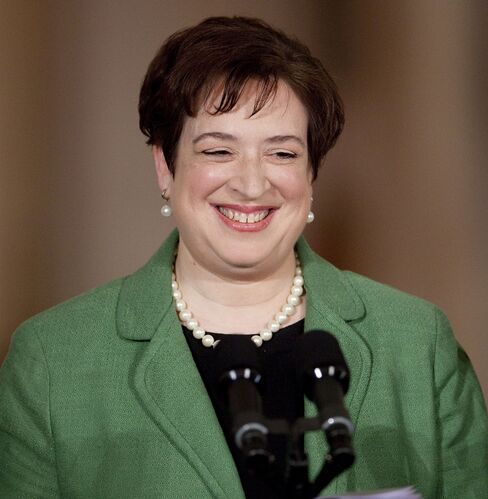 May 11 (Bloomberg) -- Elena Kagan's Supreme Court nomination provided Pennsylvania U.S. Senate candidate Joe Sestak ammunition to attack Senator Arlen Specter's record on judicial confirmations as the Democratic primary matchup between the two men entered its final days.
Shortly after President Barack Obama yesterday announced his selection of Kagan for the high court, Sestak criticized Specter for voting against her confirmation last year to be U.S. solicitor general, the government's top advocate before the Supreme Court.
Polls show Sestak, a second-term House member, and Specter, a 2009 convert to the Democratic Party after serving almost 30 years as a Republican senator, locked in a close race in Pennsylvania's May 18 Senate primary.
The Specter campaign released an advertisement today in which Obama encourages Pennsylvania voters to support the incumbent, in part because while still a Republican he cast one of the key votes in favor of the administration's economic stimulus package in February 2009.
"You know he's going to fight for you regardless of what the politics are," Obama says in the ad. "I love you and I love Arlen Specter."
'Backtrack' Prediction
In a statement yesterday, Sestak predicted that Specter would "backtrack" from his opposition to Kagan last year "in order to help himself" win votes. "But the people of Pennsylvania have no way of knowing where he will stand" after the primary, Sestak said.
As Specter campaigned yesterday in his home state, he declined to say how he would vote on Kagan later this year, saying in a statement that he had "an open mind on her nomination." Specter said Kagan "has exemplary academic and professional credentials," and that the Supreme Court post "is a distinctly different position" than her current job.
He said he voted against Kagan's confirmation to be solicitor general "because she wouldn't answer basic questions about her standards for handling that job."
Specter cast his floor vote against Kagan on March 19, 2009, when he was still a Republican. Barely more than a month later, on April 28, Specter announced his party switch, a decision he said was spurred in part by the "bleak picture" that public opinion polls in Pennsylvania painted of his prospects for winning the Republican nomination in 2010 for another six- year term.
'Important Questions'
Specter said in his statement yesterday he hoped that during Senate Judiciary Committee hearings on her Supreme Court nomination, Kagan will "address important questions related to her position" on such issues as executive power, abortion, voting rights and warrantless wiretapping of suspected terrorists. Specter is a member of the committee.
Asked in Allentown, Pennsylvania, if she could answer such questions in a way that would satisfy him, he said, "Sure, that's why I say I have an open mind."
Asked earlier in Philadelphia about Kagan never having served on a judicial bench, Specter said that when Obama asked for his advice on potential nominees, "I told him that I think we ought to get someone with broader experience" than another judge, "so I like that aspect of her background."
Anita Hill Issue
Sestak, in pressing his case against Specter yesterday, sought to revive feminist ire at the senator over his treatment of Anita Hill during Supreme Court Justice Clarence Thomas's 1991 Senate confirmation hearings. Sestak, 58, charged that Specter, 80, had "overstepped the bounds of decency" in the way he challenged Hill's allegations that Thomas had sexually harassed her.
Specter's attempt to shake Hill of her story incurred the condemnation of feminist groups, and in 1992 he narrowly won re-election over Democrat Lynn Yeakel, 49 percent to 46 percent.
In his 2000 autobiography "Passion for Truth," Specter acknowledged it was "impolitic" to state his belief that Hill perjured herself when testifying against Thomas. Still, "my charge about Hill's veracity was not unfair or inappropriate, and it was legally correct," he wrote.
"The people of Pennsylvania and this country deserve someone they can count on to be objective and act in the best interest of the nation -- not to exploit such an important process for their political gain," Sestak said yesterday.
The latest polls show a tight race between Sestak and Specter. Sestak's lead of 47 percent to 42 percent over Specter in a May 6-9 telephone survey by Muhlenberg College's Institute of Public Opinion was within the poll's error margin of plus-or-minus five percentage points. The poll showed that 11 percent remained undecided in advance of next week's primary.
A Rasmussen Poll showed Sestak leading by the same 47 percent to 42 percent, with 8 percent undecided. It found Specter's support had declined from 48 percent in March.
To contact the reporters on this story: James Rowley in Washington at jarowley@bloomberg.net; Lisa Lerer in Washington at llerer@bloomberg.net.
To contact the editor responsible for this story: Robin Meszoly at rmeszoly@bloomberg.net.