How Wing Chau Helped Neo Default in Merrill CDOs Under SEC View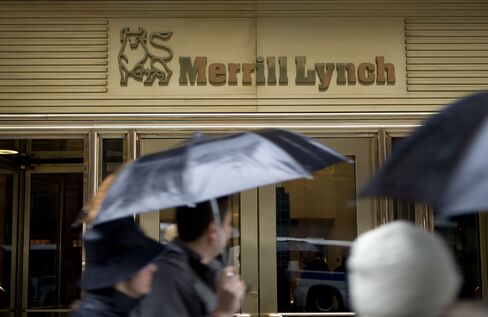 In early 2007, with subprime-mortgage defaults soaring, Wing F. Chau teamed with Merrill Lynch & Co. to create a $300 million pool of assets that shared a name with the main character in The Matrix movies who discovers reality isn't what it seems.
Neo CDO Ltd. was a complex construction. More than 40 percent of its holdings were slices of collateralized debt obligations sold by Merrill, according to Moody's Investors Service and data compiled by Bloomberg. Many of those were CDOs made up of other CDOs backed by bonds linked to home loans. About one-sixth of Neo was invested in junk-rated debt.
Eight months after the deal closed, Neo defaulted, wiping out most of its investors. It was one of seven transactions that Chau, 43, hatched with Merrill and Citigroup Inc. in 2007 as banks raced to offload mortgage assets, helping to make his firm, Harding Advisory LLC, the biggest manager of CDOs tied to risky mortgages and related derivatives issued that year.
"People on the outside thought the market was going gangbusters because of all the deals getting done," said Gene Phillips, director of PF2 Securities Evaluations, a New York- based company that helps banks and funds evaluate CDOs. "People on the inside knew this was a last-gasp attempt to clear out the warehouses."
Financial Machine
Managers such as Chau were at the center of a financial machine that pumped out more than $200 billion of mortgage-linked CDOs in the months before the subprime crisis spread. They picked the securities that went into CDOs and held themselves out as independent agents. Now potential conflicts of interest and questions about what banks disclosed have drawn regulators' attention.
First devised in 1987 by bankers at now-defunct Drexel Burnham Lambert Inc., CDOs are used to package pools of assets such as mortgage bonds, loans for leveraged buyouts and bank capital notes into securities with varying risks.
Merrill, the biggest retail broker at the time, built itself into the top CDO underwriter with the help of firms such as Harding, which Chau founded in 2006. Three years after getting started in the business, Chau, a graduate of the University of Rhode Island, was overseeing almost $21 billion of CDOs, the second-largest amount tied to asset-backed securities of any firm. About two-thirds of his business came from Merrill, according to Bloomberg data.
Interactions across the industry among bankers, asset managers, ratings firms and lawyers contributed to what Lang Gibson, head of CDO research at Merrill until early 2008, called a "Ponzi scheme" of CDOs buying other CDOs.
"It was the most incestuous market around," Gibson said.
SEC Investigation
The U.S. Securities and Exchange Commission last month accused Goldman Sachs Group Inc. of fraud in its sale of another 2007 CDO. The regulator is investigating more than 50 firms in the U.S. and U.K. to see how managers handled CDOs and other vehicles that held asset-backed securities during the credit crisis, Mary Schapiro, chairman of the agency, said in January.
After announcing the Goldman Sachs case on April 16, Robert Khuzami, chief of enforcement, said the SEC was looking at products and practices "across the spectrum" for misconduct. John Nester, a spokesman for the SEC, declined to comment about any specific companies that might be under investigation.
The U.K.'s Financial Services Authority is also looking at the way banks sold structured products such as CDOs, according to lawyers who advise lenders.
At least three lawsuits allege that asset managers including Harding served underwriters more than investors.
'No Conclusive Signs'
Chau calls suggestions that he constructed CDOs to benefit banks "outrageous."
"At the time, there were no conclusive signs that we were headed into the greatest economic crisis since the Great Depression," he said in an e-mail response to questions from Bloomberg News. "Many investors that chose to purchase the bonds were among the most sophisticated in the world, including the proprietary trading desks of investment banks as well as large insurance companies."
In its case against Goldman Sachs, which the New York-based bank called unfounded, the SEC said the firm failed to disclose to investors that a hedge fund client who planned to bet against a CDO helped the manager select the underlying bonds.
A look at three of Harding's final CDOs shows that other underwriters, including Merrill and Citigroup, also may have failed to disclose what they knew about the securities' risks. At a Senate hearing about Goldman Sachs last month, Michigan Democrat Carl Levin referred to a prior inquiry into the causes of the Great Depression that said a banker shouldn't sell what "he does not believe to be good," underscoring a view that even sophisticated investors may need better protections.
Rabobank vs. Merrill
While shareholders and most employees of Merrill were among the biggest losers, they weren't the only ones hurt. The firm wrote down more than $25 billion on CDOs it couldn't or didn't sell, and other items related to the business, before it was bought by Bank of America Corp. in a government-assisted deal at the start of 2009.
One case against Merrill, filed by Rabobank Nederland NV in June 2009, said Harding was among a group of managers "beholden" to Merrill that allowed it to dump unwanted holdings into their deals, ultimately costing the Dutch lender $45 million. Harding isn't a defendant.
In a lawsuit filed in March 2009, a hedge fund manager who once was the head trader of asset-backed bonds at Citigroup said he lost almost all of his $3 million investment in a Harding-managed CDO in six months because Chau allowed Citigroup to repackage "unsellable junk" instead of serving as a watchdog. A dismissal of the case was appealed on April 27.
'Final Authority'
Merrill and Citigroup also face suits from MBIA Inc., the largest bond insurer, and Ambac Financial Group Inc., the second biggest, which said they stand to lose billions of dollars because the banks dumped CDOs they knew were rotten into new CDOs that MBIA and Ambac insured relying on misleading statements about their risks.
"The managers had final authority on collateral selection decisions, and, in actively managed CDOs, managing and trading the assets after the underwriting," said Bill Halldin, a spokesman for Charlotte, North Carolina-based Bank of America.
Alex Samuelson, a spokesman for Citigroup in New York, declined to comment.
No Consensus
Chau said that more than 80 firms, including BlackRock Inc., TCW Group Inc. and Fidelity Investments, managed CDOs created in 2007 and that "the number and the prominence of the firms participating in the CDO industry" shows there wasn't a consensus that the housing market was in trouble.
Billionaire investor Warren Buffett made a similar point in defending Goldman Sachs.
"It's very strange to say at the end of a transaction, if the other guy was smarter than you that you were defrauded," Buffett, whose Berkshire Hathaway Inc. invested $5 billion in Goldman Sachs in 2008, told reporters May 2 at his company's annual meeting in Omaha, Nebraska.
Still, CDOs such as Neo offered little margin for error. They were backed by lower-ranking CDO slices in turn backed by low-ranking pieces of other deals. Each was among the first to be wiped out if mortgage defaults topped rating-firm estimates.
Chau said he wouldn't comment on Neo because it was sold privately without SEC registration. Buyers of his CDOs spent "vast sums" assessing such debt, he said.
Rhode Island Restaurant
Chau, who told colleagues that he grew up in Rhode Island where his family owned a restaurant, started his career as a junior analyst at Prudential Securities and then at Salomon Brothers, where he wrote reports on the bonds spawned during a boom in subprime lending in the 1990s. He also has a master's degree in finance from Babson College in Wellesley, Massachusetts.
He joined New York Life Insurance Co. as a portfolio manager in 1999 overseeing asset-backed securities and commercial mortgage bonds, and helped create the company's first CDO filled with asset-backed debt, according to CDO prospectuses. He later worked as a securities trader at French bank Societe Generale and Tokyo-based Nomura Holdings Inc.
In 2004, Chau moved to New York-based Maxim Group, where he started a CDO unit. While there, he helped create four CDOs underwritten by Merrill, including the $485 million Lexington Capital Funding Ltd. in October 2005, his first tied to low- rated securities.
AIG Losses
Slices of all four Maxim CDOs were insured by American International Group Inc., which marked down the value of the securities to $1.2 billion from $2.5 billion before they were transferred to the Federal Reserve Bank of New York as part of AIG's 2008 government bailout.
Chau left Maxim in 2006 to further capitalize on the CDO boom. Maxim had a limited interest in the business, according to two people familiar with the matter. Harding took over the management role for the CDOs and all related revenue, Maxim said in an e-mail.
The new company, named after the township in New Jersey where Chau lives, had its offices in the World Financial Center in lower Manhattan near the site of the World Trade Center. It was the same complex where Merrill had its headquarters.
Merrill showed a willingness to work with small CDO managers and help them grow, a tactic begun under Christopher Ricciardi, head of the firm's CDO group from 2003 to 2006, and continued by Kenneth Margolis, a subsequent co-head of the Merrill business, who joined Harding in 2007.
Cohen, NIR
Merrill also partnered with Cohen & Co., the Philadelphia- based company that Ricciardi joined after Merrill, and NIR Group LLC, a hedge-fund firm that invested in penny stocks and ended up overseeing $7.9 billion of Merrill-underwritten CDOs, the only ones it managed.
Margolis, who now works at New York-based StoneCastle Partners LLC, declined to comment. Ricciardi, now Cohen's president, and Corey Ribotsky, head of Roslyn, New York-based NIR, didn't return calls.
In 2007, as mortgage defaults toppled dozens of lenders, including New Century Financial Corp., and banks looked to unload their inventories of mortgage debt, Harding helped issue $10.2 billion of CDOs, including four deals with Merrill and three with Citigroup.
Merrill underwrote 128 CDOs totaling $119.3 billion from 2005 through 2007, more than any other firm, according to newsletter Asset-Backed Alert.
'Sense of Comfort'
Gibson, the former Merrill CDO research chief who's now a partner at Finalytics Consultancy, a financial-data firm in Baltimore, said Harding was seen in the market as "one of the tightest managers with the Merrill franchise." He said he had limited contact with the company's bankers and didn't discuss deals with them.
In a 2005 interview with Bloomberg, Chau said that "since they are the No. 1 issuer, it gave us a sense of comfort in terms of execution."
As the market began to sour, banks may have relied on CDO managers wanting to stay in their "good graces," so they could earn more fees, said James Frischling, president of NewOak Capital LLC, a New York-based investment and advisory firm.
"Each of your CDOs has hundreds of millions of dollars of buying power, so if you can control some of that, you've created your own demand for your product," Frischling, who ran CDO groups at Societe Generale and Fortis, said in an interview.
Marketing Neo
A marketing document for Neo, which was pitched to investors as early as January 2007, devotes 24 of its 70 pages to Harding and its management approach, saying the firm "employs investment professionals with extensive backgrounds and experience in asset management, trading and research."
In smaller print in another section, the document says some collateral would be sold to the CDO by Merrill, which would also serve as a derivative counterparty. Those multiple roles for the bank "may create certain conflicts of interest" and result in the CDO not enjoying transactions with "the most favorable terms available," the document said.
It didn't disclose that most of Harding's business came from Merrill. Nor were investors told that 43 percent of the securities in Neo would be slices of other CDOs issued by Merrill or derivatives linked to them after Harding finished filling the CDO a few months later. That may have been the most CDOs from an underwriter contained in another CDO sold by the same bank since 2003, according to data compiled by Bloomberg and RBS Securities Inc.
Harding Fees
Chau stood to make money for awhile even if the CDOs he managed didn't return principal to investors. His fees ranged from at least 0.09 percentage point of assets a year for CDOs filled with high-rated bonds to at least 0.17 percentage point for those with lower-rated debt, according to prospectuses.
Multiplied by $20 billion, a 0.10 percentage-point fee for Harding would amount to $20 million a year.
If the CDOs produced enough yield and didn't experience too many collateral downgrades, Harding stood to earn extra fees -- 0.25 percentage point more in the case of Lexington Capital.
Harding packaged lower-rated slices of CDOs into new ones, helping bankers turn the securities into debt with higher grades. That's because ratings firms assumed the assets wouldn't all sour at the same time. While Neo's collateral on average carried the lowest investment grades, $195 million of it was granted top ratings from Moody's and Standard & Poor's.
If the highest-rated classes were insured, banks could book immediate profits under accounting rules, giving employees a shot at bonuses even if they believed guarantors wouldn't be able to make good on the protection, PF2's Phillips said.
888, Octonion
Securities from Citigroup and Merrill found their way into multiple 2007 CDOs managed by Harding. Thirteen percent of Neo was collateral underwritten by Citigroup, the second-biggest source of business for the firm. Pieces of the same CDOs Neo bought ended up in two CDOs underwritten by Citigroup: Octonion CDO Ltd. and 888 Tactical Fund Ltd., both referencing a number considered lucky by Chinese.
About half of the 67 securities in Neo were slices of CDOs put in 888 or Octonion. Eight were in all three.
Octonion, which bought some of 888, was the subject of the lawsuit filed in federal court by former Citigroup trader Alan Brody. His hedge fund, Epirus Capital Management LLC, said the bank "used the veil of a third-party manager named Harding" to help sell "old debris from Citigroup's prior CDOs."
The judge in the case granted the bank's motion to dismiss the suit before discovery, saying the complaint didn't include adequate evidence that the disclosures were flawed or that Citigroup knew the collateral's real value.
'Beholden to Merrill'
The New York State Supreme Court case filed by Utrecht, Netherlands-based Rabobank involved a $1.5 billion CDO called Norma managed by NIR Group. In its complaint, the bank said that NIR, Harding and Cohen were among a group "beholden to Merrill Lynch for the substantial fees they received for managing Merrill Lynch's other CDOs." It said the asset managers helped Merrill execute a "de-risking" strategy meant to reduce its inventory and that Harding and Cohen helped create a false sense of demand for Norma by buying more than $150 million of its notes for their CDOs.
Rabobank also said that NIR followed directions from a hedge fund called Magnetar Capital LLC that was pairing purchases of Norma's riskiest slices with bets against more-senior pieces. Magnetar has said it had limited input on what went into its CDOs and never selected specific collateral investments. The suit is in the discovery stage.
Halldin, the spokesman for Merrill, said the firm took on additional risk when it underwrote Norma.
"Merrill Lynch had a $950 million long position in this transaction and lost nearly $900 million," he said.
'Conflicts of Interest'
Merrill is also being sued by MBIA in New York State Supreme Court for allegedly stuffing bad debt into four CDOs Harding didn't manage. A judge dismissed five of the six claims on April 9, allowing the case to proceed on a breach-of-contract claim. New York-based Ambac sued Citigroup and a Credit Suisse Group AG investment arm that served as asset manager in the same court on similar grounds. Citigroup has said the suit is without merit. The Swiss bank unit also filed a motion to dismiss.
There was an "epidemic" of conflicts of interest that allowed bad CDOs to be constructed in 2007 that needs to be investigated by authorities, said Jon Pickhardt, an attorney with Quinn Emanuel Urquhart Oliver & Hedges in New York, who is representing Rabobank and Ambac.
"They were all playing the same games, trying to get risk off their books and satisfy demands for shorts from their customers," Pickhardt said. "We know these types of conflicts of interest weren't limited to Goldman."
Warehouse Risk
In September 2006, Merrill had an inventory of $17 billion in subprime CDO holdings, $18 billion in mortgage-backed bonds ready to be parceled into CDOs and $14 billion in subprime loans waiting to be made into mortgage bonds, a person familiar with the situation told Bloomberg News in late 2007.
The repackaging of mortgage-linked bonds didn't end well for Merrill or Citigroup because the banks didn't get rid of all of the risk. Instead, they held on to much of what they turned into securities supposedly among the safest of AAA rated debt.
About $1.1 trillion of CDOs were created in 2007, almost the same as in 2006, including $229 billion of mortgage-bond CDOs, according to JPMorgan Chase & Co. data.
Former Merrill Chief Executive Officer Stanley O'Neal disclosed some of his bank's losses in October 2007, the month he was ousted. On Oct. 6, he announced $5 billion of CDO-related losses. He revised the figure to $7.9 billion on Oct. 27.
Las Vegas Encounter
"As the market for these securities began to deteriorate during the first quarter, we began substantially reducing our warehouse risk by constructing CDOs and retaining the highest parts of the capital structure, which we expected then to be more resistant to market disruptions in terms of both liquidity and price," O'Neal said on an Oct. 27 conference call.
O'Neal, 58, didn't return messages. The warehouse risk he was referring to came from assets held on lines of credit from Merrill to CDO managers used to acquire bonds for specific deals before their issuance, not from inventories of unsold debt, Halldin said. Banks typically took on the risk of assets losing value before getting placed into CDOs, not managers.
At a dinner at a securitization conference in Las Vegas in January 2007, the same month the Neo marketing document was dated, Chau met with Steven Eisman, who ran a hedge fund at Frontpoint Partners LLC that was betting against subprime loans.
Chau thanked Eisman, saying he would have less to buy if people weren't shorting the market, according to two people familiar with the conversation. The comment, a reference to Harding's investment in derivatives as well as bonds, helped convince Eisman that the companies taking on subprime risk were relying on conflicted CDO managers serving mainly as fronts for banks, the people said.
Events of Default
The meeting is described in Michael Lewis's "The Big Short" (W.W. Norton & Co.). While Lewis wrote that Eisman planned to bet against Chau's CDOs, his fund may never have done so, one of the people said.
The suggestion in Lewis's book that CDO managers "didn't do much of anything," created in part through the account of the Las Vegas meeting, is "truly offensive," Chau said in his e-mail to Bloomberg News.
About $6 billion of Harding's CDOs have been liquidated, cutting off management fees, according to RBS data. An additional $7.4 billion also have experienced events of default, ending Harding's fees in certain deals. Harding was managing $4.1 billion of assets as of April 15, according to the firm's SEC registration.
Port Jackson
Chau, who now works out of an office in Morristown, New Jersey, said in a telephone interview in January 2008 that he didn't know who bought the lowest-ranked equity slices of his CDOs, the type that cost former Citigroup trader Brody all but $125,000 of the $3 million his fund spent buying Octonion notes.
"I have heard maybe there were some high-net-worth clients," Chau said.
He said he had "registered losses as well" because his firm sometimes bought parts of its CDOs' riskiest classes. Unlike some other managers, he didn't hedge, he said.
While it's unclear where most of Neo ended up, Israel's Teva Pharmaceutical Industries Ltd., the world's biggest maker of generic drugs, was exposed to its risk. Teva bought an $11.6 million piece of a CDO named Port Jackson, also underwritten by Merrill in 2007 and managed by Sydney-based Basis Capital Securitisation Pty. Port Jackson owned a $7 million slice of Neo, which in turn owned a piece of Port Jackson.
Slices of Port Jackson were sold as another Wall Street creation, auction-rate securities, a type of debt marketed as a cash-like investment. They were among the $273 million of such notes that Teva, based in Petah Tikva, Israel, was stuck with when Merrill stopped bidding at auctions for the securities when the market collapsed, according to a lawsuit filed by the company in U.S. District Court in Manhattan in 2009.
"The current fair market value of these securities is zero," Teva said in its complaint, which didn't mention Neo.
Before it's here, it's on the Bloomberg Terminal.
LEARN MORE