Fidelity Names Abigail Johnson, O'Hanley Presidents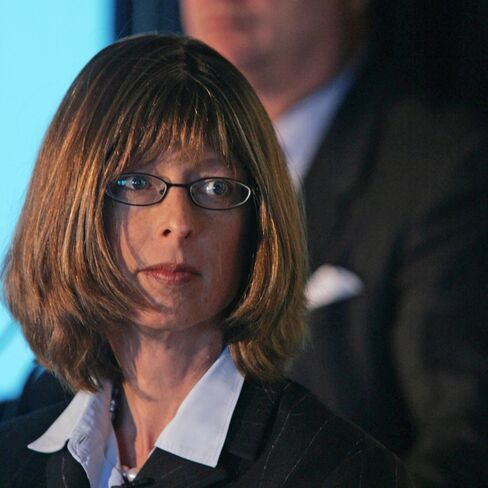 Fidelity Investments, the world's largest mutual-fund manager, named Abigail P. Johnson to oversee distribution and hired Ronald P. O'Hanley as head of asset management, splitting responsibility for running the company after President Rodger Lawson left in March.
Abigail Johnson, the daughter of Chairman Edward C. Johnson III, will oversee all customer- and client-focused businesses as president of the personal, workplace and institutional unit, Boston-based Fidelity said today in an e-mailed statement. O'Hanley, 53, who is joining from Bank of New York Mellon Corp., where he oversaw money management, will become president of asset management and corporate services.
Lawson stepped down at the end of last month, leaving the leadership in the hands of Ned Johnson, who turns 80 in June. Fidelity, which manages $1.5 trillion in investor assets, has been controlled by the Johnson family since it was founded by Johnson's father in 1946.
"This new structure will position Fidelity strategically for the future by bringing all of the firm's distribution resources together," Ned Johnson said in the statement. "Ron O'Hanley will bring valuable asset management and executive experience to our investing and corporate functions as well as a strong leadership track record."
Ned Johnson, who has led the company since 1977, has given no indication that he plans to retire soon, and has left open the question of who will succeed him.
Both Abigail Johnson and O'Hanley will report to Ned Johnson. Jacques Perold, the head of Fidelity Management & Research Co., the firm's mutual-fund unit, will report to O' Hanley, who oversaw more than $1 trillion as head of BNY Mellon's asset-management unit.
The executive search that led to O'Hanley's appointment was done by Goldsmith & Co. in New York.
Fidelity has expanded beyond managing mutual funds into stock trading, retirement plans and institutional money management. Along with other asset managers, the company suffered from client withdrawals during the global financial crisis in 2008.
Earnings rebounded last year as the company cut expenses and assets under administration rose. Fidelity's assets under administration rose 23 percent to $3.2 trillion in 2009, including accounts for which it provides services such as recordkeeping. Operating income, which excludes interest and taxes, rose 5.2 percent last year to $2.52 billion.