Exchanges Seek Faster Circuit Breakers After Plunge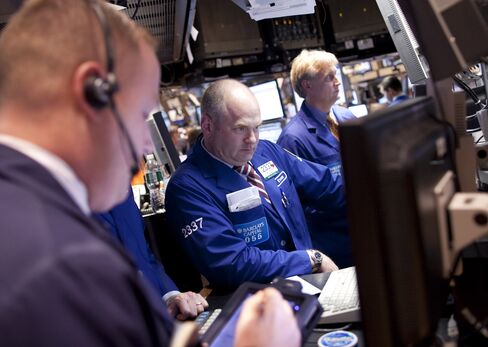 The biggest U.S. equity exchanges took a step toward aligning trading rules to prevent conflicting systems from worsening stock-market plunges.
Executives from six securities venues agreed on a framework for "strengthening circuit breakers and handling erroneous trades," according to a statement from the Securities and Exchange Commission. NYSE Euronext, Nasdaq OMX Group Inc., Bats Global Markets Inc., Direct Edge Holdings LLC, International Securities Exchange Holdings Inc. and CBOE Holdings Inc. met with SEC Chairman Mary Schapiro today.
"The differences in order handling employed by U.S. markets needs significant work and must be addressed," wrote Joe Ratterman, the chief executive officer of five-year-old alternative exchange Bats, in an e-mail before the meeting. "When acting alone, apart from each other, these differences might prove to be a big part of the very problem they are trying to handle."
Schapiro urged the executives to consider a plan that would update circuit breakers and apply them to individual stocks, according to two people familiar with the situation. The proposals, including one to standardize handling of erroneous trades, will be refined over the next day, said the people, who asked not to be identified because the discussions were private.
Slow Trading
Rules to slow trading or shut markets during volatile periods may have prevented the biggest losses on May 6, when the Dow Jones Industrial Average fell 998.5 points intraday, executives from Bats, Direct Edge and White Cap Trading LLC said prior to today's announcement.
The plunge that erased almost $700 billion from American stocks in eight minutes shows how increased competition among U.S. exchanges has left gaps in market coordination. Rules to slow trading on the New York Stock Exchange drove orders to as many as 50 other platforms that swamped demand, pushing share prices of companies from Accenture Plc to Exelon Corp. to pennies. Those trades were later canceled.
Congressional hearings are scheduled this week on what caused the plunge, which pushed the Dow average down 9.2 percent for its biggest intraday loss since the crash of 1987. Losses were later pared and the gauge closed down 3.2 percent.
Evolving Markets
The breakdown also highlighted how trading in U.S. markets has changed in the past quarter century. During the 1987 crash, most trading in U.S. stocks was handled by human beings and the NYSE was dominated by firms that conducted share auctions to match buyers and sellers. Now, automated computer strategies that seek executions in less than a millisecond account for 60 percent of trading volume on all markets, according to Tabb Group LLC, a New York-based research firm.
Regulators will examine the second half of the Dow's tumble, when losses multiplied after rapid-fire price changes triggered halts in some securities trading electronically on the NYSE. The Big Board shifts to human auctions when electronic buying or selling exceeds limits known as liquidity replenishment points, a safeguard unique to the exchange that encouraged orders to flow to alternative platforms with few if any buyers, NYSE Euronext Chief Operating Officer Larry Leibowitz said last week.
Action Needed
"These circuit breakers only exist in one exchange and that shouldn't be the case," U.S. Senate Banking Committee Chairman Christopher Dodd, a Connecticut Democrat, said on CBS's "Face the Nation" yesterday. "The Securities and Exchange Commission needs to act. They need to step up very quickly and let us know what happened here and what steps need to be taken."
Ray Pellecchia, a New York-based spokesman for NYSE, declined to comment. New York-based Nasdaq spokesman Robert Madden declined to comment yesterday.
After 100 shares of Procter & Gamble Co. crossed at $56.32 on the NYSE just before 2:46 p.m. on May 6, no trades in the largest U.S. consumer products maker occurred on the Big Board until almost 2:48 p.m., data compiled by Bloomberg show. The stock fell as low as $39.37 as 100-share lots cascaded through electronic exchanges such as Kansas City-based Bats, Nasdaq OMX Group Inc. in New York and Jersey City, New Jersey-based National Stock Exchange.
Nasdaq cancelled trades in more than 200 companies mostly listed on the NYSE that rose or fell more than 60 percent during the plunge, including Accenture and Exelon Corp., according to a statement. NYSE Arca, an electronic market operated in New York by NYSE Euronext, erased trades in 295 companies, its website said. The P&G trades haven't been canceled, data compiled by Bloomberg shows.
Required Halts
"Not all markets can slow down trading after certain events," said Jatin Suryawanshi, head of global quantitative strategies at Jefferies Group Inc. in New York. "They either should build some logic to incorporate a behavior to slow down, or everyone should be required to halt based on the same rules. Then a trader would know what to expect."
The Dow average would have had to fall about twice as much as it did on May 6 to halt trading. Circuit breakers close U.S. exchanges for the rest of the day when the gauge loses 2,150 points, or 20 percent of its average closing price in the first quarter, after 2:30 p.m. in New York, according to the NYSE website.
Preventing Plunges
The only way to prevent plunges in securities is for the industry to work together on common regulations, said William O'Brien of Direct Edge, a Jersey City, New Jersey, firm whose trading platforms will convert into exchanges this summer. About 20 percent of U.S. stock trading occurs on Direct Edge and Bats combined, making them the third- and fourth-largest venues in the U.S.
"Any real solution has to be coordinated and comprehensive, O'Brien said in a telephone interview. "It's about preventing this type of situation from recurring. No one exchange can do it in isolation."
A temporary halt coordinated by market centers may have reduced last week's drop, according to Jamie Selway, managing director at broker White Cap Trading LLC in New York and former chief economist at Archipelago Holdings Inc., which NYSE bought in 2006. Selway said regulators will probably focus on why brokers kept sending orders when declining prices made it clear that the NYSE auctions had begun and buyers were pulling out from less-liquid platforms.
Stepping Away
"When prices are screwy and liquidity providers saw uncertainty, they traded less, which is in their own interest," Selway said. "What I don't understand is what happened to the brokers who have a duty of care to their customers. Who was sending sell orders in Accenture at a penny? If a broker was sending market orders, was this their first day on the job?"
CBOE Stock Exchange canceled 18 trades of 100 shares that took place at 1 cent in Accenture over seven seconds starting at 2:47 p.m. The trades occurred against so-called stub quotes, according to David Harris, the exchange's president, or orders placed by market makers for as little as a penny that they never expect to be used. Stub quotes would only be executed against trades sent by investors who want to sell at any price.
"This could be the death knell of the market order," said Kevin Foley, chief executive officer at Aqua Securities LP, a private venue in New York that doesn't display quotes and is used by mutual funds and institutions. "Nobody submits a limit order to sell Accenture at one penny. With the way markets now function I can't see what purpose is served by market orders."
Before it's here, it's on the Bloomberg Terminal.
LEARN MORE