Elena Kagan Selected by Obama for U.S. Supreme Court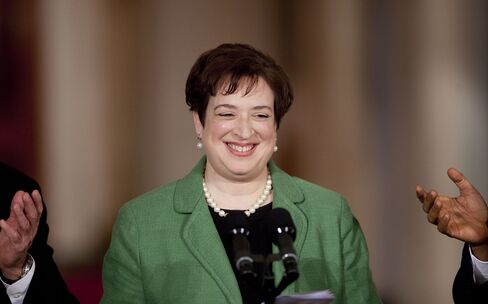 President Barack Obama selected Elena Kagan, his top U.S. Supreme Court lawyer and the former dean of Harvard Law School, to fill a vacancy on the high court and for the first time give it three female members.
Kagan, 50, would succeed retiring Justice John Paul Stevens and likely take his place in the court's liberal wing on many issues. She would be the youngest member of the nine-justice court and the only one who hadn't previously served as a lower court judge.
Obama called Kagan a "trailblazing leader" who became the first woman to lead Harvard Law School and then the first female solicitor general.
"She's an acclaimed legal scholar with a rich understanding of constitutional law," Obama said at the White House.
Kagan, a New York native and former Clinton administration official, will face attacks from Republicans for opposing military recruiting on the Harvard campus because of the services' gay ban.
Confirmation is probable because Democrats and independents hold 59 seats in the Senate and need help from only a single Republican to ensure a floor vote on the nomination. Justice Sonia Sotomayor, who Obama named to the court last year, won confirmation 68-31, with nine Republicans voting to approve her.
Confirmed as Solicitor General
Kagan last year won confirmation as solicitor general on a 61-31 vote.
Senator Lindsey Graham, a South Carolina Republican and member of the Judiciary Committee, said he has "been generally pleased" with Kagan's performance as solicitor general, especially on legal issues related to the war on terror.
"I intend to be fair and firm in my questioning of the nominee," he said in a statement.
Standing alongside Obama and Vice President Joe Biden, Kagan said she loves the law "because law matters, because it keeps us safe, because it protects our most fundamental rights and freedoms and because it is the foundation of our democracy."
At Harvard, she acquired a reputation as a bridge builder, supporting conservatives Jack Goldsmith and John Manning for teaching positions. Faculty colleagues including Charles Fried, who served as solicitor general under Republican Ronald Reagan, credit her with easing the ideological strife that had pervaded the campus. Kagan also hosted a celebration at Harvard honoring conservative Justice Antonin Scalia.
Support From Peers
Fried was one of five former Republican solicitors general to support her nomination for that position last year. Although some Republicans questioned whether she had enough experience for the post -- she had never argued a case in court -- she was confirmed.
Senate Judiciary Committee Chairman Patrick Leahy predicted Kagan will be confirmed. He called her a "superb nominee" and said he is pleased that Obama chose someone from "outside the judicial monastery." Leahy, a Vermont Democrat whose panel will hold her confirmation hearings, predicted the process will be completed in time for her to take the bench for the court's next term in October.
Republicans began questioning her qualifications. Senate Republican Leader Mitch McConnell of Kentucky said lawmakers "will carefully review her brief litigation experience" and weigh whether Kagan shows any ideological predisposition in deciding cases.
Examining the Evidence
"My conclusion will be based on evidence, not blind faith," Republican Senator Orrin Hatch of Utah, a member of the Judiciary Committee, said in a statement.
Kagan has limited her public comments on policy issues, creating only a handful of openings for opponents to attack her fitness for the court.
She has drawn criticism for her efforts to block military recruiters from the Harvard Law School campus. Kagan backed a challenge to a law that required universities receiving federal funding to give the military equal access. The Supreme Court unanimously upheld the law in 2006.
The Associated Press reported today that in 1997 Kagan advised President Bill Clinton to support a Democratic proposal that would have limited late-term abortions. The measure was designed as an alternative to a more restrictive Republican bill, which Clinton eventually vetoed.
Prevent From Taking Part
Kagan's stint as solicitor general would probably prevent her from taking part in some Supreme Court cases early on. Ron Klain, a White House lawyer, said Kagan probably would have to disqualify herself from about a dozen cases in her first term and perhaps five the following term because of the role her office played in the litigation.
The last solicitor general to ascend to the court, Thurgood Marshall, disqualified himself in more than 60 argued cases in his first term.
Kagan received a bachelor's degree at Princeton University, a master's in philosophy at Oxford University's Worcester College and a law degree at Harvard.
She clerked for Marshall, whom she describes as one of her heroes, and spent two years as a litigator at Williams & Connolly LLP in Washington. She later took a teaching job at the University of Chicago Law School, where she helped recruit Obama to the faculty.
Kagan worked in the Clinton administration's White House counsel's office and then as a domestic policy adviser, acting as the administration's lead negotiator on anti-tobacco legislation. In 2003, she became the first female dean of Harvard Law School.
Goldman Sachs
Kagan received $10,000 in 2008 for her work over three years as a member of the Research Advisory Council of the Goldman Sachs Global Markets Institute. The White House says the panel's work was unrelated to the issues that led to a Securities and Exchange Commission lawsuit against Goldman Sachs Group Inc. over mortgage-linked securities.
Since being nominated as solicitor general, Kagan has disappointed liberals with some of her positions, particularly on terrorism questions.
At her confirmation hearing last year, she said that, should U.S. agents capture a suspected al-Qaeda fundraiser abroad, that person could be held indefinitely as an enemy combatant.
As solicitor general, she urged the Supreme Court to block Guantanamo Bay inmates who weren't considered a threat from being released into the U.S.
Election Spending
She unsuccessfully defended federal limits on corporate election spending, losing a 5-4 decision that later drew criticism from Obama at his State of the Union address.
Her office also advocated in support of investor lawsuits in two Supreme Court cases. Obama said Kagan "has repeatedly defended the rights of shareholders and ordinary citizens against unscrupulous corporations."
In a 2001 law review article, Kagan argued for stronger presidential control over administrative agencies, a position more often associated with conservative scholars.
She was one of four people who interviewed with Obama in person for the vacancy. The president also met with federal appellate judges Merrick Garland of Washington, Diane Wood of Chicago and Sidney Thomas of Montana.
All four also met with Biden, for whom Kagan worked when he was a senator considering Ruth Bader Ginsburg's Supreme Court nomination in 1993. Kagan had breakfast with Biden on April 27.
Obama called Kagan last night to offer her the nomination, Klain said. The president also called four other candidates for the vacancy -- Garland, Thomas, Wood and Martha Minow, Kagan's successor as Harvard Law School dean -- to inform them of his decision.
Kagan was one of four candidates who met with Obama last year before he picked Sotomayor.
Kagan, who is Jewish, isn't married and doesn't have children. Stevens's retirement will leave the court without any Protestant members for the first time.