U.S. Stocks Jump Most in Year on Emergency Europe Loan Package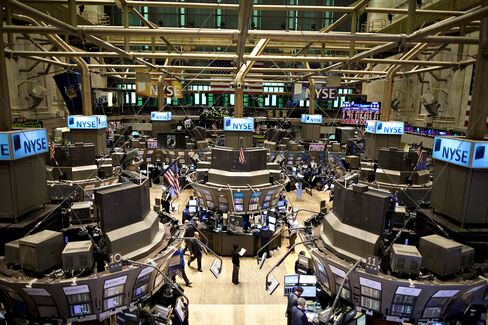 U.S. stocks rallied, with benchmark indexes advancing the most in more than a year, after European policy makers announced a loan package of almost $1 trillion to contain the sovereign-debt crisis.
Caterpillar Inc., Bank of America Corp. and General Electric Co. rose at least 6.9 percent to lead gains in the Dow Jones Industrial Average. Gauges of energy and raw-materials producers in the Standard & Poor's 500 Index jumped more than 3.9 percent as oil rebounded from a 12-week low and copper rose the most in six weeks. Aflac Inc., which said last month that it holds almost $2 billion of bonds tied to banks in Greece and Portugal, surged 12 percent.
The S&P 500 gained 4.4 percent to 1,159.73 at 4:07 p.m. in New York. The Dow surged 404.71 points, or 3.9 percent, to 10,785.14. It was the biggest gain since March 23, 2009, for both. The VIX, the benchmark for U.S. stock options, sank 30 percent to 28.84, the biggest drop in its two-decade history. Twelve stocks rose for each that fell on U.S. exchanges, the broadest advance since at least 2004.
"It's a great rally," said Paul Zemsky, the New York- based head of asset allocation for ING Investment Management, which oversees $550 billion. "We're very encouraged by the news out of Europe. This takes the panic out of the market. We expect investors to hopefully focus on U.S. economic fundamentals, which have been pretty good. Our forecast is for somewhere between 1,250 and 1,300 on the S&P 500 by year-end."
The S&P 500's advance followed an 8.7 percent slide since April 23 and the biggest weekly retreat since the start of the bull market in March 2009 as concern grew that European leaders weren't doing enough to halt a government debt crisis.
$1 Trillion Package
Jolted into action by last week's drop in the euro to a 14-month low and soaring bond yields in Portugal and Spain, the 16 euro nations agreed to offer financial assistance to countries struggling to finance budget deficits. The European Central Bank will counter "severe tensions" in "certain" markets by purchasing government and private debt.
"It's unequivocally positive for the markets," said Thomas Lee, chief U.S. equity strategist at JPMorgan Chase & Co. "There was never really a question of financial resource but of political will. Sovereign solvency and investors increasingly thinking there was a risk of a dissolution of the EU were becoming very real concerns for equities."
Stocks around the world have been battered this month amid concern European leaders won't do enough to keep indebted nations from defaulting. Greece may have its credit rating cut to junk within the next four weeks, Moody's Investors Service said in a report. Greece is already rated junk at S&P.
Unprecedented Loans
Under the unprecedented loan package, euro-area governments pledged 440 billion euros in loans or guarantees, with 60 billion euros more in loans from the European Union's budget and as much as 250 billion euros from the International Monetary Fund. The European Central Bank said it will conduct "interventions" to ensure "depth and liquidity" in markets.
"The market is anticipating that the fix is the same as the fix in the U.S. and we got a good response in the market, so Europe should get a good response as well," said Doreen Mogavero, chief executive officer of Mogavero, Lee & Co., who works on the floor of the New York Stock Exchange. "Shorts covered immediately, and people with cash began to chase yield again before the market got away from them because interest rates will continue to stay at historic lows."
S&P 500 futures rallied as much as 55 points before the open of exchanges in New York, the overnight limit set by the CME Group Inc., the world's largest futures and options exchange. Today's gain was the fourth-biggest rally in futures since 1993, according to Birinyi Associates Inc.
'Relief Rally'
"It's a relief rally," said Michael Levine, a money manager at New York-based OppenheimerFunds Inc., which oversees about $165 billion. "Europe seems to be more proactively addressing its debt problems. The selloff is overdone. The valuations and the economic trends in the U.S. support stocks moving higher."
The Stoxx Europe 600 Index surged 7.2 percent, the biggest rally since November 2008, after European stocks plunged the most in 18 months last week.
Treasuries tumbled on investors' increased appetite for risk, with yields on benchmark 10-year U.S. notes rising to 3.54 percent.
All 10 industry groups in the S&P 500 rose at least 2.4 percent. Caterpillar gained 7.4 percent to $66.69. Bank of America rallied 6.9 percent to $17.30. GE surged 6.9 percent to $18.04.
Commodities
Gauges of energy and raw-materials shares jumped as crude oil rose for the first time in a week, and copper and nickel increased. Oil rallied 2.3 percent to $76.80, after surging as much as 4.5 percent to $78.51 a barrel, the biggest intraday increase since Sept. 30. The Reuters/Jefferies CRB Index of 19 raw materials rebounded 1.6 percent after four straight days of losses.
Schlumberger Ltd., the world's largest oilfield contractor, rose 6.3 percent to $66.83, while Chevron Corp. gained 3.6 percent to $79.89. Alcoa Inc., the largest U.S. aluminum producer, jumped 4.9 percent to $12.59. Freeport-McMoRan Copper & Gold Inc., the world's largest publicly traded copper producer, rose 7.3 percent to $72.50.
Boeing Co., the world's second-largest commercial-plane maker, rallied 6.4 percent to $71 after Goldman Sachs Group Inc. raised the shares to "conviction buy" from "neutral."
Insurers
Aflac, the supplemental insurance company that said in April that it holds almost $2 billion of bonds tied to banks in Greece and Portugal, surged 12 percent to $49.75 for its biggest gain since May 2009.
Genworth Financial Inc. climbed 13 percent to $16.37, after soaring as much as 25 percent. The mortgage and life insurer was upgraded to "buy" from "neutral" at Bank of America Corp.
A gauge of 12 homebuilders in S&P indexes surged 8.1 percent as Lennar Corp., Standard Pacific Corp. and Pulte Group Inc. climbed at least 9.4 percent. Hedge-fund manager John Paulson sees a 3 percent to 5 percent gain in the housing market in 2010 and a 8 percent to 12 percent increase in 2011, CNBC reported without saying where it got the information.
The billionaire, whose hedge fund Paulson & Co. made $15 billion betting on the decline in subprime mortgages in 2007, helped design a mortgage-linked deal sold by Goldman Sachs Group Inc. The Securities and Exchange Commission sued Goldman Sachs for fraud on April 16, saying it failed to disclose that Paulson & Co. helped choose securities for a so-called synthetic collateralized debt obligation and bet that it would collapse.
Moody's Slumps
Moody's Corp. declined 6.8 percent to $21.77. The credit- ratings company disclosed that the SEC is considering cease-and-desist proceedings against it. The stock was cut to "neutral" from "overweight" by Piper Jaffray Co.
Dean Foods Co. had the biggest decline in the S&P 500, slumping 28 percent to $10.47. The biggest U.S. dairy processor said it would eliminate 350 to 400 jobs in addition to 150 already cut this year, and withdrew its 2010 earnings forecast after the company lost customers to lower-priced milk products offered by retailers.
The SEC and six exchanges agreed on a structural framework to strengthen so-called circuit breakers and to handle erroneous trades, the agency said in an e-mailed statement. Chairman Mary Schapiro had a "constructive" meeting with the leaders of the NYSE Euronext, Bats Global Markets Inc., Direct Edge Holdings LLC, International Securities Exchange Holdings Inc. and CBOE Holdings Inc., according to the statement.
Circuit breakers that halted trading on as many as 50 equity markets that compete with the New York Stock Exchange in the U.S. may have kept last week's stock market plunge from snowballing, Richard Grasso said.
"Circuit breakers could have prevented a lot of what we saw last Thursday," Grasso, the former chief executive officer of the New York Stock Exchange, said in a Bloomberg Radio interview. "The market fell 600 points and then recovered 600 points before anyone could finish their cup of coffee."
Before it's here, it's on the Bloomberg Terminal.
LEARN MORE