Tilda Swinton Trades Rich Husband for Moody Chef: Film Review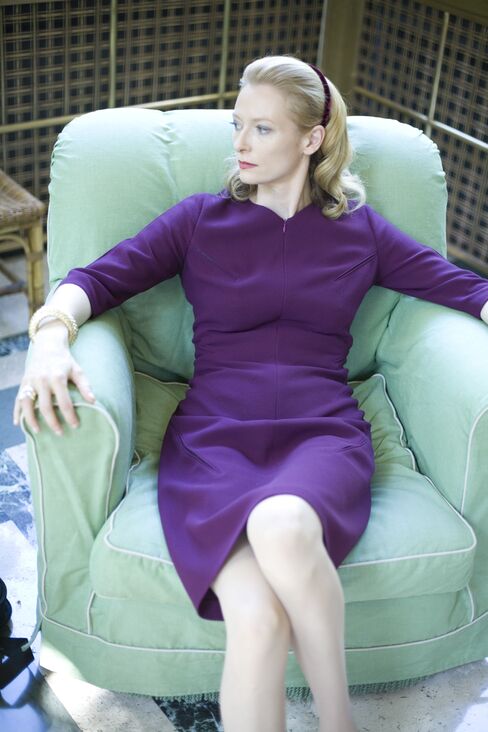 May 10 (Bloomberg) -- Tilda Swinton plays the Russian-born spouse of a Milanese textile baron in "I Am Love" ("Io Sono L'Amore") by Italian film director Luca Guadagnino.
An exemplary mom with grown children, Emma Recchi spends her days drawing up seating plans and overseeing the aproned staff. Graceful and bejeweled, she watches life tick by from the penumbra of her shuttered palace.
The only action comes via the children graduating, marrying or moving abroad. Emma rarely engages with her Russian roots, except when speaking the language with her son or serving a clear Russian broth on special occasions.
One day, she hosts a birthday party for her father-in-law, the dynasty's steely founder Edoardo Recchi. Grandpa Recchi stands up at the lunch table and picks, not one, but two successors: Emma's husband Tancredi and her son Edoardo. "It will take two men to replace me," grandpa proclaims. He might as well have said, "Apres moi, le deluge."
The sands start shifting. When Emma picks up her daughter's dry cleaning, she chances upon a card (found in the garment pocket) where her daughter reveals that she's gay.
Visibly troubled, Emma climbs to the top of Milan's Duomo Cathedral and lingers in silence. She seems initially to reel from the discovery of her child's sexual leanings. Only later does it become clear that Emma, in fact, envies her daughter for following her heart.
Before long, Emma develops an infatuation of her own --for her son's friend, a brooding, dark-eyed chef from the Italian Riviera. She stalks him through the streets of San Remo until they come face-to-face.
Intimate Moment
The pair's first moment of intimacy, in a field of wild grass, is filmed like a nature documentary, with endless close-ups of the birds and the bees. The sequence, though long, gives the story poetic resonance.
Throughout "I Am Love," much screen time is spent on atmosphere and aesthetic detail. Plot and protagonist reveal themselves at a slow, dreamy pace.
Swinton is perfect as the grande bourgeoise trapped in her predicament. Her shift from model spouse to ardent lover is artfully depicted through Guadagnino's languid storytelling and camera work. Italy needs more directors like him.
The film is currently on release in the U.K. and will be coming out in France and the U.S. in June.
Rating: ***.
(Farah Nayeri writes for Bloomberg News. The opinions expressed are her own.)
What the Stars Mean:
****          Excellent
***           Good
**            Average
*             Poor
(No stars)    Worthless

To contact the reporter on the story: Farah Nayeri in London farahn@bloomberg.net.
To contact the editor responsible for this story: Mark Beech in London at mbeech@bloomberg.net.