Thai Protesters Delay Dispersal Plan, Testing Abhisit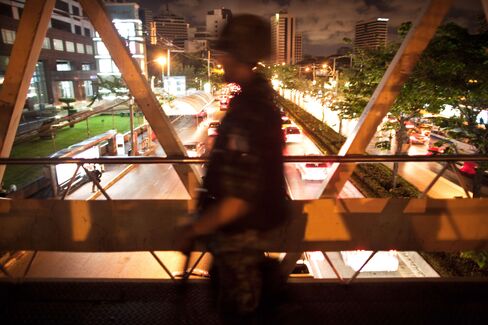 May 10 (Bloomberg) -- Thai demonstrators may delay ending their two-month campaign on Bangkok's streets, testing Prime Minister Abhisit Vejjajiva's patience after he offered a reconciliation plan that included cutting his term by 13 months.
The protesters, who largely support exiled former leader Thaksin Shinawatra, are drafting an alternative "road map" to the one outlined by Abhisit a week ago, one of the group's leaders, Weng Tojirakarn, said. Almost two dozen decision-makers will meet tonight to finalize the response, he said.
The plan "will take a little bit of time, maybe a few days," Weng, one of three leaders who participated in televised talks with Abhisit in March, said by phone today from Bangkok. "It takes time because we would like our country to be stabilized."
Repeated delays by the red-shirted demonstrators in ending the occupation of a key Bangkok business district threaten to scuttle peace efforts and trigger violence. Gunfire and grenade attacks two days ago killed two police officers, the latest victims of clashes that claimed 29 lives during the past month.
"Some of the violence we've seen over the last couple of days is a result of the more aggressive elements of the Red Shirt movement refusing to back down," Jacob Ramsay, an analyst at Control Risks Group Pte Ltd. in Singapore, said by phone. "There are different elements trying to pull the wider movement in different directions."
Abhisit said he wants an answer by today on his May 3 plan, which includes an election on Nov. 14. The five-part proposal comprises measures to safeguard the monarchy, address economic inequality, ensure an independent media, create a body to investigate political violence and assess ways to change the constitution and disputed laws.
Finance Minister Korn Chatikavanij said elections in November could only take place if all parties agreed to suspend violence and respect the democratic process.
Election Guarantees
"All parties need to be able to campaign in relative safety anywhere in the country," Korn said in an interview in Beijing today. "If you can't do that then you then can't have a fair election; if you can't have a fair election arguably it's best not to have an election at all."
The Red Shirts have attached various conditions to ending their protests after agreeing in principle with Abhisit's plan. Their yellow-shirted rivals, who seized Bangkok's airports in 2008 to help oust Thaksin's allies and propel Abhisit to power, rejected the plan and called on the prime minister to withdraw it or resign.
Stocks Gain
Thailand's SET Index of stocks, which jumped 4.4 percent the day after Abhisit made the election offer, rose 1.6 percent as of 3:06 p.m. local time. The benchmark has climbed 6.3 percent since the beginning of the year, compared with a 0.1 percent decline in the MSCI Asia Pacific Index.
The Red Shirts, comprised mostly of the rural and urban poor, have defied a state of emergency since April 7. The group has set up barricades of bamboo and rubber tires around a central business area as large as New York's Central Park.
A failed attempt to clear the protesters on April 10 led to Thailand's deadliest political violence in 18 years as black-clad gunmen and troops exchanged fire. Three other violent incidents, including an April 22 grenade attack on an elevated train line station, left four more people dead.
The government blames armed elements within the Red Shirts for the carnage and plans to charge nine people with terrorism. Abhisit yesterday cited Major-General Khattiya Sawisdipol, a soldier openly supporting the Red Shirts, as the main obstacle to reconciliation and ending the protests.
"When you are on the verge of reconciliation, hardliners who may lose out as a result strike out in order to upset talks," Korn said today.
Protest leader Weng denied that Khattiya, also known as Seh Daeng, was a key person in the movement and said he "must take responsibility for his actions."
Thaksin's Assets
Abhisit also said Thaksin wanted the demonstration to be prolonged because he doesn't benefit from reconciliation. The round-the-clock rallies began two weeks after a court seized $1.4 billion of the former premier's fortune.
Thaksin has helped orchestrate protests from overseas locations since 2008, when he fled a two-year jail sentence in Thailand for abuse of power. Parties linked to him have won the past four elections on platforms of improved health care and village loans, policies Abhisit's administration has built upon.
Abhisit's Democrat party hasn't won a nationwide vote since 1992. The plan for a Nov. 14 election may fail to materialize if the Red Shirts don't end their protest and join in the reconciliation process, he said yesterday.
To contact the reporter on this story: Daniel Ten Kate in Bangkok at dtenkate@bloomberg.net
To contact the editors responsible for this story: Tony Jordan at tjordan3@bloomberg.net; Bill Austin at billaustin@bloomberg.net