U.S. Stability 'Beacon' Needed Amid Europe Crisis, Immelt Says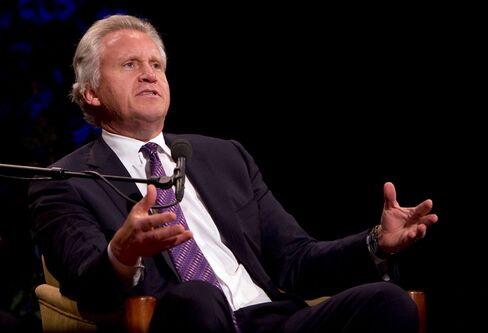 May 7 (Bloomberg) -- The U.S. needs to be a "beacon of stability" amid the European debt crisis that triggered a rout in stock markets, General Electric Co. Chief Executive Officer Jeffrey Immelt said.
"This is a point in time when the world needs the U.S. to be a beacon of stability, a beacon of reliability," Immelt said during an interview at the 92nd Street Y in New York with Norman Pearlstine, chairman of Bloomberg Businessweek. "The world doesn't need the U.S. in a food fight right now, with everything that's going on in Europe. We should be the safe harbor."
U.S. stocks tumbled the most in a year yesterday amid concern Europe's debt crisis will halt the global recovery. The selloff briefly erased more than $1 trillion in market value as the Dow Jones Industrial Average fell almost 1,000 points, its biggest intraday loss since 1987, before paring declines.
Investors are nervous following a financial crisis that roiled financial markets in 2008, leading to the takeover of Bear Stearns Group Inc. and the collapse of Lehman Brothers Holdings Inc., Immelt said.
"We just live in a more volatile world in general," he said. "People look across Europe and say, 'Governments have a lot of leverage, unemployment is high, economic growth is low,' and are concerned about a contagion across Europe. And that's just made the market very volatile."
Greece's economy lacks the stability found in countries with strong manufacturing and exporting, a warning for the U.S., according to Immelt.
'Cautionary Tales'
"Some theoreticians that convinced themselves that you can have a great, productive country that has no technology or manufacturing base -- they're just wrong," Immelt said. "And I hope that gets beaten into the head of every American. Not that we're anywhere close to Europe, but there are things that are going on there that ought to be cautionary tales for us."
Even though Europe may experience slower growth and higher unemployment until its debt issues are resolved, companies have more cash to spend than at any time in history, he said. That means businesses are more likely than consumers to lead economies out of recession.
The U.S. should "tone down" populist rhetoric aimed at Wall Street because too much isn't good for the economy, he said.
The U.S. Senate is debating legislation to redesign rules governing Wall Street and help prevent a repeat of the financial crisis that forced the U.S. to extend $700 billion in taxpayer funds to companies including Citigroup Inc. and Bank of America Corp.
'Important Industry'
Last month, the U.S. Securities and Exchange Commission accused Goldman Sachs Group Inc., the most profitable Wall Street firm in U.S. history, of misleading its customers in the marketing of a collateralized debt obligation. A Senate panel has since grilled executives including CEO Lloyd Blankfein. The company has denied wrongdoing.
"Financial services is a very important industry in this country," Immelt said. "Goldman Sachs has been a partner to GE for a long time. We trust them, they've done great work for us."
Goldman Sachs Vice Chairman "John Weinberg is a personal friend of mine," he said. Weinberg's grandfather, Sidney Weinberg, was Goldman's chairman from 1930 to 1969 and his father was senior partner and chairman for almost 15 years.
"This point about damning Wall Street isn't good for the American economy," Immelt said.
At the same time, Wall Street banks should reel in their compensation packages, he said.
"I wish they'd take care of their own compensation." Immelt said. "It just shouldn't be this kind of problem. I trust them to manage their own reputation. Because we need them. We need Wall Street."
To contact the reporter on this story: Rachel Layne in Boston at rlayne@bloomberg.net
To contact the editor responsible for this story: James Langford at jlangford2@bloomberg.net