U.S. Economy: Payrolls Jump by Most in Four Years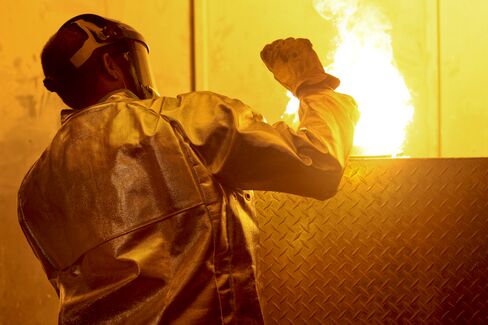 Payrolls in the U.S. surged by the most in four years in April, led by gains in private employment that indicate the economy is weaning itself from government support.
The 290,000 increase in employment exceeded the median estimate of economists surveyed by Bloomberg News and followed a 230,000 gain in March that was larger than initially estimated. The jobless rate rose to 9.9 percent from 9.7 percent as thousands of jobseekers entered the workforce, a Labor Department report in Washington showed today.
The dollar rallied as private employers added 231,000 workers across the economy, from manufacturing and construction to services. Companies including General Electric Co. and Berkshire Hathaway Inc. are adding staff in response to growing sales, indicating gains in consumer spending may spur more hiring.
"Job growth like this is going to sustain the recovery going forward and certainly help sustain the U.S. consumer," said John Silvia, chief economist at Wells Fargo Securities LLC in Charlotte, North Carolina. "Businesses are coming to the conclusion that there is a sustained economic recovery."
The dollar rose as much as 2.9 percent, the biggest intraday move since February 2009, to 93.22 yen before trading at 91.59 yen at 5:04 p.m. in New York, from 90.58 yen yesterday.
The Dow Jones Industrial Average fell 1.3 percent to close at 10,380.43 after plunging 3.2 percent yesterday on concerns the Greek debt crisis may spread.
U.S. and Greece
The improving economic data is one reason the Greek crisis is unlikely to derail the U.S. recovery, according to economists including James O'Sullivan.
"Strength in growth is translating into a pickup in the labor market, which makes the recovery more self-sustaining," said O'Sullivan, global chief economist at MF Global Ltd. in New York. "The strong upward momentum in the data through April should help absorb whatever drag comes from the turmoil in Europe."
Manufacturers added the most workers to payrolls since August 1998, employment at service providers showed the biggest gain since November 2006 and construction companies hired for a second straight month. The gain in overall employment in April was the biggest since March 2006.
"These numbers are particularly heartening when you consider where we were a year ago, with an economy in freefall," President Barack Obama said. Still, "it's going to take time to repair and rebuild" the damage from the recession and the financial crisis, he said at the White House.
GE Adding Workers
GE, the world's largest maker of jet engines, power-generation equipment and locomotives, increased the number of jobs it plans to add in Michigan to more than 1,300 with the creation of about 220 aerospace manufacturing positions, the Fairfield, Connecticut-based company said this week.
Overall payrolls were forecast to increase by 190,000 after a previously reported March gain of 162,000, according to the median estimate of 84 economists surveyed by Bloomberg. Estimates ranged from gains of 75,000 to 300,000.
The April gain included 66,000 temporary workers hired by the government to help conduct the 2010 census and a 231,000 rise in private payrolls.
"The hiring process has begun in the U.S.," said Stefane Marion, chief economist at National Bank Financial Inc. in Montreal, who forecast a payrolls gain of 280,000. "It's a very encouraging outlook for the U.S. We expect the job creation to continue in the coming months."
Entering Workforce
The jobless rate was projected to hold at 9.7 percent. Forecasts ranged from 9.5 percent to 9.8 percent. The unemployment rate rose as more people entered the workforce. The figures showed an 805,000 increase in the civilian labor force and a 550,000 gain in employment.
The unemployment rate may stay high as more people enter the labor force in search of work, one reason why the Federal Reserve is likely to keep its benchmark interest rate at a record low.
The gain in private payrolls was the fourth in a row and followed a 174,000 increase in March that may have reflected, in part, a weather-related rebound from the prior month. Private employment was projected to climb by 100,000, according to the median of 25 forecasts.
Census Hiring
A government boost to hiring is already under way at the Census Bureau. The agency said it will take on about 970,000 temporary workers from April through June to conduct the population count that occurs every 10 years.
The government program may have the biggest impact on payroll figures in April and May, when the bulk of the hiring will take place, and will then subtract from the job count the following months as employees are dismissed after the work is done.
For that reason, economists will be excluding workers on public payrolls for much of the rest of the year in gauging the state of the labor market.
Government payrolls increased by 59,000 in April. State and local governments reduced employment by 6,000 during the month, and the federal government added 65,000.
Hourly Earnings
While the economy added jobs, incomes were little changed. Average hourly earnings rose to $22.47 in April from $22.46 in March, today's report showed.
The average work week for all workers rose to 34.1 hours in April, the highest since January 2009, from 34 hours the prior month.
The so-called underemployment rate -- which includes part-time workers who'd prefer a full-time position and people who want work but have given up looking -- increased to 17.1 percent from 16.9 percent.
The report also showed an increase in long-term unemployed Americans. The number of people unemployed for 27 weeks or more rose as a percentage of all jobless, to a record 45.9 percent.
Factory payrolls surged 44,000 in April after rising 19,000 in the prior month. The median forecast by economists in the Bloomberg survey called for a gain of 20,000.
Payrolls at builders increased 14,000 last month after gaining 26,000.
Service providers added 225,000 workers after an increase of 175,000 in March.
The number of temporary workers increased 26,200 in April. Payrolls at temporary-help agencies often turn up before total employment because companies prefer to see a steady increase in demand before taking on permanent staff.
Billionaire Warren Buffett, whose Berkshire Hathaway cut more than 20,000 jobs last year, said his Omaha, Nebraska-based company is now adding staff as the economic recovery boosts demand at its industrial units.
"We do hire people when we have something for them to do," Buffett told investors last week in Omaha, Nebraska, where Berkshire held its annual shareholders' meeting. "We are a net hirer now."
Before it's here, it's on the Bloomberg Terminal.
LEARN MORE