Korean Won May Drop 5.6% on 'Golden Cross': Technical Analysis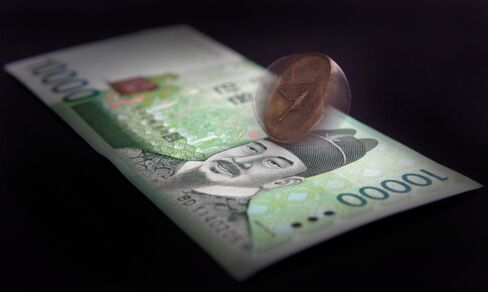 South Korea's won may be poised to decline 5.6 percent against the dollar to the lowest level since September, said Mitsubishi UFJ Securities Co., citing a "golden cross" formation on the chart.
The U.S. currency's 10-day moving average versus the won, a level of resistance, crossed above the 20-day line this week to form a golden cross, which appears when short-term averages pass above longer-term ones. The indicator signals the won may weaken to 1,216.20 per dollar in a month, said Minoru Shioiri, chief manager of foreign-exchange trading at Mitsubishi UFJ in Tokyo.
Korea's currency reached 1,102.85 on April 26, its highest level since September 2008, and has since dropped 3.8 percent to trade at 1,148.6 as of 1:36 p.m. in Seoul today, according to data compiled by Bloomberg.
"The won's recent appreciation trend seems to have turned around at this moment," Shioiri said. "The currency may stay under pressure for some time from here," especially as it declined beyond the 50 day-moving average, another bearish signal, he said.
The currency has weakened beyond previous resistance levels where the Korean won's gains stalled in December, November and October, suggesting it may drop further to 1,216.20, which was the high for the currency on Aug. 4, Shioiri said. Resistance is where orders to sell a currency may be clustered.
In technical analysis, investors and analysts study charts of trading patterns and prices to forecast changes in a security, commodity, currency or index.
Before it's here, it's on the Bloomberg Terminal.
LEARN MORE