Goldman Investors Back Blankfein, Reject Split Role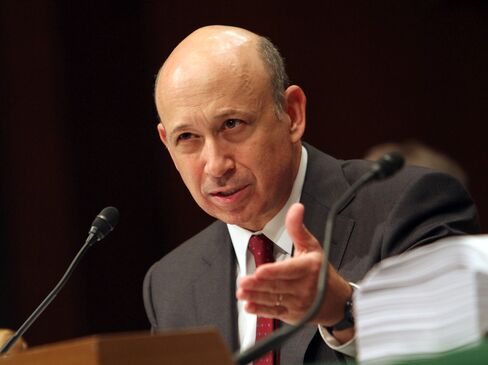 Goldman Sachs Group Inc. shareholders re-elected Chief Executive Officer Lloyd Blankfein as chairman and voted against splitting the two roles after Blankfein said he has "no current plans" to step down.
All directors up for re-election, including Blankfein, received more than 95 percent support in preliminary results, Goldman Sachs co-general counsel Greg Palm said at the annual shareholders' meeting in New York. A proposal that would have required the company to split the chairman and CEO roles was supported by 19 percent of the votes, Palm said.
The U.S. Securities and Exchange Commission sued Goldman Sachs for fraud last month in connection with the sale of securities linked to mortgages, and Blankfein and other company executives were interrogated at a Senate subcommittee hearing probing the matter. Federal prosecutors are also investigating Goldman Sachs, which reported record profit last year.
"I recognize that this is an important moment in the life of this institution," Blankfein, 55, said at the meeting. "Our success has been and will continue to be dependent on the trust and confidence of our clients and our shareholders."
Blankfein, addressing the audience of more than 200, received applause after a shareholder said he is "doing a very good job" and shouldn't have to step down. He said clients have stood by the firm throughout the public scrutiny.
"Our business has held up quite well," Blankfein said. "You don't hear a call you don't get. But it feels like we are getting the kind of support we would hope and maybe in excess of that. At the same I don't take it for granted, and I realize we are putting strains on our stakeholders."
'Clients' Interests'
Blankfein said the firm created a committee to examine business practices and whether Goldman Sachs is adhering to its "core" value that "our clients' interests always come first." It will make recommendations to the board and to management to bolster training and professional development, he said.
The firm has said the SEC's case is "completely unfounded." The stock dropped 23 percent since the SEC lawsuit was filed on April 16 through yesterday, making it the worst performer among the six largest U.S. banks by assets in 2010. First-quarter earnings were the second-highest for any quarter in the firm's history.
"We understand that there is a disconnect between how we as a firm view ourselves and how the broader public perceives our role and activities in the market," Blankfein said. "To address this, we need a rigorous self-examination."
Share Performance
Goldman Sachs rose 67 cents, or 0.5 percent, to $142.99 at 4:01 p.m. in New York Stock Exchange composite trading.
Christian Brothers Investment Services Inc. and the Needmor Fund, two investors who submitted the proposal on splitting the chairman and CEO roles, said in the proxy that separating the two jobs won an average 36.7 percent of the vote at 30 companies last year.
Goldman Sachs's board had unanimously opposed the idea, saying in the proxy that the current structure provides "clarity regarding leadership of the firm, allows the firm to speak with one voice and allows for efficient coordination of board action, particularly in times of market turmoil or crisis."
Three of Goldman Sachs's largest competitors -- Bank of America Corp., Citigroup Inc. and Morgan Stanley -- have split the chairman and CEO roles in the past three years.
Warren Buffett
No investor owns more of the company's stock than Goldman Sachs's partners, who as a group had 7.4 percent of the shares as of March 8, according to the proxy. Warren Buffett's Berkshire Hathaway Inc. holds warrants that entitle the insurance and holding company to buy 7.6 percent of the company's stock, while BlackRock Inc. had a 6.1 percent stake as of March 8, the proxy said.
Buffett, speaking before Berkshire's annual meeting on May 1, praised Blankfein and said he hopes he keeps running Goldman Sachs "this year, next year and 10 years from now." Berkshire, based in Omaha, Nebraska, also holds $5 billion in preferred stock that pays a 10 percent dividend.
The SEC suit accuses Goldman Sachs and a company executive director, Fabrice Tourre, of misleading investors in a mortgage- linked security about the role that a hedge fund, Paulson & Co., played in both selecting and betting against the obligation. New York-based Paulson wasn't accused of wrongdoing.
"There are a myriad of opportunities out there in the way we handle the case, and I wouldn't rule any of them out," Chief Operating Officer Gary Cohn said today after the meeting.
Eleven days after the case was filed, current and former Goldman Sachs executives, including Blankfein and Tourre, endured almost 11 hours of questioning by the Senate's Permanent Subcommittee on Investigations. The committee released e-mails that showed Goldman Sachs employees disparaging securities created by the firm with an expletive and referring to them as "junk."