Reliance Industries Gets Favorable Ruling in Gas Feud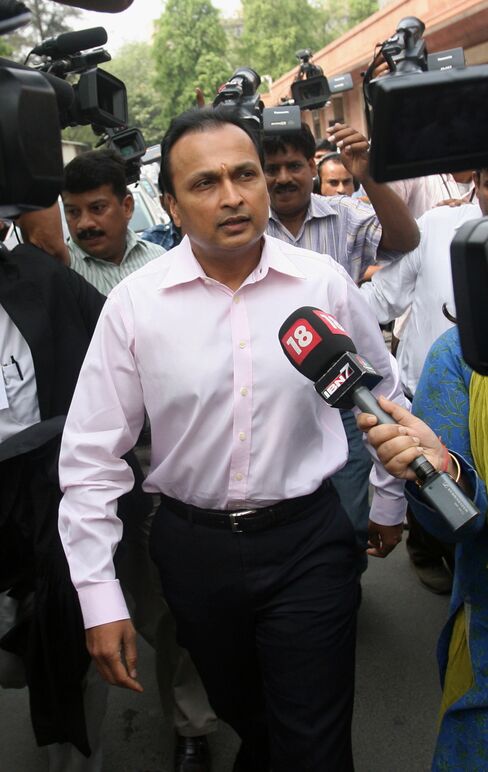 India's top court ruled in favor of billionaire Mukesh Ambani's Reliance Industries Ltd. in a dispute between the world's richest brothers over gas from a field with $38 billion of reserves.
The Supreme Court in New Delhi said the company can sell gas to Anil Ambani's Reliance Natural Resources Ltd. at government-set prices that are higher than those in a 2005 family accord. It asked the parties to renegotiate their contract within six weeks after talks begin.
Reliance Industries had its biggest gain in six months as the ruling may spur India's biggest company by value to explore for more fuel, easing shortages in Asia's third-largest energy consumer. The verdict may also encourage investment in India after Exxon Mobil Corp. and Royal Dutch Shell Plc shunned auctions of gas and oil blocks in part because of the Ambani case and state control of fuel prices.
"It's a relief," said Taina Erajuuri, who helps manage more than 1 billion euros ($1.3 billion) of emerging market stocks at Helsinki-based Fim Asset Management, including Reliance Industries. "Of course it's not completely over. They still have to negotiate, which is what they should've done in the first place."
Reliance Industries gained 2.5 percent to 1,032.80 rupees at the close in Mumbai after climbing as much as 5.2 percent, the most since Nov. 4. Reliance Natural plunged 23 percent to 52.65 rupees.
Profit Estimates
Reliance Industries, which missed profit estimates in the three months ended March 31, depends on revenue from gas and output from new fields to drive profit as refining margins remained weak after the financial crisis eroded demand for fuels. The explorer seeks to produce gas from additional areas in the KG-D6 field and the Bay of Bengal.
The government in September 2007 set the price of gas from the Krishna Godavari field at $4.20 per million British thermal units when the price of crude oil is equal to or more than $60 a barrel. That's 79 percent higher than the price agreed by Mukesh, 53, and Anil.
The family agreement was not in the corporate domain and wasn't approved by the shareholders, Chief Justice K.G. Balakrishnan and Justice P. Sathasivam said. The accord is therefore not legally binding, they said.
Pricing Clarity
"We will renegotiate and it will be within the ambit of the production sharing contract and subject to approval of the government," Reliance Industries Executive Director P.M.S. Prasad said in New Delhi today. "There is now total clarity on gas pricing."
Reliance Natural looks forward to expeditious and successful negotiations with Reliance Industries, Anil, 50, said during a conference call today after the Supreme Court's decision.
Reliance Natural told the Supreme Court, which heard arguments in the lawsuit from Oct. 20 to Dec. 18., that the gas-price decision could not be implemented with retrospective effect. The government would not suffer a loss if the gas is sold at less than the state-set rate, Reliance Natural said.
Reliance Industries said the gas can't be sold for less than $4.20 per million Btu. Reliance Natural can't buy the gas as agreed unless the government approves the sale, Reliance Industries said.
The government has said the state alone has the power to fix gas prices and assign customers, in accordance with its gas utilization policy.
'Eyes Wide Open'
The dispute contributed to the unease of international energy companies over the lack of clarity in India's production sharing contracts between the government and explorers that govern pricing and revenue sharing from oil and gas blocks.
Even after today's ruling "if I were advising a client, I would tell them, 'keep your eyes wide open and try to agree the tightest commercial terms possible and have a very clear dispute mechanism,'' said Kamal Shah, a London-based lawyer with Stephenson Harwood who specializes in international arbitration.
Contracts signed with explorers under a policy introduced in 1999 for the auction of oil and gas fields allow the government to examine and approve prices.
Energy companies bid for 36 of the 70 oil and gas blocks offered in an international auction that closed in October as the Ambani gas dispute made its way to the Supreme Court. Reliance Industries, which won the KG-D6 field a decade ago, shunned the sale.
BG Withdrawal
BG Group Plc, the U.K.'s third-largest natural-gas producer, withdrew from a block in April with state-run Oil & Natural Gas Corp., citing the absence of clear documentation on the validity of its contract.
India, which imports more than 75 percent of its crude oil needs, is keen to attract investment from energy explorers to reduce dependence on overseas purchases and develop domestic supplies critical to sustaining economic growth.
The world's second-fastest growing major economy is forecast to account for 15 percent of the global increase in energy demand to 2030, according to the International Energy Agency.
The Bombay High Court ordered Reliance Industries on June 15 to honor the agreement reached between the brothers after their father Dhirubhai Ambani died without leaving a will. The accord required 28 million cubic meters of natural gas a day to be supplied to Reliance Natural at $2.34 per million British thermal units for 17 years. The fuel was meant for a power plant planned near New Delhi by Anil Ambani's Reliance Power Ltd.
The case is SLP(C) No. 14997/2009 between Reliance Natural Resources and Reliance Industries in India's Supreme Court.
Before it's here, it's on the Bloomberg Terminal.
LEARN MORE