Citigroup Keeps Hawaii Bond Deals After State Investment Freeze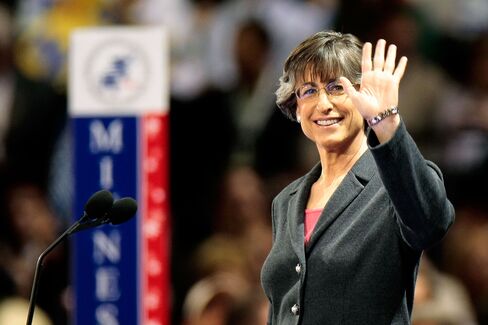 Hawaii has continued to use Citigroup Inc. to help underwrite $2.7 billion in debt even after one of the bank's brokers sold the state $1 billion in auction-rate securities that have lost a quarter of their market value and cannot be redeemed easily.
The third-largest U.S. bank by assets was among four underwriters earning almost $13 million in fees from issuing Hawaiian municipal bonds since the $330 billion auction-rate securities market froze in February 2008, according to data compiled by Bloomberg.
The securities, backed by pools of federally guaranteed student loans, were sold as low-risk substitutes for U.S. Treasury bills by Citigroup broker Pete Thompson, 60, in Honolulu. They get their name from the weekly, bank-run auctions where the interest rate they pay investors is determined.
"Auction-rate securities weren't understood by the issuers or the investors," said Bartley Hildreth, a professor of public management at Georgia State University in Atlanta. "Even the middlemen didn't understand what they were selling."
The market for the securities froze when banks stopped supporting the auctions in the worst credit crunch since the Great Depression. Hawaii's state treasury wrote off $255 million of its purchase price on the securities to reflect their diminished value, even as Governor Linda Lingle, 56, battled a $1.2 billion budget deficit that forced the state to furlough teachers on many Fridays.
Negotiated Deals
Citigroup, based in New York, last served as senior manager for Hawaii on a $645 million sale of revenue bonds for the state's airports system on March 24. Bank of America Merrill Lynch and Piper Jaffray also participated in the offering. All the issues were negotiated deals, meaning the underwriters didn't bid competitively for the business, according to Bloomberg data.
It's surprising that Hawaii hasn't barred Citigroup from underwriting bonds as a way of pressuring the firm into settling over auction-rate investments, said Thomas R. Ajamie, a Houston- based attorney who represents some individual holders of the securities but does not have any business with Citigroup or the state.
"We always tell our clients, 'If you want to show you are upset, let your money do the talking,'" Ajamie said in a telephone interview.
"The use of Citi to be our underwriters has nothing to do with investing in auction-rate securities," Russell Pang, a spokesman for Lingle, said in an e-mail.
'Exhaustive Process'
"The State has an exhaustive contract process before any underwriter is engaged for a specific financing which includes a detailed fee proposal which must be approved by the State," Alexander Samuelson, a spokesman for Citigroup, said in an e-mail.
Citigroup's auction-rate securities sales to Hawaii were proper, and the firm continues to provide bond-underwriting services because of its qualifications to do the work, Samuelson said.
"We believe Citi and its representatives acted appropriately," he said. "As State representatives have publicly stated, Hawaii's auction-rate-securities purchases were both appropriate and in compliance with applicable laws and policies. Although the State has indicated no current liquidity needs exist, Citi can provide options if those needs change."
'Sorely Lacking'
Hawaii last year rejected as "sorely lacking" an offer by Citigroup to buy back at an unspecified discount the auction-rate securities sold by Thompson, Randall Nishiyama, a deputy attorney general, said in a telephone interview earlier this year. The bank also offered to lend the state as much as $572 million, at 3.85 percentage points above the federal funds rate, according to a term sheet for the proposed deal.
The state has continued to negotiate with the bank since the beginning of 2010, Attorney General Mark J. Bennett said in a March 23 interview. He has "not ruled out either settlement or litigation," is "actively looking at both options" and is "considering retaining experts" for advice, Bennett said in an April 16 e-mail.
Hawaii's Treasury bought auction-rate bonds without making all of the required monthly disclosures to the state's Director of the Department of Budget and Finance, according to a March 18 report by State Auditor Marion M. Higa. Such financing in the dark has cost municipalities from Italy to Alabama billions of dollars in soured investments and fees to escape deals sold by the same Wall Street banks that helped the create the worst real estate collapse since the Depression.
Legislative Probe
Citigroup's auction-rate sales prompted Hawaii's legislature to vote April 22 to create a committee to investigate whether the Department of Budget and Finance acted legally by investing one-quarter of the Treasury's spare cash in the securities.
The move followed agreements with 20 firms, including Citigroup, Bank of America's Merrill Lynch unit and UBS AG, to pay $94 billion to settle claims by the Securities and Exchange Commission and state regulators that they misled purchasers about the risks of the investments, according to SecondMarket Inc., which runs an exchange in New York where the bonds can be traded.
Most of that money went to small investors who were reimbursed by the banks. The lenders were required only to make their best efforts to reach accommodations with larger investors, according to SecondMarket.
'First in Line'
"Every other group seems to have been made whole," Donna Mercado Kim, the Hawaii Senate Ways and Means Committee chair, said in a March 24 interview. "I would have been first in line."
Hawaii's auction-rate purchases began after Thompson, a former community activist who became a broker in 1984, successfully lobbied legislators in 1997 for a change in state law to permit the transactions. The state could "earn at least several million dollars more without raising taxes" or "slashing any existing programs," Thompson said, according to a transcript of his testimony.
Thompson was ranked 51st on the trade publication Registered Rep's list of the top 100 brokers in the U.S. in 2008, with assets under management of $1.6 billion. As a student at the University of Hawaii in the early 1970s, Thompson was a Vietnam War protester and ethnic-studies instructor, said John Witeck, a fellow activist who now works in human resources at the school in Honolulu.
'Spark Plug'
"Pete was one of the spark plugs, very bright, a charismatic speaker," Witeck said in a March 12 telephone interview. "He was always good with numbers. He's very meticulous, always very organized."
A year after Hawaii legislators passed the 1997 law authorizing the state to invest in auction-rate securities, Thompson lobbied the city and county of Honolulu, which operate as one, to adopt a similar resolution.
The city has $3 million of its $700 million in treasury funds in auction-rate debt bought from Thompson, according to Bill Brennan, a spokesman for Mayor Mufi Hannemann. The city filed a complaint against Thompson with the state's Department of Commerce and Consumer Affairs on Dec. 31, 2008. The complaint, which hasn't been made public, is pending, he said.
Hawaii's Department of Budget and Finance, which manages the state treasury, made its first investments in student loan auction-rate securities in 1998, according to the March 18 report by auditor Higa. The agency's holdings climbed from $427 million in July of 2007 to nearly $1.1 billion in February 2008, when the auctions that allowed investors to sell the bonds began failing.
20 Percent
The department violated state investment guidelines by investing in instruments with maturities longer than five years and by exceeding a limit set by legislators of no more than 20 percent of the treasury's holdings in student loan auction-rate securities, according to Higa's report.
The Department of Budget and Finance didn't violate Hawaii's five-year maturity limit because the 1997 law allowed the state to buy student loan-based auction-rate securities, Attorney General Bennett said in a March 1 legal opinion.
Finance officials also failed to file all of the required monthly reports to the director of the department that detailed the holdings, maturities and any exceptions to the investment guidelines, Higa's report said. They also didn't analyze the securities prior to purchase or maintain prospectuses, according to the report.
'Risk Assessment'
"The department did not perform a risk assessment prior to purchase, nor did it obtain and review the securities' offering documents that disclose related risks," the report said.
The department of budget and finance increased its auction-rate holdings because the bonds were rated AAA, the state had several years of history investing in the securities and the yields were twice what other short-term investments were paying, Georgina Kawamura, who serves as director of the department, said in a March 30 Senate Ways and Means Committee hearing.
"We've done the risk assessment because since '98 we had invested in these," Kawamura said.
While Hawaii bought all its auction-rate bonds from one broker, other states limit the amount officials can purchase from a single firm. Maryland works with more than 18 brokers and cannot do more than 10 percent of its business with any one, Mary Christine Jackman, director of investments at Maryland's Office of the State Treasurer, said in a telephone interview.
'Depth of Bench'
"We never have, nor will we ever, buy auction-rate securities," Jackman said. "Most public funds don't have the depth of bench to do the constant analysis and monitoring that these securities need."
Hawaii purchased the bulk of its auction-rate holdings in the last eight months before the market collapsed in February 2008, according to the state auditor's report. The transactions continued even as Citigroup said in internal e-mails as early as August 2007 that the market was failing, according to a 2008 SEC complaint.
Thompson didn't know the market was failing when he sold the state the bonds, he said in a March 24 interview as he handed out samples of his wife's vegetarian food at a farmer's market near downtown Honolulu. The broker is now employed by Morgan Stanley Smith Barney, a joint venture formed last year through the merger of Morgan Stanley's and Citigroup's brokerage businesses.
'Higher-Ups'
"I'm sure you've gone through all the legal filings and seen the e-mails that were flying around from higher-ups," Thompson said. "The guys like me -- we didn't know any of it."
Christy Pollak, a spokeswoman for Morgan Stanley, referred calls to Citigroup.
Danielle Robinson, a spokeswoman for Bank of America Merrill Lynch, declined to comment on the firm's bond sales for Hawaii. David Holleran, chief administrative officer for fixed income at Piper Jaffray, also declined to comment.