Brazil Debt Offer 'Safe Haven' as Spread Below Russia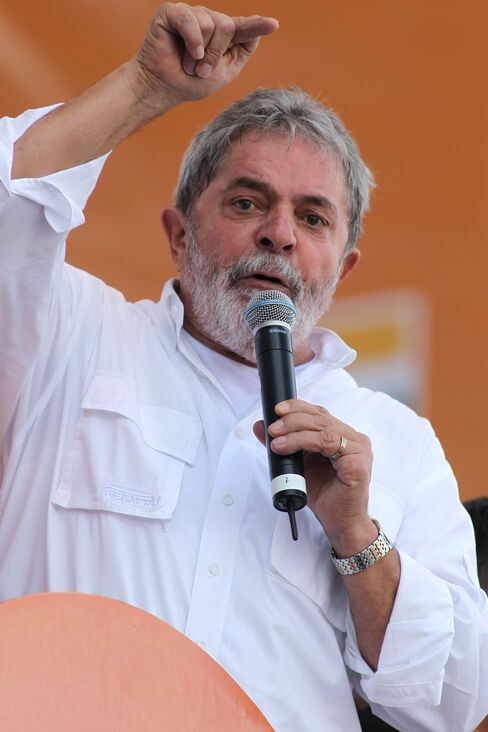 Brazil's benchmark borrowing costs slid below Russia's for the first time this year as investors bet the South American country is less at risk of contagion from the Greek debt crisis than Eastern European nations.
Brazilian dollar bonds yielded 2.18 percentage points more than U.S. Treasuries yesterday, compared with 2.19 percentage points for Russia, according to JPMorgan Chase & Co.'s EMBI+ index. Brazilian yields last were below those on Russian debt, which is rated one level higher by Standard & Poor's and two by Moody's Investors Service, on Dec. 21.
"Brazil offers a safe haven for investors that are concerned about market volatility and contagion related to Greece," said David Bessey, who helps manage more than $10 billion of emerging-market debt at Prudential Financial in Newark, New Jersey. "It's not obvious to me that the distortion couldn't last for a long time given what's going on in Eastern Europe."
Investors view Brazilian debt as safer than Russian bonds after S&P's rating cuts of Greece, Portugal and Spain last week threatened to crimp growth in Europe. Russia's gross domestic product will expand 4 percent this year, the Economy Ministry forecasts. Growth in Latin America's biggest economy, by contrast, will surge to 6.1 percent this year, according to a central bank survey of analysts published this week.
Default Risk
It costs 0.43 percentage point more to protect Russian bonds against default for five years than Brazilian debt, the biggest gap since Feb. 26, according to data compiled by CMA DataVision. Russia is ranked BBB by S&P, the second-lowest investment grade level. Brazil is rated BBB-. The South American country's swaps are also less expensive than Bahrain, which is rated A, or four levels higher, as well as South Africa, two steps higher.
Credit-default swaps pay the buyer face value in exchange for the underlying securities or the cash equivalent should a government or company fail to adhere to its debt agreements.
Russia's bond yield spread over U.S. Treasuries widened 20 basis points to 2.39 percentage points today at 2:20 p.m. New York time today, while Brazil's spread climbed 13 basis points to 2.31 percentage points. The yield premium on developing-nation debt overall swelled 21 basis points to 3.16 percentage points, the widest in almost three months. Brazilian bonds yielded 41 basis points more than Russian debt on April 20.
Buying Opportunity?
The increase in yields to levels higher than both Brazil and Indonesia, rated three notches lower than Russia by Standard & Poor's, will create a buying opportunity for Russian debt, said Cornel Bruhin, who manages a $280 million emerging-market fund at Clariden Leu AG in Zurich.
"The Greece story was just the initiator for a correction in risk markets and Russia bonds will eventually recover very strongly once the correction is over," he said. Bruhin said he may be ready to buy Russia's 2020 bonds once the yield has risen another 15 basis points.
Russia's economy is recovering from its worst recession since the Soviet Union collapsed in 1991 as oil rallies. The government's 2010 budget is based on crude oil averaging $58 a barrel, compared with $80 a barrel so far this year.
Russia is more dependent on exports to European countries, while Brazil's economic growth is driven by domestic demand, said Paul Biszko, an emerging-market analyst at RBC Capital Markets in Toronto.
'Under Siege'
"The perception of risk has changed," Biszko said. "These problems in Europe are sustainability problems, longer-term problems. Russia in terms of trade, financial linkages, is much closer to the euro zone than Brazil is."
Investors should buy Latin American currencies if concern about contagion from the Greek financial crisis continues to put Eastern Europe and its currencies "under siege," Guillaume Tresca, an emerging-market strategist at Credit Agricole CIB in Paris, wrote in a note to clients yesterday.
"Since the current issue is seen as a pure European debt problem, it should mean that Latin American countries are less affected," Tresca wrote.
The real dropped 4.6 percent to 1.8820 per dollar today, the worst performer among 26 emerging-market currencies tracked by Bloomberg.
Brazil Elections
The yield on Brazil's overnight interest-rate futures contract due in January fell four basis points to 11.09 percent. Shareholders of Rossi Residencial SA, Brazil's third-biggest homebuilder, approved the sale of as much as 500 million reais of bonds due May 2015, according to a regulatory filing yesterday.
Brazil's bonds may slump as the October vote to replace President Luiz Inacio Lula da Silva nears, RBC's Biszko said. Former Cabinet Chief Dilma Rousseff and former Sao Paulo Governor Jose Serra are the main contenders in the race to succeed Lula, whose second term concludes at year-end.
"The market is priced for no noise and a very stable process," Biszko said. "There could be some not necessarily market friendly comments coming from them as we get closer to the elections."
Brazil's dollar debt returned 2.4 percent this year, beating the 2.2 percent gain in Russian bonds, according to JPMorgan. Emerging-market bonds overall are up 3.1 percent.
Concern about the spreading of Greek debt crisis pushed the average yield on emerging-market bonds to 6.51 percent from a record low of 6.18 percent on April 15, persuading Czech Republic, Albania and Indonesia to delay planned debt sales.
Russia sold $5.5 billion of bonds on April 22, its first international issue since defaulting in 1998. Swelling supply has caused the country's debt to underperform, Prudential's Bessey said. The yield on the 5 percent bonds due in 2020 has jumped 47 basis points since the offering to 5.55 percent.
"The heightened amount of supply has made a difference," Bessey said. "Russia priced the deal without a lot of concession to investors."