Black Eyed Peas Cavort With Cheap Pop Thrills on Stage: Review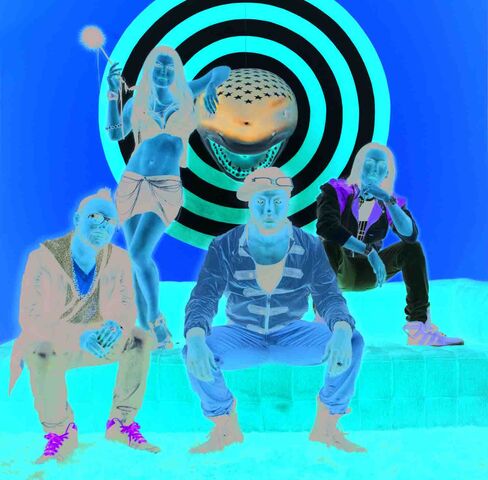 The Black Eyed Peas are dressed like silver robots in a futuristic nightclub.
Their concert euphoria shows why they have sold 35 million albums. The cold commercialism is also shallow and synthetic. The Peas confirm every cliche of electronic pop -- something that is music to the ears of the dedicated rock fan.
The band's 94-date tour landed in London's O2 Arena last night, tour sponsors Bacardi Ltd. and BlackBerry prominently in tow. The show has already traversed Japan, Australia and the U.S. It will continue through Europe and back to North America.
Green lasers and dry ice light a bare stage, as shiny as a 1980s bachelor-pad kitchen. The Peas look like extras from a cheap science-fiction film, pumping out their album "The E.N.D." (it stands for Energy Never Dies), whose songs are clogging up radio waves worldwide.
"Rock That Body", an early attempt to build excitement, recalls all that was wrong with early 1990s Euro-dance act Snap!
Fergie, the female vocalist, unleashes a series of squawks. Will.i.am gives a freestyle rap supposedly based on text messages from the audience projected behind him. It is a poor conceit: The messages are all well spelt and slang free. The resulting rap simply trips and rambles.
Yet, after the show, just the memory of the last song, "I've Gotta Feeling," has a potent thrill from which no amount of Neil Young live albums will provide redemption. It is why the Peas are feted by commercial sponsors and presidents, why Rolling Stone magazine slapped them on the cover as the best reason to get excited about music.
Each song is a ruthlessly efficient chorus-delivery device. Each chorus is stripped down, engineered so precisely that not even the worst MP3 player or the shortest attention span can diminish its power. All will soon be indelibly hardwired into the brain. Scary stuff.
Rating: * 1/2.
The Black Eyed Peas E.N.D. World Tour continues tonight with another date at London's O2. It finishes in Edmonton, Canada, on Aug. 23. Information: http://www.blackeyedpeas.com/
What the Stars Mean:
****       Excellent
***        Good
**         Average
*          Poor
(No stars) Worthless
(Robert Heller is a freelance music critic who also writes for Bloomberg. The opinions expressed are his own.)
Before it's here, it's on the Bloomberg Terminal.
LEARN MORE