WD-50's $140 Menu Wows With Root Beer, Scrambled Egg: Food Buzz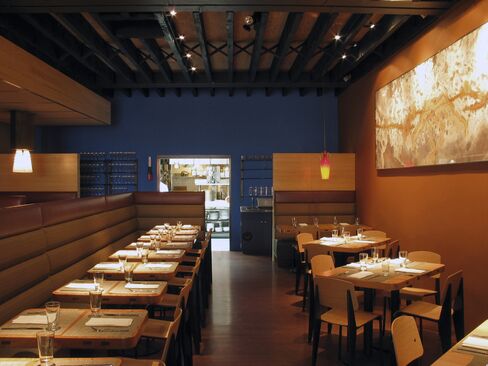 I walked over to WD-50, saw fried mayonnaise and pickled beef tongue on the menu and walked away.
This was in 2005, when Wylie Dufresne's expensive outlier on Manhattan's cheap Lower East Side became famous for using hard-to-pronounce compounds you might find on the back of candy wrappers or at, say, Home Depot: Xanthan gum. Hydrocolloids. Methylcellulose.
When the economy went south, WD-50 cancelled lunch, laid off good people and closed two days a week, which it still is. When expense accounts get slashed, yogurt noodles squeezed from a plastic bottle, however excellent, get the axe first; $40 steaks only as a last resort.
So why has Dufresne seen business "creep back up" as he told me? Is it the recovery? Maybe. I like to think his out-there cuisine is finally finding its audience. Chemical-loving cooks like Grant Achatz appear on Oprah, liquid nitrogen fans like Jose Andres get the "60 Minutes" treatment. And at the classically French Daniel last year, the bartender made me calcium-alginate Cointreau pearls.
More Mayo
As for Dufresne's fried mayonnaise, it's now served on a hot dog at an East Village bar, PDT. The condiment that once sent me fleeing is crispy, creamy, delicious. That's why three visits have convinced me that WD-50 is worthy not just of once-a-year curiosity but of everyday eating.
Even if that means sometimes I just have to forget what I'm eating. The bartender pours a shot of banana-infused rum into your beer. He serves it in a wine glass. I balk. I taste. I smile. It's liquid banana nut bread. Move to a cushy booth (bar seats lack lumbar support) and pair the boozy breakfast with the tasting menu's scrambled eggs. They're bound together in a perfect cube. I'm told the technique took some time to perfect. It's the sublime creaminess you taste, not the chemistry. The real brilliance is Dufresne's charred avocado; a silky vegetal counterpoint to the eggs.
Gelled Buttermilk
The a.m. theme continues. An everything bagel is toasted, crushed and soaked in milk to make bagel-flavored ice cream. It's molded and spray painted to look like the real thing. Fantastic. Last night's fried chicken is served cold as a crispy leg-meat terrine. Why are the mashed potatoes so smooth? Because there are no potatoes. It's gelled buttermilk. Cost for the tasting menu, which offers these goodies? $140. Well, the fake taters are topped with real caviar.
A la carte appetizers are smaller and weirder, entrees larger and more conservative. One can only ingest so many bites of hanger steak tartare with banana.
Curl up with a bowl of rare duck breast with sinus clearing kimchi in comforting cheddar consomme. Ruby-red flap steak, cooked sous-vide, is just three or so slices for $35, but dredge it in malt-flavored beef jus and you struggle to finish it. Richness trumps portion size.
Dufresne is one of the city's best foie gras artistes. He's tied it in knots and dotted it with hot sauce, filled terrines of it with passion fruit. These days he uses a complex vacuum process to turn it into a sponge. The added height fills the mouth and dissolves on the tongue, sweet-salty bliss.
Gummy Fish
Cuttlefish has a high sugar content. So why not pair tender cubes of it with gelled root beer? It's like a big bowl of grown-up gummy bears that don't threaten your bridgework. Got eel? Sure, the presentation is a nod to the Jewish smoked fishes of the Lower East Side. Except it's paired with Campari solidified by transglutaminase.
Sometimes, the science means trouble. Deconstructing eggs Benedict renders the yolks into a day-old goo. "Chewy" sorbet is closer to "slimy" sorbet.
The dessert is a rare miss for pastry chef Alex Stupak. His caramelized brioche is like a soft Twinkie stuffed with apricot sauce. Hazelnut tart is like a Nutella pie with coconut dust. Some dismiss this all as molecular gastronomy. I say at one time cooking beef in an oven was molecular gastronomy. Get used to it.
Rating: ***
The Bloomberg Questions
Cost? A la carte dishes under $35; tasting at $140. Three-course dessert tasting at $38; five-course at $48.
Sound level? Low to moderate. About 70-75 decibels.
Date place? Yes.
Inside tip? Dufresne says he can prepare a longer tasting menu upon request.
Special feature? Stellar coconut water, sake and cachaca cocktail.
Will I be back? Frequently.
WD-50 is at 50 Clinton St. Information: +1-212-477-2900; http://www.wd-50.com.
What the Stars Mean:

****         Incomparable food, service, ambience.
***          First-class of its kind.
**           Good, reliable.
*            Fair.
No stars     Poor.
Sound-Level Chart (in decibels):
51 to 55: Church on a weekday. 56 to 60: The vegetable aisle at the Food Emporium. 61 to 65: Keyboards clacking at the office. 66 to 70: My alarm clock when it goes off inches from my ear. 71 to 75: Corner deli at lunchtime. 76 to 80: Back of a taxi with advertisements at full volume. 81 to 85: Loud, crowded subway with announcements.
(Ryan Sutton writes about restaurants for Bloomberg News. The opinions expressed are his own.)
Before it's here, it's on the Bloomberg Terminal.
LEARN MORE