Washington Post Explores Sale of Newsweek Magazine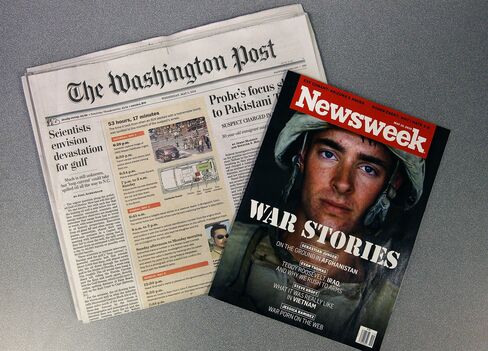 Washington Post Co. is exploring a sale of Newsweek magazine, the money-losing publication it has owned since 1961, as readers defect to Internet competitors.
The weekly news magazine posted losses from 2007 to 2009 and will continue to be unprofitable this year, the Washington-based company said in a statement today. The publisher hired Allen & Co. as an adviser.
The circulation of general interest newsmagazines, including Newsweek and Time Warner Inc.'s Time, has plunged as more readers seek their news from the Web, where stories are updated more frequently. Newsweek redesigned the magazine last year and told advertisers it anticipated fewer guaranteed readers.
"The weekly news magazine business doesn't have a terribly bright future," John Morton, president of Morton Research Inc. in Silver Spring, Maryland, said in an interview. "There's been a fundamental change in how people read news and how they get their news and that's primarily from the Internet."
Washington Post has no deadline for completing a possible sale, nor a specific price it is seeking, said Rima Calderon, a spokeswoman, said in an e-mail. The company isn't considering selling other assets, she said.
"Despite heroic efforts on the part of Newsweek's management and staff, we expect it to still lose money in 2010," Washington Post Chief Executive Officer Donald Graham said in the statement. "Newsweek is a lively, important magazine and website, and in the current climate, it might be a better fit elsewhere."
Widening Losses
Washington Post's magazine division reported an operating loss that widened last year to $29.3 million as revenue plunged 27 percent to $184.2 million. The company has pared jobs at Newsweek after cutting its guaranteed circulation to 1.5 million from 2.6 million last year.
Newsweek's advertising sales slumped 30 percent last year on a 26 percent plunge in ad pages sold, according to Publishers Information Bureau data. That compares with an 18 percent ad revenue decline in the magazine industry.
"Everybody's business model in the news category of print publishing has had to adjust," Mortimer Zuckerman, who publishes U.S. News & World Report, said in an e-mail. "The nature of print publishing has mandated change." He didn't comment on whether he would bid for Newsweek.
Washington Post fell $1.88 to $500.82 at 4 p.m. in New York Stock Exchange composite trading. The stock has gained 14 percent this year.
Circulation Drop
There are no "natural buyers" for Newsweek, Roland DeSilva, managing partner at media investment bank DeSilva & Phillips in New York, said in an interview.
"Publishing a newsweekly is very expensive, and Washington Post has essentially said the redesign of Newsweek was a failure," DeSilva said.
Washington Post has also trimmed sections and closed bureaus at its namesake daily newspaper. The Washington Post's average daily circulation fell 13 percent in the six months through March, compared with an 8.7 percent decline across the industry.
McGraw-Hill Cos. said in January it recorded a pretax gain of $10.5 million on the sale of Businessweek magazine to closely held Bloomberg LP, the parent company of Bloomberg News. The weekly magazine had declining circulation and advertising sales in 2009.