SocGen Posts First-Quarter Profit on Investment Bank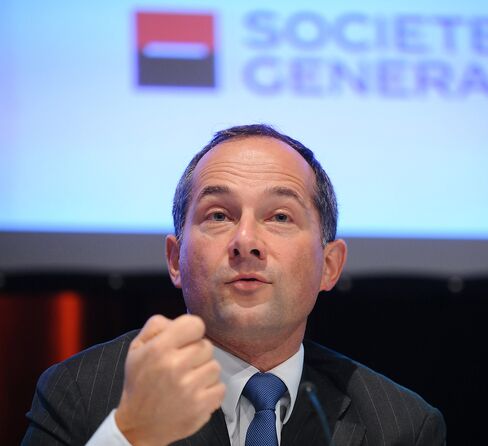 Societe Generale SA, France's second-largest bank by market value, posted a first-quarter profit that beat analysts' estimates, helped by a rebound at its corporate-and investment-banking unit.
Societe Generale rose as much as 3.9 percent in Paris trading after saying first-quarter net income was 1.06 billion euros ($1.38 billion), exceeding the 654 million-euro median estimate of 13 analysts surveyed by Bloomberg.
"For the first time in many quarters there is no disappointment," said Pierre Flabbee, an analyst at Kepler Capital Markets who has a "hold" rating on the stock. "The cost of risk improves although it remains high."
Chief Executive Officer Frederic Oudea, 46, is rebuilding profitability at the corporate- and investment-banking unit two years after the company announced a record trading loss, which it blamed on unauthorized positions amassed by former trader Jerome Kerviel. In the first quarter, Societe Generale cut writedowns and provisions at the division, which accounted for more than 50 percent of the bank's profit in the period.
Societe Generale was up 37 cents to 38.99 euros by 10:08 a.m. in Paris. The stock has fallen 20 percent this year, cutting its market value to 28.8 billion euros. BNP Paribas SA, France's largest bank, has declined 13 percent, while Credit Agricole SA dropped 17 percent.
'Sustainable' Rebound
Societe Generale "anticipates a sustainable rebound in the financial results in light" of the momentum of its main businesses in the quarter, and expects to reach its targets for 2010, the bank said in the statement.
The bank reiterated today that it expects to meet analysts' estimates for full-year net income of 3 billion euros. Oudea repeated in March that the bank may still have between 700 million euros and 1 billion euros in writedowns and provisions linked to risky assets this year, down from 4.2 billion euros in 2009.
The corporate- and investment-banking unit's profit totaled 541 million euros in the first quarter, compared with a 171 million-euro net loss a year earlier, the bank said. Revenue at the division, led by Michel Peretie, rose 74 percent to 2.14 billion euros. Oudea reiterated in March that he expects the unit will have 2 billion euros of revenue in each quarter this year.
Toxic Assets
Societe Generale in the first quarter booked 237 million euros of writedowns and provisions from toxic assets, including asset-backed securities and debt backed by U.S. bond insurers, down from about 1.8 billion euros a year earlier, the bank said.
"They're catching up," Jaap Meijer, a London-based analyst at Evolution Securities Ltd. who recommends selling the stock, said before the earnings were released. "Still, there is a risk that writedowns will wipe out part of the profit this year."
Societe Generale, which has had about 11 billion euros in writedowns and provisions since the financial crisis started in 2007, had 37.3 billion euros of risky assets at the end of March, up from 35.5 billion euros at the end of 2009, it said.
The French company follows some of the world's biggest banks in posting a rebound or growth in first-quarter earnings. JPMorgan Chase & Co. and Bank of America Corp. beat analysts' estimates for first-quarter earnings last month, helped by debt trading revenue. Goldman Sachs Group Inc. said revenue from fixed-income, currencies and commodities trading rose 13 percent in the first three months to a record $7.39 billion.
BNP Paribas is scheduled to report its results tomorrow.
Provisions Drop
Societe Generale's overall provisions for doubtful loans fell 16 percent to 1.13 billion euros in the first quarter. That compares with analysts' estimate of 1.35 billion euros.
Net income at the French consumer-banking unit rose 25 percent to 279 million euros, ahead of the 263 million-euro median estimate of analysts. The international retail-banking unit had earnings of 114 million euros, compared with 121 million euros a year earlier, hurt by losses in Greece.
Financial-services earnings more than doubled to 70 million euros, while profit at the global investment management and services unit almost quadrupled to 55 million euros.
Societe Generale slid 5.8 percent yesterday as European stocks plummeted on concern the 110 billion-euro aid package for Greece may not solve the nation's deficit crisis or prevent contagion to Europe's debt-ridden economies.
Greek Risks
Societe Generale and Credit Agricole may be among European banks with the most at risk from the Greek crisis because of unprofitable units in the country. French banks have the biggest risks related to Greece among European lenders, accounting for $78.8 billion of the $193.1 billion of total claims European lenders had there at the end of last year, according to the Bank for International Settlements.
Societe Generale said today it had about 3 billion euros of risks related to the Greek state at the end of April. Credit Agricole said last week it had 850 million euros at risk from Greek government debt.
Societe Generale owns 54 percent of Greece's Geniki Bank SA. The French company's international retail unit's doubtful-loan provisions increased in the quarter, including 149 million euros set aside for Greece, the bank said.
"The crisis has had a considerable impact in Greece, with a decline in the performance of Geniki Bank," Societe Generale said in the statement. The French company is tightening its loan approval process and cutting costs in Greece as part of "precautionary measures," it said.
Kerviel Book
Societe Generale was roiled in 2008 by the 4.9 billion-euro trading loss. Kerviel, who goes on trial in June for his role in the loss, says in a book that goes on sale today that his superiors were aware of his bets.
"These are the same arguments that he has previously put forward to the investigators and the investigating judges, and which have been dismissed," the bank said on its Web site. Kerviel "is seeking to use the weaknesses in the bank's control systems as proof of complacence or even encouragement by his superiors," Societe Generale said.
Kerviel, 33, has been charged with abuse of trust, faking documents and hacking into the bank's computer system to input false information. He faces as many as five years in prison and a 375,000-euro fine if found guilty.
Kerviel admitted faking positions in order to give the appearance that he'd hedged unauthorized bets on stock index futures. He says his superiors knew what he was doing and only stepped in when his bets went wrong.
Societe Generale says it only discovered Kerviel's positions in January 2008 and posted the trading loss as the company unwound them.
Before it's here, it's on the Bloomberg Terminal.
LEARN MORE