La Roux's Pop, Lovesick Phantom, Da Vinci: Great London Weekend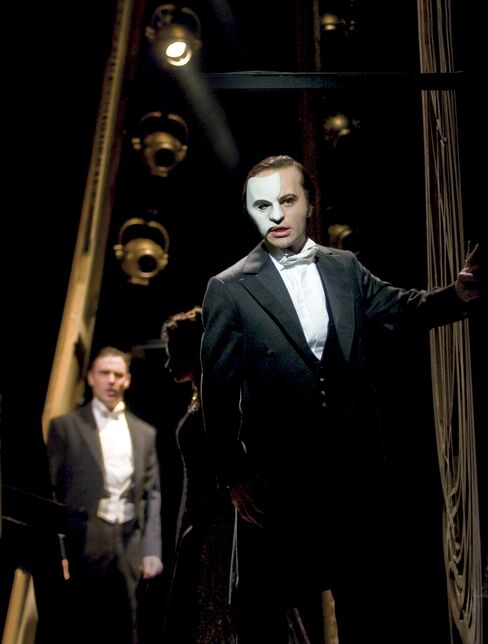 Find out what happens to a lovesick ghost at the start of your weekend in London.
Andrew Lloyd Webber's musical "Love Never Dies" is the followup to his "The Phantom of the Opera" (seen by more than 100 million people since its 1986 debut). In the new production, the phantom leaves Paris for a fairground on Coney Island.
"Love Never Dies" is at the Adelphi Theatre, the Strand, London. Information: http://www.loveneverdies.com or +44-844-412-4651.
Saturday
If you like the Turbine Hall, Tate Modern's mammoth lobby, you'll love Ambika P3, an art space opposite Madame Tussauds.
The onetime construction hall for engineering students is now a triple-height underground art venue with steel pipes, overhead bridges, and floors made of reinforced concrete.
On show through May 30 is a specially made installation by Greek-born Jannis Kounellis, 74. The giant K-shaped work is topped with coal and hung with empty bottles, coats and sacks.
The show, staged by London's Sprovieri Gallery, is at Ambika P3, University of Westminster, 35 Marylebone Road, London NW1 5LS. Information: http://www.p3exhibitions.com or +4420-7911-5876.
Saturday Night
La Roux brings its catchy electropop home to London after a tour of the U.S. and Europe. The synthesizer band, fronted by flame-haired Elly Jackson, 22, outdoes 1980s acts such as Yazoo. Expect the audience to sing along as Jackson belts out hits like "In For the Kill" and "Bulletproof."
Though the show is technically sold out, tickets can be found online.
La Roux: The Gold Tour, Brixton O2 Academy, 211 Stockwell Road, SW9 9SL. Information: +44-20-7771-3000, http://www.o2academybrixton.co.uk, http://www.laroux.co.uk/.
Brixton is home to an extraordinarily good pizza joint, Franco Manca. The only hitch: While the cooking time is just 40 seconds, the wait for a table may be considerably longer. Information: http://francomanca.co.uk.
Sunday
If you judge an artist by how well they draw, you'll approve of the bunch now showing at the British Museum.
Leonardo da Vinci, Michelangelo and Raphael all have drawings on display, some on loan from Florence's Uffizi Gallery. While you're busy looking at those, check out the less obvious gems nearby.
Note the proud cheetah with a blue leash, drawn between 1400 and 1410 by a follower of Giovannino de' Grassi. It was in a model book of animals that other artists used as motifs in their paintings and manuscript illuminations.
On a grislier note, see the rotting bodies of hanged men that Pisanello sketched between 1434 and 1438 as studies for a Verona fresco.
"Fra Angelico to Leonardo: Italian Renaissance Drawings" moves to Florence's Uffizi from here. Information: http://www.britishmuseum.org or +4420-7323-8181.
(Farah Nayeri writes for Bloomberg News. The opinions expressed are her own.)
Before it's here, it's on the Bloomberg Terminal.
LEARN MORE