Rio Puts Some Australian Projects on Hold Because of Mining Tax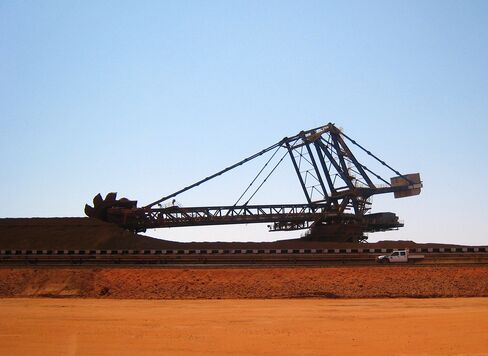 Rio Tinto Group, the world's third-largest mining company, put some Australian expansion projects on hold to study the effect of the government's proposed 40 percent "super tax" on mining.
"The concern is that people are looking at this now in boom times, not realizing that sooner or later, we're going to be in tough times and it's going to be very, very tough for projects," Sam Walsh, the head of Rio's iron ore operations, said in comments provided by the company.
The proposed tax will slash about 35 percent of the estimated increase in Rio's valuation from its proposed A$12 billion ($11 billion) iron ore expansion, according to Citigroup Inc. BHP Billiton Ltd., the biggest mining company, and Alcoa Inc. said this week the tax will threaten mining investments.
"Most of Rio's expansions revolve around iron ore," said Grant Craighead, managing director and co-founder of Sydney- based Stock Resource. "This shifts the financial equation away from Australia and into some of the other opportunities."
Shares in Rio, which has about a third of its assets in Australia, declined 3.8 percent to A$65.69 at the 4:10 p.m. Sydney time close on the Australian stock exchange. Rio's Sydney-based shares have declined 8.9 percent since the government said May 2 the tax on resource project profits will be introduced from 2012.
'Long Overdue'
Prime Minister Kevin Rudd met with Rio's Walsh and other mining executives in Perth this week, including Fortescue Metals Group Ltd.'s Andrew Forrest and BHP's President of Iron Ore Ian Ashby. Rudd told the companies he's committed to imposing the tax. He's seeking to tap forecast record mining company profits that are being driven by Asian demand.
"He was pretty brave to wade into a dinner with 25 angry miners," Walsh said. "He wants to engage, he wants it to be an active involvement and consultation process, and I've got to give him 10 out of 10 for that."
The tax is "long overdue" and "in the national interest," former Reserve Bank of Australia Governor Bernie Fraser today told the Australian Broadcasting Corp. Rudd said yesterday the government is prepared to talk with the industry about the details of the tax.
The tax may reduce Rio's earnings by 21 percent and earnings at Melbourne-based BHP by 17 percent in 2013, according to UBS AG estimates. Iron ore accounted for 47 percent of Rio's profit last year.
Guinea Project
Rio's capital spending this year may be between $5 billion and $6 billion, the company said in March. The iron ore expansion will boost capacity to 330 million tons by 2015 from 220 million tons. Final approval is due in the second half this year, Citigroup's Clarke Wilkins said yesterday in a report. The broker last year estimated the expansion may cost A$12 billion.
The tax could make the Simandou iron ore project in Guinea more important to Rio, he said.
"We've got our projects on hold while we try to understand the ramifications of a 40 percent increase," Walsh said. The company was studying six projects to expand iron ore production, he said in March. No decision has been made to shelve any projects in Australia, Rio said today in a statement.
The tax will raise A$12 billion in its first two years, according to government estimates. BHP, with 51 percent of its assets in Australia, said taxes on its operations there will increase to 57 percent in 2013 from 43 percent.
'Deeply Hostile'
Opposition leader Tony Abbott met with BHP Chief Executive Officer Marius Kloppers for an hour in Canberra yesterday. Andrew Robb, spokesman for the opposition Liberal-National coalition, and coalition treasury spokesman Joe Hockey met with Rio Australia Managing Director David Peever.
"I am deeply hostile to this great big new tax on the most efficient and the most competitive sector of our economy," Abbott told reporters yesterday after the meeting. "The last thing I want to do is to see any damage done to what is in effect the goose that laid the golden egg for Australia."
Cape Lambert Resources Ltd. suspended exploration at an iron ore project in the Pilbara region because of the tax, Executive Chairman Tony Sage said yesterday.
"All Australian projects which require substantial capital, including Fortescue's, will now be under review," Fortescue's Forrest told reporters in Perth today. Companies "that have substantial foreign assets will be elevating the value of those foreign assets in their boardrooms and lowering the value of their Australian assets."
Rio plans to suspend the expansion of its iron ore operations in Western Australia and its Arygle diamond mine may also become a casualty, the Australian newspaper reported today.
'No Decision'
Rio is reviewing the potential effect of the tax on all its operations and new projects in Australia, the company said.
"The feasibility study into the proposed 330 million ton a year expansion of Rio Tinto's iron ore operations in Western Australia is continuing," the company said. It wasn't able to determine the tax impact on the study until the details of the proposal become clearer, it said.
Before it's here, it's on the Bloomberg Terminal.
LEARN MORE