Oil-Soaked Crab Threatens Seafood Prices at Top-Ranked Eateries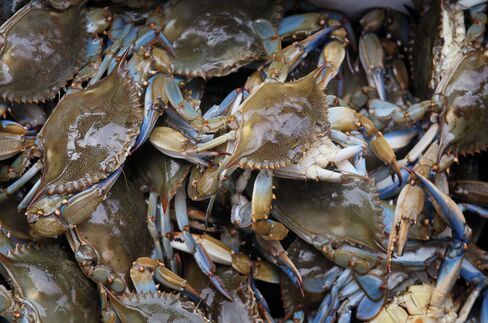 Seafood restaurants like Houston's top-ranked Reef are bracing for price increases to cope with the Gulf Coast oil spill that threatens 25 percent of the U.S. fresh fish haul.
The leak, gushing about 5,000 barrels a day, has shut fishing for at least 10 days from the mouth of the Mississippi River to areas off of Florida's Pensacola Bay. That may force restaurateurs such as Bill Floyd, who co-owns Reef, to raise the price on his Jumbo Crab Cake appetizer above its current $15.50.
"We are really concerned," said Floyd, whose restaurant is rated the nation's best for seafood by Bon Appetit magazine. "We are covered on product for now, but the immediate impact is on pricing, not availability. We would hate to raise prices, but I don't think that anyone will be able to avoid it."
The spill puts the restaurants at risk just as they approach their single biggest U.S. sales day of the year, the Mother's Day holiday. Crab suppliers in Louisiana have raised prices $10 per bushel in the past week and are charging as much as $170, up from $120 last year, said Mark Musterman, owner of Strongs Bay Seafood, which buys crabs from the Gulf Coast.
"This could be worse, 100 percent worse than Katrina," said Musterman, whose company is based in Chester, Maryland. "People up here are screaming for crabs -- they will pay any price." Prices had already risen because of unusually cold weather, he said.
Gulf Coast sales accounted for about $639 million of the $3.85 billion U.S. market for seafood as of 2008, according to the National Oceanic and Atmospheric Administration. In pounds, the haul accounts for one-quarter of the U.S. catch, excluding Alaska and Hawaii.
Holding Prices
While the National Restaurant Association said May 3 that it's too soon to tell what the full economic impact will be, restaurants are girding for supply shocks.
"I am not sure we will be able to hold crab prices for very long -- maybe two weeks," said Roger Berkowitz, chief executive officer of Boston-based Legal Sea Foods, which has 30 restaurants in nine states. At that point, Berkowitz said, he might raise menu prices for the soft-shell crab he buys from Maryland, or even list it at "market price," which would vary daily.
Darden Restaurants Inc.'s Red Lobster, the largest full-service seafood restaurant chain in the U.S., doesn't face the same crunch because most of its supply doesn't come from the affected areas, spokesman Rich Jeffers said in an e-mail. The company also buys seafood from Asia and South America, a tactic that more may pursue if the Louisiana haul is spoiled, said Bonnie Riggs, a restaurant industry analyst at market researcher NPD Group Inc. in Port Washington, New York.
Get Your Own
"Independent restaurants and restaurants in the Gulf region will be adversely affected, but chains have multiple sources of seafood or raise their own," Riggs said.
Some plan to stand on the merits of their menu items. Eric Ripert, co-owner of Manhattan's Le Bernardin, said he doesn't anticipate price increases or menu changes because of the spill. His restaurant offers a $185 tasting menu featuring baked lobster on a bed of truffled foie gras stuffing.
Diners probably will face higher prices even if they stay away from pricier options such as lobster and crab. Al Sunseri, whose family runs the nation's oldest continually operated oyster dealer, said dockside prices for oysters were already as much as $28 a sack, which is relatively high for this time of year. What happens next depends on the spill, he said.
"I'm sure there's people calling all over the place, chomping at the bit, trying to get whatever they can," said Sunseri, whose company is New Orleans's P&J Oyster Co.
No Shrimpy Increases
Shrimp prices have already risen, even though most shrimp comes from areas unaffected by the spill or the fishery closure, said Robert Walker, who runs the New Orleans-based Louisiana Seafood Exchange. Customers are also purchasing larger amounts, trying to stock up, he said.
"I was paying as little as $5 a pound in the beginning of April, and now I've got people wanting $6.25," he said in a telephone interview. "The price of shrimp usually increases by nickels and dimes."
Walker attributed the increase to a surge in panic levels, rather than shifting supplies.
"A guy running a restaurant in Colorado Springs who just needs some headless shrimp, he's not saying, 'Let's look carefully at the situation,'" he said. "He's calling up and saying, 'We need 10,000 pounds because it's the end of the world.'"
Before it's here, it's on the Bloomberg Terminal.
LEARN MORE