Whitney Says Banks Face 'Tough' Quarter, Housing Dip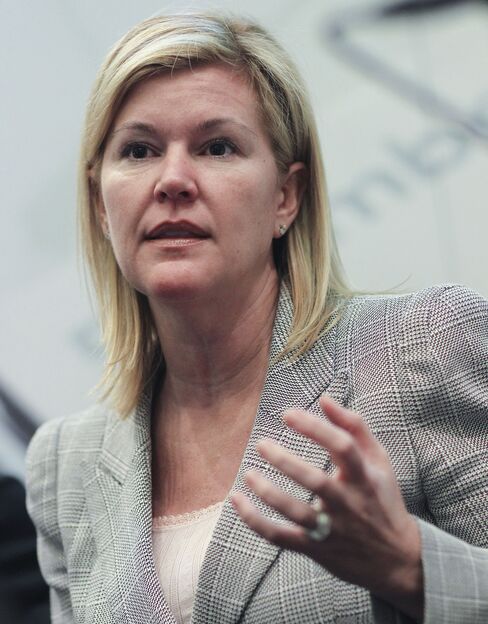 U.S. lenders face "tough" comparisons when they report second-quarter results and higher dividends aren't likely because of increasing capital requirements, according to banking analyst Meredith Whitney.
Banks benefited from write-ups tied to fixed-income assets as consumer banking lagged in the first quarter, Whitney said today at the Bloomberg Markets Global Hedge Fund and Investor Summit in New York.
"A vast majority of last year's profits for the banks were government-induced," Whitney said. "The government is putting a life guard on duty so that people will play in the pool."
Banks are unfairly "teasing" investors by discussing higher dividends because regulators are demanding lenders hold on to capital, said Whitney, known for her forecast for 2008 that Citigroup Inc. would cut its payout.
"I've been amazed to see the demand come back time and time again for financial institutions that are still not paying a dividend and still may not be able to for a while," Whitney said.
While she doesn't see "earnings power" at banks, Whitney said she might be a buyer if prices were lower. "I'm always a sucker for valuations," said Whitney, the founder of Meredith Whitney Advisory Group in New York.
Double-Dips
Banks continue to suffer from losses on non-performing loans, and U.S. home prices will fall again amid increasing supply and sluggish demand, according to Whitney.
"I'm steadfast in my belief there's going to be a double-dip in housing," she said. "You will see clearly that the banks are under-reserved when housing dips again."
Whitney said yesterday in an interview with Tom Keene on Bloomberg Radio that the nation's largest banks are susceptible to another dip in the consumer-credit market. While Wall Street rebounded in the first quarter, consumers haven't seen a similar improvement and U.S. states may cut jobs, she said.
"For the consumer, nothing has changed and the large banks are still weighed down by exposure to consumers," she said. "If consumer credit turns, which we think it will, you will underperform with all these banks."
Bank of America Corp., JPMorgan Chase & Co., Citigroup and Wells Fargo & Co. have said the bottom of the credit cycle was past as they reported first-quarter earnings that exceeded average analyst estimates.
Visa a 'Best Buy'
Visa Inc. is Whitney's "single best buy" because she said the company will continue to expand as more people pay with credit and debit cards. Visa, based in San Francisco, is the world's biggest electronic payments network.
"As bearish as I am, I can be bullish on Visa," Whitney said yesterday on Bloomberg Radio. Whitney cited consumers' migration toward reloadable prepaid debit cards, the fastest growing segment in the payments industry.
"Their revenue stream is uninterrupted and actually may grow as more people get on to the system," she said.
Before it's here, it's on the Bloomberg Terminal.
LEARN MORE