Greek Protests 'Scaring Off' Markets, Nobel Winner Phelps Says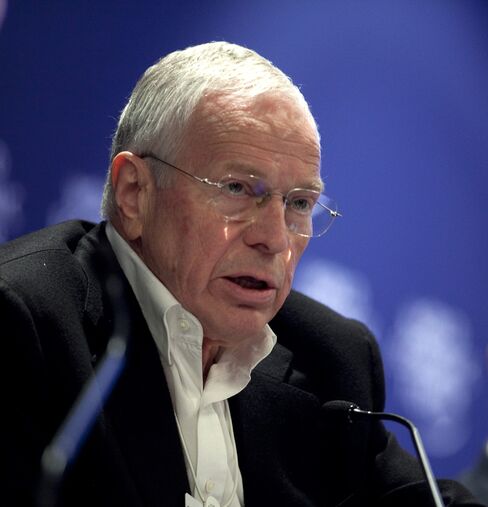 May 5 (Bloomberg) -- Nobel prize-winning economist Edmund Phelps said public protests in Greece are turning investors against the nation, and their "uneasiness" is spreading to other European countries.
"The demonstrations in Athens are another factor that must be scaring off, turning the mood of credit markets even more against Athens," he said in an interview on Bloomberg Television today. "Interest rates are sky-high in Greece. It's going to have further business contraction, it's just in a desperate condition."
Greek air traffic controllers, teachers and shopkeepers are walking off their jobs today to challenge cuts imposed on wages and pensions. European Central Bank council member Axel Weber said that Greece's fiscal crisis is threatening "grave contagion effects" in the euro area, justifying Germany's contribution to a 110 billion-euro ($142 billion) aid package.
"There's an uneasiness that's undoubtedly spreading to Spain and Portugal and who knows where next," Phelps said. "Each potential lender is afraid to lend if he thinks other lenders are not going to be lending too, because he may be out in the cold."
Greek 10-year bond yields rose 44 basis points today to 9.84 percent, putting the extra yield, or spread, investors demand to buy the securities instead of the benchmark German bunds at 693 basis points.
The spread of Spanish debt over bunds rose 11 basis points to 127 basis points today, and Portugal's spread increased 18 basis points to 254.7 basis points. A basis point is 0.01 percentage point.
Currency 'Jitters'
Phelps, a professor at Columbia University, said the turmoil in markets may impede the economic recovery of some European countries. The euro dropped to its lowest level against the dollar since April 2009, and traded below $1.30 for a second day today.
"The rise of interest rates and the jitters in currency markets is going to put a further damper on the economies of Europe," he said. "I would be more pessimistic about an early turnaround in the struggling economies than I was before, and I would be more pessimistic about the strength of the recoveries in Germany and France."
In 2004, Phelps told the New York Sun that Europe's lack of dynamism accounts for "everything we read in the paper -- low employment, low labor participation, relatively low productivity, and, I think, an unenthusiastic attitude toward work and business." When he won the Nobel prize for economics in 2006, he said that "may be" changing in some European countries, but "I would say that's not very many."
Labor Markets
Phelps suggested today that recovery throughout Europe from the economic slump may fade.
"I don't think of labor markets as ever being very turbulent, in Europe they move as slow as molasses," he said. "The U.S. economy and a number of other economies are going pretty well, having a reasonably good upturn. I don't know how far the recovery will go, I have doubts about that, but in Europe the signs of recovery were here and there but not pervasive."
To contact the reporters on this story: Jennifer Ryan in London at jryan13@bloomberg.net; Rishaad Salamat in London at rishaad@bloomberg.net
To contact the editor responsible for this story: John Fraher at jfraher@bloomberg.net