Geithner Casts Off Wall Street Taint to Sell Overhaul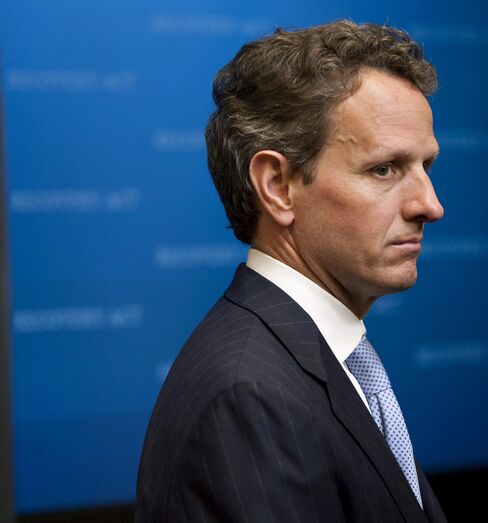 May 5 (Bloomberg) -- U.S. Treasury Secretary Timothy F. Geithner stepped onto a stage last week in Milwaukee, where unemployment is about 12 percent, and told 200 cheering college students that "it is excellent to be away from Washington."
Geithner's appearance with Vice President Joe Biden was part of the Obama administration's effort to take the debate for sweeping financial-rule changes to ordinary Americans. He has used radio and television appearances in the past week to broaden his reach beyond Washington in a bid to overcome Republican opposition in the Senate.
Geithner is emerging as a pitchman for the administration's drive to remake Wall Street after overcoming early stumbles that prompted calls for his resignation from some Republicans in Congress. The 48-year-old Treasury Department chief is benefiting from a rebounding economy and subsiding public anger over rescues of financial firms as companies including Citigroup Inc. repay bailout money.
"He seems to be walking on pretty solid ground these days," said David Nason, managing director at Promontory Financial Group in Washington and a Treasury assistant secretary during the Bush administration. "There's still obviously a lot of angst in the air about the financial-services industry, but the bailout fatigue is a bit smaller now."
In Milwaukee, where MillerCoors LLC and Harley-Davidson Inc. are major employers, Geithner avoided talk of complex topics such as derivatives. Instead, he tried to convince the crowd at the student union building of the University of Wisconsin-Milwaukee the new rules would help them, beginning with "let me start with a story about this crisis."
'Mistakes on Wall Street'
"Reform is about protecting the financial security of all Americans" and preventing taxpayers "from having to bear the burden of mistakes on Wall Street," Geithner said at the April 27 forum organized by Biden's Middle Class Task Force. Without singling out Republicans, he urged the crowd not to "leave the debate to the banks and their protectors."
The pitch was well-received by some students, even if Biden, a more experienced and relaxed public speaker, got a more enthusiastic response.
"I didn't really even know Secretary Geithner before the event," said Allen Brown, 23, a senior from Germantown, Wisconsin, who is majoring in marketing. "He was very impressive" and "reiterated the point very well" that a regulatory revamp is needed.
Zach Wambold, a 21-year-old from Watertown, Wisconsin, who's studying human resources management and political science, said Geithner "didn't offer as much to show his expertise in the field as he could have."
Lived Abroad
Political rallies aren't a natural fit for Geithner, a career government official who has lived in China, East Africa, India, Japan and Thailand.
He's more effective in one-on-one meetings and TV interviews than making public speeches, said Stan Collender, a former House and Senate budget analyst who is the managing director of Qorvis Communications, a Washington-based communications firm.
"He's not that charismatic a speaker, but when he's looking into the camera or talking with an interviewer, he's got the ability to talk directly to individuals," Collender said.
Geithner is scheduled to testify tomorrow in Washington before the Financial Crisis Inquiry Commission about the so-called shadow banking system, bank-like financial institutions that operate outside the U.S. regulatory structure.
Economic Recovery
The recovery in the economy and financial markets is giving Geithner a boost. Gross domestic product grew at a 3.2 percent annual pace in the first three months of this year, the third straight quarter of expansion.
The Standard & Poor's 500 Index has surged 74 percent since its recession-low in March 2009. The three-month TED spread, a measure of credit risk, has narrowed to 19 basis points from as high as 463 basis points in October 2008.
Geithner, who participated in the government's biggest bank rescues as president of the Federal Reserve Bank of New York, ran into opposition on Capitol Hill as soon as he was nominated in November 2008 by President-elect Barack Obama.
The Senate's 60-34 vote confirming Geithner was the closest post-World War II margin for a Treasury secretary, partly reflecting controversy over his failure to pay $50,000 in federal taxes and penalties in earlier years.
"Secretary Geithner is viewed by the public, from the left to the right to center, as intricately tied and focused toward Wall Street rather than Main Street," Representative Kevin Brady, a Texas Republican who called on Geithner to resign after unemployment hit a 26-year high of 10.1 percent in October, said in an interview. "He's not the right messenger."
AIG Bonuses
Investors responded to Geithner's first major policy speech in February 2009 by sending the Standard & Poor's 500 Index down 4.9 percent, partly because his address lacked specifics for a financial rescue. The following month, lawmakers criticized Geithner over bonuses paid to employees of American International Group Inc., the New York-based insurer bailed out by the Treasury and the Federal Reserve.
"He has probably grown in effectiveness over time, and I think the storms that he weathered early on helped him understand the Hill a little better," said Dana Perino, the former press secretary to President George W. Bush who now works at public relations firm Burson-Marsteller.
Geithner is also aided by public support for new rules. About two-thirds of Americans back tighter regulations for banks and other financial institutions, according to an April 22-25 Washington Post/ABC News poll.
Dodd Bill
Senate Banking Committee Chairman Christopher Dodd's legislation, based on a proposal offered by Obama, is aimed at strengthening oversight of Wall Street and safeguarding consumers. Republicans last week ended their efforts to block debate on the legislation, vowing instead to battle for changes on issues including consumer protection and derivatives.
Once the target of the bailout backlash, Geithner predicted last month that the cost to taxpayers of the rescues will be $87 billion, less than an initial projection of $500 billion.
In the eyes of some investors, that gives Geithner some staying power. Traders using Intrade, a Web exchange for futures contracts based on political outcomes, yesterday saw an 11 percent chance that Geithner would leave office by the end of the year, down from 60 percent in February.
That doesn't mean it will be easy for Geithner to gain the trust of working Americans.
"The challenge for him will be to navigate the politics and to build a critical mass on Main Street," said Kevin Petrasic, a Washington-based lawyer at Paul, Hastings, Janofsky & Walker LLP and former counsel at the Office of Thrift Supervision. "There are so many angry people out there. It's a very, very hard job."
To contact the reporter on this story: Ian Katz in Washington at ikatz2@bloomberg.net. Timothy R. Homan in Milwaukee at thoman1@bloomberg.net.
To contact the editor responsible for this story: Christopher Wellisz at cwellisz@bloomberg.net