Britain Votes as Opinion Polls Show Hung Parliament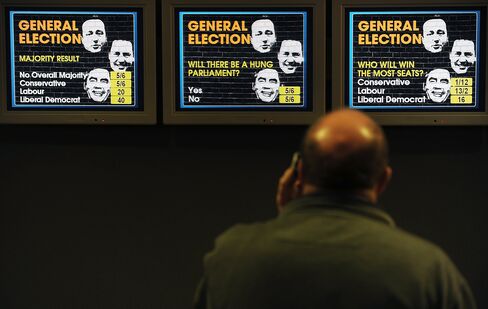 Britain voted today in an election that polls show may produce no parliamentary majority for the first time since 1974, leaving the fate of Prime Minister Gordon Brown and Conservative David Cameron with the Liberal Democrats.
Four polls released last night showed the Conservatives winning the popular vote and the most seats, while short of a majority. The outcome will turn on the almost two in five voters who polls showed were undecided in the final days and about 150 swing districts out of a total 650.
The gap in support between Cameron and Labour Party leader Brown in the latest polls -- about 8 percentage points -- is little changed from April 6, the day the premier called the election. Backing for Liberal Democrat leader Nick Clegg surged after the first televised debate, upending the race.
"People who know anything about campaigns have always been doubtful about whether individual events mattered very much," said Philip Cowley, professor of politics at Nottingham University. "But the TV debates made a difference."
The pound has fallen 8 percent against the dollar this year amid concern that a hung Parliament may produce a government that's too weak to fix Britain's finances.
Pound Falls
The U.K. currency slid below $1.50 for the first time since March, dropping 1.6 percent to $1.4865 as of 8:51 p.m. in London.
With the economy recovering from its longest recession on record, Brown said Cameron's call for budget cuts this year risked renewed contraction. They also differed on regulating the financial industry, with Cameron expressing a willingness to tax banks unilaterally and Brown saying a levy had to be global.
At the same time, Clegg's emergence and his challenge to Cameron and Brown -- he said in the first of three debates that they "sound exactly the same" -- deflected their focus on cutting Britain's record budget deficit as they grappled with his surge.
The Institute for Fiscal Studies said April 27 that Labour had specified just 13 percent of the cuts necessary to reduce the deficit, the Conservatives 18 percent and the Liberal Democrats 26 percent.
'The Straight Truth'
"It would have been a very brave politician who came out and told the voters the straight truth," said Steven Fielding, director of the Center for British Politics at Nottingham University. "So they didn't."
Polling stations opened at 7 a.m. in 649 out of the 650 districts across the country. The vote in a Yorkshire seat held by the Conservatives has been delayed until May 27 because of the death of a candidate.
When voting ends at 10 p.m., exit polls will give the first indications of the outcome. The full result won't be known before tomorrow afternoon.
Tony Cockings, 41, a scaffolder in the southeast London district of Greenwich and Woolwich, said he voted Conservative for the first time after a lifetime voting Labour.
"I've had enough of Labour," Cockings said. "When Brown was chancellor he let regulation of the banks slip. He was never elected Prime Minister but has basically tried to rule with an iron fist and I don't like it."
The Conservatives had 35 percent support in a YouGov Plc poll for The Sun newspaper, unchanged from the previous day. Labour had 28 percent, down 2 percentage points, and the Liberal Democrats had 28 percent, up 4 points. YouGov questioned 6,483 people May 4 and yesterday. No margin of error was provided.
That voting pattern would yield 278 seats for Cameron's party in the House of Commons, 261 for Labour and 82 for the Liberal Democrats, according to the forecasting formula used by the British Broadcasting Corp.
Nine-Point Lead
A Populus survey for the Times of London put Cameron's lead over Brown at 37 percent to 28 percent, with the Liberal Democrats at 27 percent. That would give the Conservatives 295 seats, Labour 249 and the Liberal Democrats 78 seats.
An ICM poll for the Guardian showed 36 percent of respondents backing the Conservatives, with Labour at 28 percent and Clegg's party at 26 percent, giving the Conservatives a lead in seats of 283 to 253.
A ComRes Ltd. Poll found 37 percent backing Cameron's party, 28 percent supporting Brown's and 28 percent for Clegg's. That would give the Conservatives 299 seats and Labour 233.
"It's been very exciting for those involved, but the polls seem to be returning to where they were at the start," Fielding said.
Labour has governed Britain since 1997, when Tony Blair unseated John Major, ending the Conservatives' 18-year run that began with Margaret Thatcher's election. Brown, Blair's finance minister, replaced his boss in June 2007.
Negotiations
If the election produces no clear winner, parties will begin negotiating tomorrow to see who can form a government.
Depending on how close the result is, this process could take more than a week. Parliament isn't due to sit until May 18, to give time for negotiations.
Cameron, 43, warned against a hung Parliament, saying a vote for the Liberal Democrats would allow Brown to retain power. Some Labour ministers, including Business Secretary Peter Mandelson, have not ruled out a coalition with the Liberal Democrats.
Clegg, 43, said it would be "preposterous" for Brown, 59, to stay in office if Labour finishes third in the popular vote.
That scenario is made possible by the vagaries of the British electoral system. The uneven distribution of party support across the country means the Conservatives need at least a 10 percentage-point lead over Labour in the popular vote to gain a majority of seats in this election, according to Colin Rallings and Michael Thrasher of Plymouth University's Elections Unit.
Brown remains prime minister until it is clear he can't form a government, at which point he would submit his resignation to Queen Elizabeth II and advise her on whom she should summon to try to form one, likely in that situation to be Cameron.