Beer Flows, Strippers Promote at Offshore Conference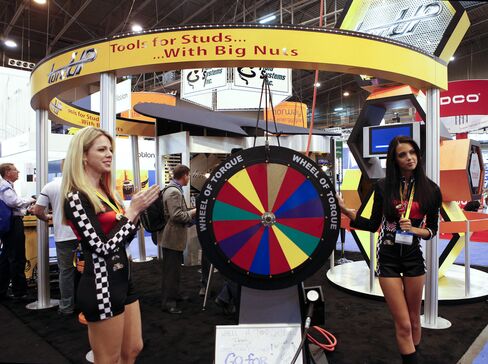 The world's offshore energy industry is gathered in Houston for its biggest annual conference, where participants are focused on business growth rather than BP Plc's oil spill in the Gulf of Mexico.
Beer and wine flow at the Offshore Technology Conference's concession booths, and exhibitors use humor and titillation to get the attention of 67,000 attendees from more than 100 countries. Some guests leaving the exhibit hall May 3 found fliers stuck on their vehicles promoting a strip club. The ads offered free admission and had photos of a rig on one side and a woman removing her clothes on the other.
An April 20 explosion and fire on Transocean Ltd.'s Deepwater Horizon rig killed 11 workers and triggered a leak from a BP well that continues to spew oil into the ocean. President Barack Obama said May 3 that the spill may become an "unprecedented environmental disaster."
"You want to respect the people that gave their life for this industry," said Jim Bullen, sales manager for TorcUp Inc., an Easton, Pennsylvania-based maker of drilling tools. "At the end of the day, we've got a business to run and life goes on. It's sad. It just exemplifies how dangerous an industry offshore drilling really is."
At TorcUp's exhibit booth, women wearing high heels and short, racing-themed suits with zippers up the front hand guests a power tool to spin the Wheel of Torque for a chance to win a gift card.
'Girls and Beer'
Bullen, who's also giving away beer for two hours a day, said yesterday that he'd fielded about 500 qualified sales leads. This is the first year he's tried the Wheel of Torque. The conference runs May 3 through May 6.
"We always have the girls," Bullen said. "Girls and beer."
Other companies vying for the attention of conference attendees included Dockwise Ltd., a drilling-equipment transporter that served sushi to invited guests at its exhibit.
At the booth of Hytorc, a Mahwah, New Jersey-based maker of bolting tools, more than 20 people gathered around as attendees hit balls into a golf simulator. A woman at the booth wears a T-shirt with the slogan, "Who you gonna call? Hytorc The Nutbusters."
Sandvik's Magician
Conference attendees sat around drinking beer yesterday at the booth of Honghua America LLC, a unit of Chinese rig builder Honghua Group Ltd., as a woman sang and played a guitar.
Sandvik Materials Technology, a unit of Sweden's Sandvik AB, the world's biggest maker of metal-cutting tools, entertains conference guests with a pool table and a magician. The magician, Love Melander, has traveled with Sandvik to conferences around the world. He said he's not worried about offending people during a somber time for the offshore oil industry.
"I like smiling faces," Melander said. "Perhaps I help them to forget."
The oil spill has been an underlying topic of conversation at the conference, said Mark Liberato, a sales manager at McNichols Co. who was manning his company's booth this morning. He wore a shirt with the McNichols slogan, "The Hole Story," which stems from the company's perforated-metal products. He said booths like TorcUp's make for a "lighter atmosphere."
"I like the idea of having something attractive like that," Liberato said. "I do think it draws people in."