U.K. Banks' CDO Marketing Comes Under FSA Scrutiny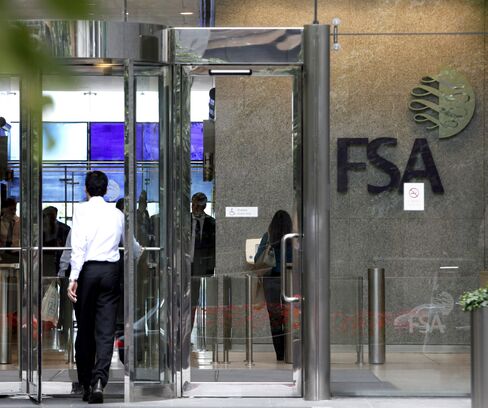 The way banks sell structured products similar to those at the center of the U.S. case against Goldman Sachs Group Inc. is being reviewed by the U.K. financial regulator, according to lawyers who advise the lenders.
The Financial Services Authority has asked major U.K. banks to provide it with marketing literature for collateralized debt obligations to see if there have been improper sales, the lawyers said. While the FSA has made inquiries for months, the U.S. Securities and Exchange Commission fraud case against Goldman Sachs underscored the issue.
The FSA is "looking at disclosure, conflicts of interest, all of that," said Jonathan Herbst, a former FSA attorney who's now a regulatory lawyer at Norton Rose LLP, about the CDO inquiries. "The interesting question is what they'll do if they find anything. It would be difficult to file a claim, but there is political pressure to 'get bankers.'"
Prime Minister Gordon Brown, who created the FSA in 1997, urged the regulator to probe Goldman Sachs after the SEC filed its suit. The FSA could be dismantled if opposition Conservatives, who argue lax regulation contributed to the financial crisis, win tomorrow's election.
"These issues are as old as the financial markets," said Simon Gleeson, a regulatory lawyer at London-based Clifford Chance LLP. "Goldman just reminds people that it's still there as an issue and it's very difficult. The FSA read the newspapers too."
Joseph Eyre, an FSA spokesman, declined to immediately comment. A Goldman Sachs' spokeswoman declined to comment.
Increasing Fines
FSA preliminary inquiries have the potential to highlight areas for a more formal enforcement probe. If any FSA rules are broken, it can fine companies or ban individuals. Its financial penalties are increasing in size, in some cases tripling, under rules that came into effect last month.
Collateralized debt obligations bundle bonds or loans, or both, from a variety of issuers such as companies or countries. Interest payments on the underlying bonds or loans are used to pay investors.
The FSA is looking at the assets that underpinned structured products, Gleeson said.
Treating Customers Fairly
"The FSA has a reasonably strong suspicion that in the later days of the mortgage-backed market, there was such a rush to originate products that they were sweeping up anything that could be remotely described as a mortgage," he said, referring to the FSA's industrywide inquiry. "The person they visit may say that they complied with statutory disclosure obligations, and that may be true, but the FSA will ask: were you treating your customers fairly?"
Improper sales, or mis-selling, has always been a focus for the FSA and it has typically concentrated its efforts on cases where financial firms haven't been transparent about the risks of financial products to customers, said Bob Penn, a regulatory lawyer at Allen & Overy LLP in London.
"The FSA has historically demonstrated no interest in highly structured products sold to sophisticated market participants," Penn said. "The view has been: they can take care of themselves, so caveat emptor. The real question is: are we going to see the FSA look at mis-selling at an inter-professional basis? It feels like an open question right now." Caveat emptor means "buyer beware" in Latin.
The FSA said that it was opening a formal probe into Goldman Sachs in relation to the SEC suit on April 20.
SEC Case
The SEC alleges that in early 2007, as the U.S. housing market faltered, Goldman Sachs created and sold a synthetic CDO, based on credit insurance contracts linked to subprime mortgages, without disclosing that hedge fund Paulson & Co. helped pick the underlying securities and bet against the vehicle, known as Abacus 2007-AC1. The hedge fund hasn't been accused of wrongdoing.
Goldman Sachs denies the allegations and has said that it will fight the suit. While a Goldman Sachs vice president named in the SEC case, Fabrice Tourre, is employed at the bank's London office, the SEC case relates to when he was based in New York. His FSA authorization was suspended at the firm's request and he is on paid leave.
Tourre, who is represented by lawyers at Allen & Overy in New York, told a U.S. Senate committee last week that he could have been "more accurate" in describing how assets for the investment pool were selected.