'Enron' Is Broadway's $4 Million Flop, 'Family Week'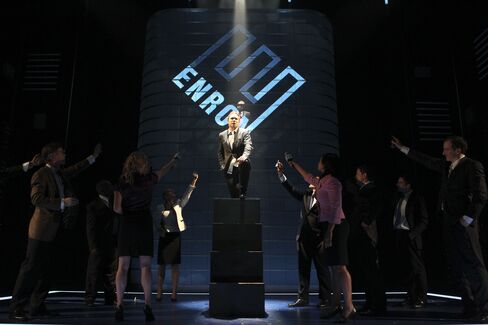 Enron still has enough energy to shatter records.
The Houston-based company's $63.4 billion collapse in 2001 was the biggest up to that time. The collapse of "Enron," Broadway's $4 million import from London, is easily the most shocking bust of the season now coming to an end.
Audience members at today's matinee performance, the first since the closing notice was posted last night, expressed puzzlement about the closing. Television ads for the play have inundated local programs since it began previews on April 8.
"We spent a lot of advertising money on TV over recent weeks, the show was in your face everywhere, and there was just no response," Philip J. Smith, chairman and co-chief executive officer of the Shubert Organization, said in an interview. "Maybe it was just too contemporary."
"Enron," which is running at the Broadhurst Theatre, will close Sunday after a puny three-week run. In addition to being the show's landlord, Shubert was a co-producer of "Enron," with what Smith called a "substantial stake" in the show.
Another key factor in the decision to shut down was the failure of "Enron" to garner the important Tony nominations that might have given it a boost at the box office. Although it came away from Tuesday's announcement with four nominations, "Enron" was notably absent from the best play, best direction and best actor categories.
The Lucy Prebble play-with-music (the "score," oddly, was one of the nominations "Enron" got) left most American critics advertising their ignorance of financial matters while wondering what the fuss was all about.
'Chilling Precursor'
Bloomberg critic John Simon was in the positive side of that camp, calling the show "an astonishing thrill ride through the high-flying '90s and a chilling precursor to everything that would follow."
With no significant advance bookings and no activity at the box office, the decision to close was prudent.
"As they say," Smith said, "you can't keep throwing good money after bad."
He wasn't smarting too much, Smith added. Shows in Shubert theaters, several of which the company had also invested in or co-produced, walked off with 62 Tony nominations. The winners are announced on Sunday, June 13.
Broadway openings come to a stop with the Tony nominations, after several frantic weeks of openings followed by the inevitable culling that "Enron" begins.
'Family Week'
Off-Broadway is another matter, with smaller companies getting into high gear for the summer season. Had filmmaker Jonathan Demme chosen to make his stage-directing debut uptown, he, too, would probably be hanging a closing notice.
Instead, his good work on Beth Henley's "Family Week" will continue to be on display at the Lortel Theatre in Greenwich Village for anyone in the mood for an excruciating downer.
Henley won a Pulitzer Prize in 1982 for "Crimes of the Heart," about three sisters struggling to cope with a laundry-list of shocking events, not the least of which is murder.
"Family Week" stars Rosemarie DeWitt -- the sane title character in Demme's "Rachel Getting Married" -- as Claire, a middle-aged mother whose life has fallen apart in the wake of her son's murder.
On hand at Claire's rehab clinic to provide what only a Southern Gothicist like Henley could think of as support are her mother, her inexplicably black sister and her noisy teenage daughter. They're instructed by a typically clueless therapist to share their "primary emotions" with the fragile but oddly unsympathetic Claire.
Great Cast
The fine and refreshingly game cast includes Kathleen Chalfant as Mom, Quincy Tyler Bernstine as Sis and Sami Gayle as the daughter.
"Family Week" has been rattling around the theater world for a long time, but Demme's attractive rehab on behalf of the invaluable MCC Theater is as ineffectual as poor Claire's shrink.
Through May 23 at 121 Christopher St. Information: +1-212-279-4200; http://www.ticketcentral.com.
Rating: *1/2
What the Stars Mean:
****       Do Not Miss
***        Excellent
**         Good
*          Poor
(No stars) Worthless
(Jeremy Gerard is an editor and critic for Bloomberg News. The opinions expressed are his own.)