Ross, Like Buffett, Believes in Goldman Sachs: Tom Keene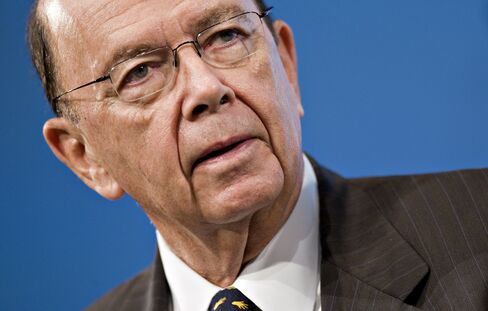 Billionaire investor Wilbur Ross "believes" in Goldman Sachs Group Inc., echoing the sentiment of another billionaire, Warren Buffett.
The chairman of New York-based WL Ross & Co. said in an interview today with Tom Keene on Bloomberg Radio that Buffett's $5 billion investment in Goldman Sachs in 2008 is a vote of confidence that Ross supports.
"Warren, as you know, is a large investor in Goldman," Ross said. "He, being a canny investor, clearly believes in Goldman, and so do I. I think that Goldman is the best-managed of the big firms without a doubt."
Buffett, chief executive officer of Berkshire Hathaway Inc., said on May 1 at the company's annual meeting in Omaha, Nebraska, that Goldman Sachs shouldn't be blamed for losses suffered by clients who invested in mortgage bets at the center of a fraud suit filed by regulators against the bank.
Goldman Sachs executives were grilled last week by U.S. lawmakers who compared the bank's mortgage bankers to bookies, and Senator Carl Levin asked why they sold securities company employees derided.
Ross said in the Bloomberg Radio interview that complicated derivatives didn't cause the financial crisis that pushed the U.S. into the worst slump since the Great Depression.
"You need two sides to the trade in order to have it occur," he said. "Only one side is going to be right at any point in time."
U.S. banking acquisitions will increase, according to Ross, whose company recently invested $200 million in Troy, Michigan-based First Michigan Bancorp. He cited Canada, where few banks dominate a nation "one-tenth" the size of the U.S.
Banking 'Consolidation'
"We're going to have an enormous consolidation of banks in this country," said Ross. "The U.S. has 8,000 banks, and of those 8,000 banks, a couple of hundred have already failed."
Ross added to his fortune by buying bankrupt steel, coal and textile companies and selling them.
If former President George W. Bush's tax cuts including reduced dividend rates are allowed to expire this year, corporations will probably hold on to cash instead of returning value to shareholders, Ross said.
"You'll see corporations retaining more of the cash, either for internal growth or for acquisitions," Ross said.
Before it's here, it's on the Bloomberg Terminal.
LEARN MORE