VIX Rises With VStoxx on Concern Europe Debt Crisis Will Spread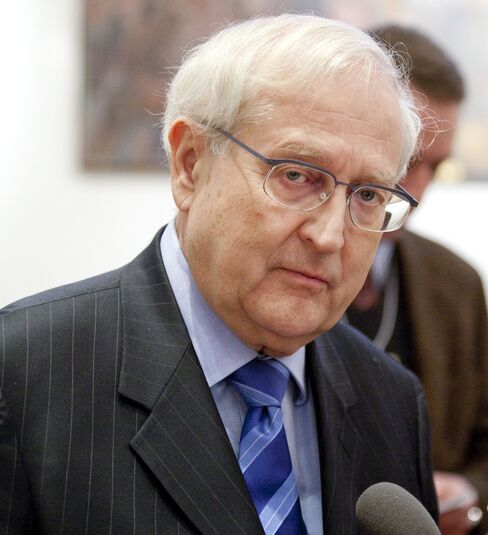 The benchmark index for U.S. stock options jumped to the highest since February and Europe's gauge closed at a level last reached in July on concern the Greek debt crisis is spreading to Spain and Portugal.
The VIX, as the Chicago Board Options Exchange Volatility Index is known, gained 18 percent to 23.84 at 4:15 p.m. New York time. The index measures the cost of using options as insurance against declines in the Standard & Poor's 500 Index, which lost 2.4 percent. Europe's VStoxx Index of options on the Euro Stoxx 50 Index rose 15 percent to 33.15.
U.S. stocks tumbled the most since February, European shares erased their 2010 gain and the euro dropped below $1.30 for the first time since April 2009 amid concern the government debt crisis is spreading. Oil, copper and gold retreated following a slowdown in Chinese manufacturing.
"The fear is, do you have to bail out Spain and Portugal?" said Chris Rich, head options strategist at JonesTrading Institutional Services LLC in Chicago. "People are afraid, and every day you're seeing larger and larger ranges in the stock indexes."
The most-active VIX options were May 30 calls, which jumped 78 percent to 80 cents and accounted for about a seventh of all bullish options on the index changing hands today. May 45 calls doubled to 10 cents for the biggest gain among options. The VIX hasn't closed above that level for more than a year.
VIX futures also advanced. July contracts rose 6.9 percent to 25.55 and September's gained 4.8 percent to 26.45. The VIX hasn't closed above 26 for three months.
Surging Toward 30
"Volatility will continue to be very high and I wouldn't be surprised to see S&P or DAX volatility going up to 30 again," said Michael Brauburger, a senior derivatives sales trader at Newedge Group in Frankfurt.
Germany's VDAX, a gauge of options on the benchmark DAX Index, gained 13 percent to close at 23.43. The stock index lost 2.6 percent.
The euro traded below $1.30 for the first time since April 2009 on concern the debt crisis will spread. The common currency fell 1.3 percent to $1.3018 in New York and touched $1.2994, the lowest since April 28, 2009.
Options gauges have risen because of wider swings in stock indexes. The 20-day historic volatility for the S&P 500 has jumped to a three-month high of 18.39 after dropping to a three-year low of 6.66 a month ago. The stock benchmark moved in a 2.44 percent range between today's intraday high and low, double the average over the past four weeks.
"The movements are picking up dramatically," said Dan Deming, a VIX options trader at Stutland Equities LLC in Chicago. "There's no panic, but there is a heightened alert that the market may be breaking out of its subdued volatility."
Before it's here, it's on the Bloomberg Terminal.
LEARN MORE