Senators Take Aim at $40 Billion of Credit-Card Fees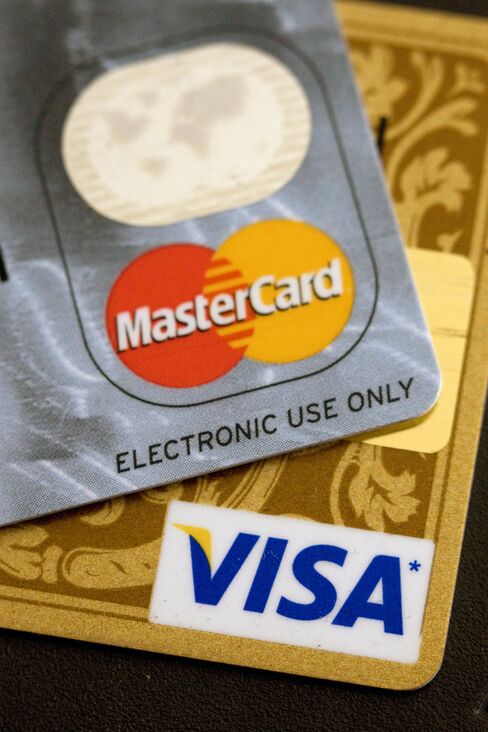 Visa Inc. and MasterCard Inc. faced a renewed threat to one of the credit-card industry's biggest revenue sources after Senator Patrick Leahy backed legislation to help merchants cut the cost of accepting payment cards.
Leahy, a Vermont Democrat and chairman of the Senate Judiciary Committee, will co-sponsor a measure by Senate majority whip Dick Durbin of Illinois that lets merchants offer customers discounts for using cash or a particular card brand, Durbin spokesman Max Gleischman said today. Merchants who accept cards typically must pay about 2 percent per transaction.
The industry has escaped previous attempts to curtail so-called interchange or "swipe" fees, which bring in more than $40 billion a year. Now the nation's biggest card networks and lenders, including Bank of America Corp. and JPMorgan Chase & Co., find themselves pitted against two of the most powerful senators over the fees, which some lawmakers and retailers have said are excessive and hurt small businesses.
"The motivation behind this is really to put merchants in a position where they don't pay their fair share," MasterCard Chief Executive Officer Robert W. Selander said today after the Purchase, New York-based company posted a 24 percent rise in first-quarter net income. "We think that Congress understands that you can't give anybody a free lunch."
Durbin's measure, which is planned as an amendment to the financial industry overhaul bill, also would allow retailers to set maximum or minimum transaction amounts for payment cards.
House Proposal
Durbin's amendment resembles a bill proposed last year by Representative Peter Welch, a Vermont Democrat. The legislation would prohibit payment networks from setting higher interchange rates for premium rewards cards. Richer rewards hurt "mom-and-pop" merchants in his district, said Welch, who today introduced legislation to limit debit-card fees.
Barney Frank, a Massachusetts Democrat and chairman of the House Financial Services Committee, has said Welch's bill wouldn't be on the agenda this year.
The other amendments from Durbin would also restrict the amount payment networks may charge for debit-card transactions and mandate that the U.S. government receive the lowest interchange rates. Durbin, the chamber's second-ranking Democrat, has said the U.S. is "a major user" of credit cards.
Durbin's plan to let retailers set minimums and maximums for transactions would hurt people who use debit cards for food stamps and put all consumers at greater risk by forcing them to carry "enormous amounts" of cash if merchants impose card maximums, said Trish Wexler, a spokeswoman for the Electronic Payments Coalition, which represents card networks and banks.
"These amendments will deliver devastating consequences to community banks and credit unions, the very financial institutions most committed to building communities," Wexler said. "By striking at the very core of our local economies, these small financial institutions will be squeezed out of the marketplace by large retailers bent on reaping more profits."