Underwater Robots Probe 'Inner Space' to Plug Leaking Oil Well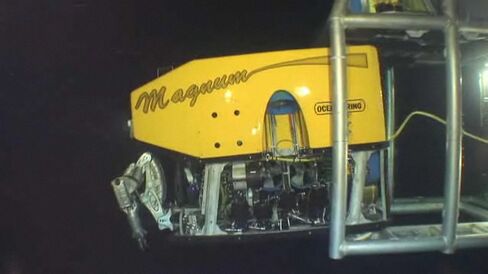 Pilots using jetfighter-like joy sticks and computer screens to guide robots a mile underwater are crucial to BP Plc's efforts to stop a leaking oil well that's gushing thousands of barrels a day in the Gulf of Mexico.
The job is comparable to astronauts using remote vehicles to explore space, said Mike Oden, who teaches oilfield divers how to use the robots. The National Oceanic and Atmospheric Administration has estimated the well is spewing 5,000 barrels of oil a day. At that rate, the spill would exceed Alaska's 1989 Exxon Valdez accident by the third week of June.
"Those guys are good at what they do, but they've got a challenge on their hands," said Oden, who works in Houston for Ocean Corp., a company that trains oilfield divers and inspectors. "The whole world is watching."
Oceaneering International Inc., the world's largest provider of remote-operated vehicles, is supplying BP with equipment and workers to help stem the leak, Chief Executive Officer Jay Collins said on an April 29 conference call. He declined to give details.
Oceaneering supplied Transocean Ltd.'s Deepwater Horizon drilling rig with an underwater robot system that was destroyed when the rig burned and sank April 22 following an explosion at BP's well. Three of the company's employees were rescued, while 11 rig workers are missing, presumed dead after the accident.
Crews are using what the industry calls remote-operated vehicles to try to install a valve to stop one of three leaks in the 5,000-foot drill pipe, Doug Suttles, chief operating officer of exploration and production for BP, said yesterday at a press conference.
Lunch Box
The size of underwater robots range from as small as a lunch box to as big as a pickup truck and trailer, said Craig Dawe, technical support manager for the Monterey Bay Aquarium Research Institute, who has worked with the remote-controlled machines for the past 17 years.
It may be easier to work in outer space than in the deep water surrounding the spill site, said Scott Kopsick, technical sales manager at Houston-based Perry Slingsby Systems, a maker of the remote-operated vehicles. "When you're in outer space, your main concern is debris and radiation," he said.
Underwater work introduces more variables. Pilots must constantly monitor pressure gauges as they steer the robot through ocean currents while trying to see through sometimes murky waters, Kopsick said.
Since the rig sank, BP has used the robots to try to activate equipment meant to staunch the flow of oil from the well. They also will be deployed to place containment structures over the leaks and capture the oil so it can be siphoned away, Bob Fryar, BP's senior vice president of operations in Angola, said this week.
Apollo 13
Admiral Thad Allen, the Coast Guard commandant overseeing efforts to control and clean up the spill, compared operating the robots to Apollo 13 astronauts working in "inner space."
Typically, it takes a crew of two workers sitting inside a small, dark control room at the surface to operate a single robot vehicle, said Dawe of the Aquarium Research Institute.
A high-definition camera in the front of the robot serves as the device's main eyes looking forward while cameras on the sides provide the peripheral view, he said. While watching images projected onto a main screen and four additional monitors, the pilot moves the joystick, adjusting thrusters that push the robot in the desired direction.
A co-pilot operates the so-called manipulators, or robot arms, that can pick up objects and adjust them or move them out of the way.
Margin for Error
"The margin for error is very small because you're looking at millions of dollars," said Perry Slingsby's Kopsick. "God forbid they break something they shouldn't."
Remote-controlled vehicles have come a long way since they were first used about 25 years ago to provide underwater visuals, said Oden of Ocean Corp. The most common work-class vehicles, which are found in the oil and natural-gas industry, come with a pair of arms.
A single work-class system consists of an underwater vehicle, a cage tethered to the surface and a control van large enough for two workers. The system can cost as much as $5 million, Kopsick said.
Oceaneering, based in Houston, started the year with 248 work-class ROVs, which it said is the largest fleet in the world serving an estimated 35 percent of the oil and gas market. The robots are typically used for drilling, installation and construction support, pipeline inspection and subsea production operation and maintenance.
The company's robots have also been used on search-and-recovery missions for the U.S. Navy, including TWA flight 800 and Egypt Air flight 990, both of which crashed in the Atlantic Ocean in the late 1990s.
Because the robots are tethered to the surface by a line, there is concern they will get snagged on debris around the sunken rig, said Dawe of the Aquarium Research Institute.
"That makes the stress level go way up for the guys operating the systems," he said. "It's dangerous. You can get your equipment hooked and lose it very easily. It's very stressful indeed."
Before it's here, it's on the Bloomberg Terminal.
LEARN MORE