Thai Protesters to Stay Until Abhisit Unveils Dissolution Date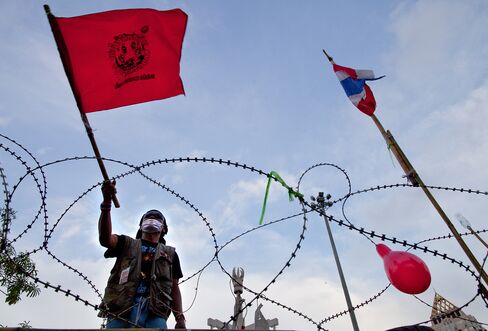 Thai protesters plan to extend the siege in Bangkok's commercial center until Prime Minister Abhisit Vejjajiva announces a date for dissolving parliament after he proposed a Nov. 14 election.
Abhisit "needs to announce when he will dissolve the house," Jatuporn Prompan told supporters last night from the main protest site in Bangkok. "When that is announced, leaders will discuss it and will decide when to end the protest."
The protesters who have occupied Bangkok's roads since March 12 said they all agreed with Abhisit's plan to bring together opposing camps ahead of an election. To show sincerity, the group's leaders said he should stop calling them "terrorists" and saying they are disloyal to the monarchy.
The public proposals to cut Abhisit's term short by about 13 months may help end demonstrations that have claimed 27 lives and disrupted businesses. Thai stocks rose to the highest in a month, the baht gained the most in two weeks and the cost of protecting the nation's sovereign bonds from default fell.
"If the protesters didn't act like they were willing to make a deal, they would start to look bad in the eyes of the public," Jade Donavanik, dean of the graduate school of law at Bangkok's Siam University, said by phone. "At this point the government is in pretty good shape."
Abhisit's five-part reconciliation plan includes safeguarding the monarchy, addressing economic inequality, ensuring independent media, creating an independent body to investigate political violence and assessing ways to change the constitution. All six parties in the coalition support the proposal, he said.
Legal Action
"There is nothing else to negotiate," Abhisit said yesterday. "If they don't accept the offer, we will proceed with legal action."
According to the constitution, an election must be held 45 to 60 days after the dissolution of parliament.
The SET Index, closed today for a holiday, climbed 4.4 percent yesterday and tourism-related stocks gained. Thai Airways International Pcl, the country's biggest airline, jumped 6.6 percent and Minor International Pcl, the biggest hotel operator, increased 12 percent.
"It's a relief that the situation will not become as bad as people expected," said Parson Singha, chief markets strategist in Bangkok at Hongkong & Shanghai Banking Corp.
Revenue from foreign tourists contributes about 6 percent of gross domestic product. Prolonged demonstrations may reduce 2010 economic growth by two percentage points, Finance Minister Korn Chatikavanij said April 30.
Constitutional Changes
During televised talks in March, protesters rejected Abhisit's offer to call an election by year's end if all parties agreed on constitutional changes. The prime minister in turn dismissed an April 23 proposal by his opponents to dissolve parliament in 30 days. Abhisit's term expires in December 2011.
"New polls will not solve everything in Thailand until a new consensus and new rules that are acceptable to all sides are found," said Thitinan Pongsudhirak, a political science lecturer at Bangkok's Chulalongkorn University. " That consensus is still elusive."
The demonstrators, mostly supporters of fugitive former Prime Minister Thaksin Shinawatra, have cordoned off a Bangkok commercial area roughly the size of New York's Central Park with barricades of rubber tires, bamboo sticks and razor wire. The government says the group is armed, a charge the protesters deny.
Thaksin
Since the army ousted Thaksin in a 2006 coup, his opponents dressed in yellow and supporters clad in red have seized roads, airports and government buildings in a struggle for power. Thaksin's opponents want to preserve the constitution, which gives more power to appointed judges, soldiers, bureaucrats and royal advisers at the expense of elected politicians. His supporters accuse those figures of undermining democracy.
Thaksin has seen parties linked to him win the past four elections on a platform of improved health care and cheap loans that appealed to the northeast, Thailand's poorest region that is home to a third of the population. The billionaire fled a two-year jail sentence in Thailand in 2008 and has helped orchestrate protests from abroad since then.
Abhisit took power in a parliamentary vote in December 2008 after a court disbanded the pro-Thaksin ruling party for election fraud. The prime minister has introduced a crop price guarantee plan, free education supplies, cash handouts to the elderly and other programs aimed at the poor to win support.
Abhisit's Democrat party hasn't won a nationwide election since 1992. The premier wants to stay in power long enough to see next year's budget pass to ensure his economic programs don't collapse, spokesman Panitan Wattanayagorn said April 26.
Thailand's fiscal year begins on Oct. 1, 45 days before the proposed election date.