Pending Sales of Existing Homes in U.S. Rise 5.3%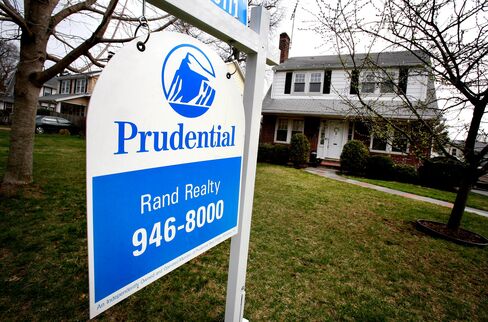 More Americans signed contracts in March to buy previously owned homes before the expiration of a tax credit that has helped support the housing market.
The index of signed purchase agreements, or pending home resales, increased 5.3 percent to 102.9, after rising 8.3 percent in February, the National Association of Realtors said today in Washington. Economists projected a 5 percent gain, according to the median forecast in a Bloomberg News survey.
The housing market, which triggered the worst recession since the 1930s, has received a boost from a tax incentive of as much as $8,000 for buyers who signed the contracts by the end of April. Job gains are needed to help sustain demand and limit foreclosures in the absence of government aid, broadening the economic recovery.
"More people came in to beat the rush," Stephen Gallagher, chief U.S. economist at Societe Generale SA in New York, said before the report. "Sales are rising at a pretty healthy clip. There's growing confidence that the job market has bottomed out and is crawling up again."
Sales were projected to rise in March after an originally reported gain of 8.2 percent in February, according to the median of 39 forecasts in the Bloomberg survey. Estimates ranged from gains of 0.9 percent to 9 percent.
Orders placed with U.S. factories unexpectedly rose in March, propelled by demand for business equipment and petroleum, signaling the economic expansion gained speed at the end of the first quarter.
Factory Orders
The 1.3 percent increase in bookings matched the prior month's gain, which was more than twice as large as previously estimated, the Commerce Department said today in Washington. Sales climbed 2.2 percent, the most since November 2007.
U.S. stocks maintained declines on concerns about European sovereign debt and following a report that showed China's manufacturing growth slowed in April. The Standard & Poor's 500 Index dropped 1.6 percent to 1,183.12 at 10:08 a.m. in New York.
Pending home sales are considered a leading indicator because they track contract signings. The Realtors' existing-home sales report tallies closings, which typically occur a month or two later. The Realtors group, whose pending sales data go back to January 2001, started publishing the index in March 2005.
Three of four regions saw an increase, today's report showed. That included a 13 percent gain in the South, a 1.9 percent rise in the West and a 1.2 percent increase in the Midwest. Pending sales fell 3.3 percent in the Northeast.
Compared with March 2009, pending sales rose 24 percent.
Home Sales
Sales of previously owned homes, which account for about 90 percent of the housing market, rose 6.8 percent in March. New-home purchases, which make up the rest of the market and are tabulated when a contract is signed, surged 27 percent in March, the biggest jump since 1963, Commerce Department figures showed on April 23.
The tax credit for first-time homebuyers was extended in November to include some current owners, and requires buyers to close transactions by June 30.
"Clearly the homebuyer tax credit has helped stabilize the market," Lawrence Yun, the Realtors group's chief economist, said in a statement. "Later in the second half of the year, and into 2011, home sales will likely become self-sustaining if the economy can add jobs."
Yun said sales will be "measurably lower" in the months immediately following the expiration of the tax incentive.
Effect of Foreclosures
Foreclosures will remain a headwind for the housing industry. Filings rose 16 percent in the first quarter from a year earlier and bank seizures reached a record, according to Irvine, California-based RealtyTrac Inc.
While foreclosures drive down property values and make homes affordable to more buyers, they also add to inventory and increase competition for builders.
Residential construction fell from January through March at an 11 percent rate, the first decline in three quarters, while the overall economy expanded at a 3.2 percent annual pace, Commerce Department figures showed last week.
Homebuilding may stabilize in coming months with the help of job growth. Housing starts increased for a second straight month in March and building permits, a sign of future construction, jumped to the highest level in more than a year.
D.R. Horton Inc., the second-largest U.S. homebuilder by revenue, reported its second straight quarterly profit as net orders jumped 55 percent and closings rose 19 percent. About 80 percent of the closings were "spec" homes built in anticipation of customer orders, a strategy that paid off as buyers rushed to beat the tax deadline, President and Chief Executive Officer Donald R. Tomnitz said.
"We have continued to sell strong on these specs through the month of April," Tomnitz said in a conference call on April 30.
Before it's here, it's on the Bloomberg Terminal.
LEARN MORE