Noma Swamped as Diners Seek Tables at World's No. 1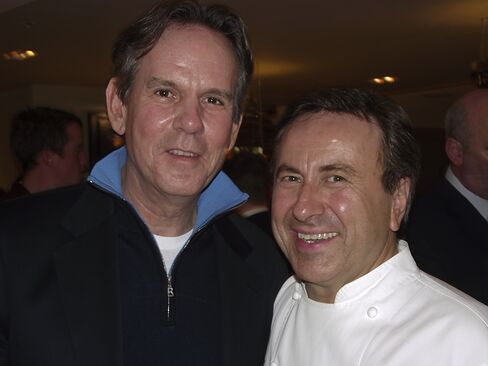 May 4 (Bloomberg) -- Noma received 100,000 e-mail booking inquiries the day after being named the world's best restaurant on April 26 and now has suspended online booking, according to one of the directors, Peter Kreiner. Not that it matters. Noma, which seats 42, is full until its July 18-Aug. 10 summer break.
One way to secure a table is to take part in the Action Against Hunger eBay auction of meals at the world's best restaurants: http://tinyurl.com/39h4vgw.
Before the madness of the World's 50 Best awards, Noma chef Rene Redzepi gave me his recommendations for other venues in Copenhagen. They include Kodbyens Fiskebar, an exceptional modern fish restaurant; and Herman, an eatery in the Tivoli gardens. The chefs are Redzepi's friends, and I join him in recommending both, with Fiskebar the closer to Noma in style.
The awards provoked controversy, with French critics rightly complaining that not a single French establishment made the Top 10. I wouldn't call them bigoted -- well, not with a microphone on my lapel -- but they're missing the point that the list is a bit of fun and a way of generating debate.
The most poignant part of the evening was when Redzepi and his team came on stage wearing T-shirts with photos of their Gambian kitchen porter, Alieu Sonko, who'd been unable to get a U.K. visa. I interviewed Redzepi, 32, after he received the award and his eyes were filled with tears. Not Oscar ones, but those wet things that sometimes show up uninvited.
The new London restaurant of Polpo owner Russell Norman will be a venue in Soho called Spuntino, Italian for snacks. The ground-floor eatery will seat fewer than 30 diners -- compared with 60 at the mother ship -- most of them at a counter. Norman describes the look as "machine age," or U.S. industrial. He has a Hungarian artisan designing fittings such as metal cages for the lights.
Polpo chef Tom Oldroyd will oversee the pan-Italian menu, while the kitchen will be run by his sous chef, Rachel O'Sullivan. (Oldroyd and O'Sullivan are going to New York on May 20 to visit restaurants whose classic dishes provided Norman with inspiration.) Opening is set for late summer, Norman, 44, said today in an interview. He declined to give the location, except to say it's a 2 minutes and 40 seconds walk from Polpo.
Jamie Oliver plans to start his own events catering company this month, Jamie Oliver's Fabulous Feasts.
"Our only focus is to make sure that our food lifts an occasion or an event, whether it's a big family wedding or a work party or a corporate event," the TV chef said today in an e-mailed release.
Paramount, the private members' club atop Centre Point, is to open its doors to ordinary punters from May 14. It's hard to resist the suspicion that the London venue proved just a little too exclusive, though a press release says it was "overwhelming public demand" that prompted owners Pierre and Kathleen Condou to let in the riffraff. There's a restaurant and bar on the 32nd floor and a Champagne-and-cocktails viewing gallery above. For information, http://www.paramount.uk.net/.
Christopher Delalonde of Sarment Wines was named U.K. Academy of Food & Wine's Sommelier of the Year in a dinner at the Westbury hotel on April 28. Readers with that rare combination of a good memory and a liking for wine may recall that Delalonde was previously head sommelier at the Square.
Jason Atherton, the creator of Maze, split from Gordon Ramsay last week and I was in Maze for the final meal with Claude Bosi of Hibiscus and "Iron Chef" Judy Joo. Atherton will shortly announce plans for his own restaurants. Meanwhile, we have "Gourmet Food for a Fiver" (Quadrille, 14.99 pounds), a budget cookbook he's written with help from Joo. It shows you how to create a two-course meal for five pounds ($7.62) a head. Given Ramsay's woes, it might make a gift for the loud chef.
Adam Byatt is respected by fellow chefs for Trinity, in Clapham. In "How to Eat In" (Bantam, 25 pounds), he offers more than 100 recipes, from the simplicity of boiled goose egg with asparagus soldiers or homemade ice limeade to shepherd's pie and vacherin cheesecake.
Just when you thought you'd made it around most of the eateries in Canary Wharf, another opened on April 29. Rocket, near Jamie's Italian, serves pizzas and sandwiches. There are branches on Old Broad Street, in the City, and on Lancashire Court, in Mayfair. For information, tel. +44-20-3200-2022.
The former world champion mixologist Nick Strangeway will be doing his thing at Hix Oyster & Chop House, in Smithfield, for the next few Friday and Saturday nights. I'd cross London for his cocktails but no need: I live nearby. For information, and to check he's actually there, tel. +44-20-7017-1930.
Rio Ferdinand is hosting a charity auction at the members' club Eight, at Bank, on May 5. He'll be joined by fellow soccer players Neil "Razor" Ruddock and Ray Parlour and boxer David Haye. The proceeds go to Aspire, a charity supporting people with spinal injuries. Tickets for non-members are 300 pounds. For information and bookings, annabelle@eightclub.co.uk.
(Richard Vines is the chief food critic for Bloomberg News. Opinions expressed are his own.)
To contact the writer on the story: Richard Vines in London at rvines@bloomberg.net.
To contact the editor responsible for this story: Mark Beech at mbeech@bloomberg.net.