Moscow Mayor Says Wife Earned $1 Billion Last Year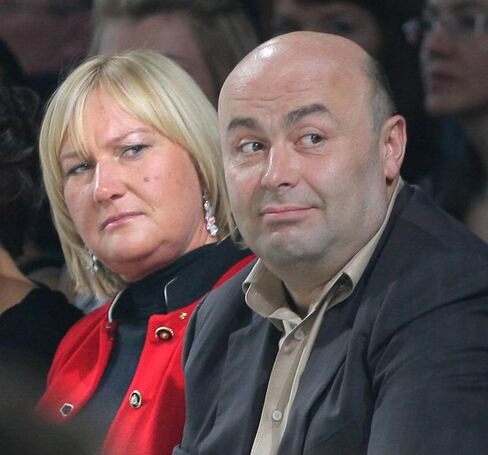 Moscow Mayor Yuri Luzhkov's wife earned more than $1 billion last year, an amount that would take the 73-year-old leader almost four millennia to match at his current income.
Luzhkov, who has run Europe's most-populous city since 1992, declared 30.9 billion rubles ($1.05 billion) in income for his wife, ZAO Inteko holding company owner Yelena Baturina, 47, according to documents posted on the municipal government's website today.
The couple owns property including a 445-square-meter apartment in Russia and a 321-square-meter house in Austria, and rents homes in Russia, Spain and the U.K. Baturina, the only woman on the Russian billionaire lists compiled by the Forbes and Finans magazines, owns six cars, including a Porsche, an Audi and three Mercedes Benz, according to the filing.
Moscow is home to more billionaires than any other city except New York, after the number of Russians on Forbes annual list almost doubled to 62, the magazine's Russian edition said last month. Baturina was 27th on that list, with a fortune of $2.9 billion. Luzhkov earned about $270,000 last year.
"Of course this looks strange," said Alexander Kynev, head of regional programs at the Moscow-based Foundation for Information Policy Development. "That's why the Moscow government negatively reacts to any discussion and goes to court in response to any criticism, though this doesn't stop gossip, jokes and the public's suspicions."
Capital Gains
Inteko said in response to e-mailed questions from Bloomberg that Baturina's base income was about 3 billion rubles last year. The rest of her gains came mainly from selling shares in companies including state-run OAO Gazprom and OAO Sberbank, with most of the proceeds going to pay off bank debt, Inteko said, without providing details of the transactions.
"By lowering its debt burden, the company can maintain and increase the amount of real estate it develops," Baturina said in the statement. She paid $140 million in taxes last year, the company said. Her 2008 income was about 7 billion rubles.
"The income gap between officials and their relatives affects the overall relationship between society and government," Kynev said. "We've already gotten used to this in Russia; it's viewed as the norm, a weird norm."
Russian public officials are required to make income statements as part of an anti-corruption drive. Prime Minister Vladimir Putin reported 3.9 million rubles last year, while his wife Lyudmila made 582 rubles and had no assets, according to a government statement published last month. President Dmitry Medvedev declared 3.3 million rubles; his wife Svetlana had no income.