Delta, US Air Must Give Up Flights for NYC, D.C. Swap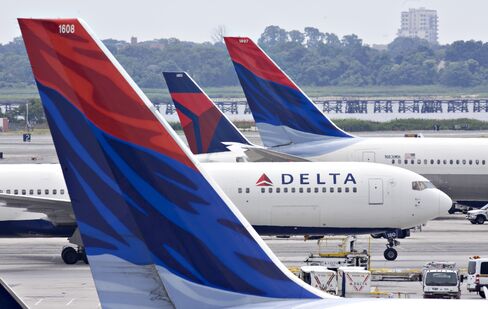 Delta Air Lines Inc. and US Airways Group Inc. were told by the U.S. that they must surrender 75 percent more flights to competitors than they proposed in order to swap slots in New York and Washington.
The two airlines are "disappointed" by the Transportation Department's decision announced today, and in a statement said they intended to contest the action at the U.S. Court of Appeals.
The carriers said they were considering options, raising doubt their swap involving 167 slots will be completed. Delta is seeking to expand at LaGuardia Airport as part of an effort to focus on New York, where it has a hub at Kennedy International Airport. US Airways wants to build its base at in Washington Reagan National Airport.
"These are people who have the slots and are trying to make their operations more efficient," said George Hamlin, president of Hamlin Transportation Consultants in Fairfax, Virginia. "This is a swap, where a willing buyer and a willing seller are agreeing. I don't think anyone is asserting a monopoly position is going to result from this."
The carriers in March offered to give four rivals 19.5 takeoff-and-landing slots at LaGuardia and Reagan National airports to win approval for a deal aimed at bolstering their operations in the U.S. Northeast. The proposal was "insufficient" and the carriers must give up 34 to proceed, the U.S. agency said today.
Competition Reduced
The Delta-US Airways trade would reduce competition at LaGuardia and Reagan National, Transportation Secretary Ray LaHood and Randy Babbitt, chief of the Federal Aviation Administration, said in their decision today.
US Airways' share of slots at Reagan National, including affiliates, would rise to 54 percent from 44 percent, LaHood and Babbitt said. At LaGuardia, Delta would control 49 percent, more than double the current 24 percent, they said.
"While Delta and US Airways have offered a counterproposal for fewer divestitures, they have neither demonstrated that our number is arbitrary nor have they shown that their number better suits the public interest," LaHood and Babbitt wrote.
The 34 slot pairs, 20 at LaGuardia and 14 at Reagan National, would be made available in a blind sale to airlines with little or no service at the airports, the U.S. said.
The pairs would be sold in bundles large enough to ensure the purchaser could offer "meaningful new competition," and Delta and US Airways would retain the proceeds, the Transportation Department statement said.
Ruling Reviewed
"We are disappointed the DOT and FAA rejected a proposal that would provide clear consumer benefits," Delta and US Airways said in an e-mailed statement. "There are no winners in this decision -- consumers lost, communities lost and our employees lost. Even our competitors lost."
Delta and US Airways had said repeatedly they would drop their plan if regulators didn't let them keep more slots.
In August, Delta agreed to acquire 125 slots at LaGuardia from US Airways, in exchange for 42 at Reagan National plus routes to Tokyo and Sao Paulo.
The Transportation Department said in February that Delta could have 105 of the pairs it sought, and US Airways could have 28. The remainder would have to be sold to carriers with little or no service in those markets.
On March 22, Delta and US Airways amended their plan to have Delta keep 110 slots and US Airways 37 slots. AirTran Holdings Inc., Spirit Airlines Inc. and WestJet Airlines Ltd. each would have able to buy as many as five LaGuardia pairs, while JetBlue Airways Corp. would have gotten access to Reagan National.
Southwest Objection
Southwest Airlines Co. objected, calling the revised Delta-US Airways bid an effort to "hand-select their competitors," according to a March 23 regulatory filing. Southwest expressed interest in slots in both cities and would have been shut out under the latest proposal.
The U.S. decision "is certainly a step in the right direction," said Beth Harbin, a spokeswoman for Southwest, which backed a blind sale. "We look forward to actively participating in the sale process."
In a March regulatory filing, Southwest confirmed its interest in acquiring slots to start service at Reagan National and to expand at LaGuardia.
JetBlue is "disappointed" by the decision, said Mateo Lleras, a company spokesman.
JetBlue agreed in March to swap 12 takeoff-and-landing slots at New York's Kennedy airport for eight at Reagan National from AMR Corp.'s American Airlines.
WestJet Airlines Ltd. declined to comment until it could review the decision, Robert Palmer, a spokesman for the Calgary- based airline, said in an e-mail.
Spirit Airlines declined to comment, said Misty Pinson, a spokeswoman for the closely held carrier based in Miramar, Florida. AirTran didn't return a telephone call.
Delta fell 83 cents, or 6.6 percent, to $11.76 at 4 p.m. in New York Stock Exchange composite trading, and US Airways dropped 53 cents, or 7.2 percent, to $6.86.
Before it's here, it's on the Bloomberg Terminal.
LEARN MORE