BP CEO Hayward Says Spill Costs to Exceed Damage Cap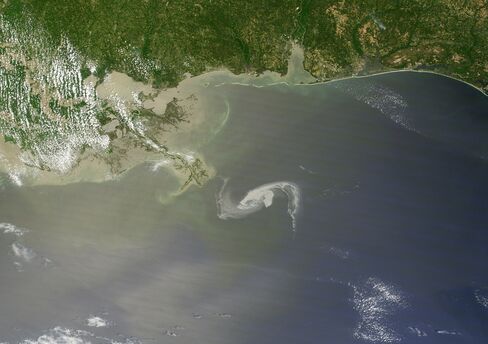 May 4 (Bloomberg) -- BP Plc Chief Executive Officer Tony Hayward said he expects economic costs of the oil leak in the Gulf of Mexico to far exceed the $75 million federal limit on damages.
"I think it is inevitable that the cap will be exceeded," Hayward told reporters today after meeting with U.S. senators from Louisiana, Mississippi and Florida in Washington. He said all "legitimate" claims would be honored.
The $75 million limit applies to damage awards to people harmed by the spill, such as the region's fishermen and tour boat operators. The costs of cleaning up the spill are not covered by the limit.
Hayward said BP will "have the resources to deal with this."
Democratic Senators Robert Menendez of New Jersey and Bill Nelson of Florida introduced legislation that would raise the cap on damage awards from $75 million to $10 billion. Nelson said he is open to attaching that legislation to the financial regulation overhaul under consideration in the Senate. Nelson said BP requested today's meeting with the lawmakers.
Safety Rules
Also today, members of Congress said they will work to toughen safety rules for offshore drilling following the oil leak that is spilling 5,000 barrels of crude a day into the Gulf of Mexico.
Lawmakers met with executives from London-based BP, which leased the rig that exploded on April 20; Transocean Ltd., owner of the rig; and Halliburton Co., which performed cement work on it.
"We asked a lot of questions; we did not get" specific answers, said Representative Edward Markey, a Massachusetts Democrat.
The legislators predicted Congress will impose new regulations on the industry.
"Those of us that support offshore drilling have to be open to the possibility that we have to toughen up a bit," said Republican Representative Joe Barton of Texas, who called himself a "strong supporter" of the oil industry.
Members of the House Energy and Commerce Committee met with Dave Nagel, executive vice president of BP America; Bob Moran, vice president for government affairs of Halliburton, based in Houston; and Greg Panagos, vice president for communications and investor relations at Transocean, based in Switzerland. Company officials working in the gulf joined the meeting by phone.
Meeting With Hayward
House members said they questioned the executives about the reliability of technology being used to try to stop the flow of oil from the leaking rig.
"In many instances what they are about to do right now is to invent safety procedures that probably should have been put in place before they were drilling at this depth," Markey said. "It's pretty clear that there was not proper preparation for the worst-case scenario."
"Whatever resources are needed, they must put into this effort, with money no object in order to protect people who live in that region," Markey said.
Senate Commerce Committee Chairman Jay Rockefeller, a West Virginia Democrat, said his panel will investigate the accident and that he won't wait to complete the probe before drafting safety legislation.
"There's a lot that we all know needs to be done in safety legislation, regardless of the report," said Rockefeller.
"I'm sure the oil production act will be looked at again and again and again," said Representative Bart Stupak, a Michigan Democrat.
To contact the reporter on this story: Lisa Lerer in Washington at llerer@bloomberg.net
To contact the editor responsible for this story: Jim Kirk at jkirk12@bloomberg.net