Russia Seeks Ukraine Assets as EU Focuses on Greece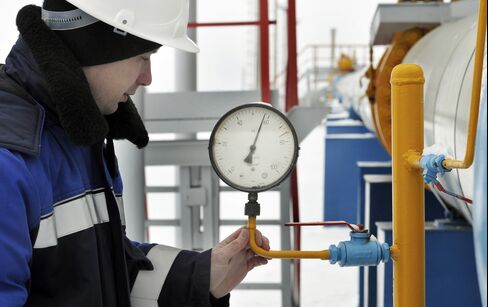 May 5 (Bloomberg) -- Russia's proposal to combine its gas export monopoly, OAO Gazprom, with the Ukrainian state energy company is part of a strategy to lock in assets while Europe focuses on Greece, according to Alexander Rahr, a Russia expert at the German Council on Foreign Relations.
Prime Minister Vladimir Putin proposed uniting Gazprom with NAK Naftogaz Ukrainy at an April 30 meeting with Ukrainian premier, Mykola Azarov. Russia already agreed to give Ukraine as much as $45 billion in gas subsidies and talks have begun on closer ties in nuclear energy, aviation and agriculture. Russia's second-biggest lender, VTB Group, is ready to lend Ukraine $500 million if asked, Putin also said.
"The European Union is focused on Greece, so Russia is taking its chance," Berlin-based Rahr said in an interview yesterday. "This is pushy. It's Putin's way of negotiating, of showing that Russia is on the winning side."
Gazprom, the world's biggest gas company, cut supplies to Ukraine twice in the last four years over price disputes at a time when political ties between the two nations were strained, reducing flows to Europe. Ukraine moves about 80 percent of Russia's Europe-bound gas through a Soviet-era transportation network. Gazprom meets about a quarter of European gas needs and is aiming for a 32 percent share.
Russian relations with Ukraine have warmed since President Viktor Yanukovych took power in February. His predecessor, Viktor Yushchenko, had sought closer integration with Europe and wanted to lead Ukraine into the North Atlantic Treaty Organization, a move Russia opposed.
'A Joke'
The Ukrainian opposition sees menace in Putin's plans. Former Prime Minister Yulia Tymoshenko, who lost to Yanukovych in the presidential election, said the proposed merger "could be seen as a joke if a large-scale plan to eliminate Ukraine as an independent state wasn't being implemented every day, right in front of our eyes," according to her website.
Unifying the two companies would erode political support for Yanukovich in central and western Ukraine, said Igor Kurinnyy, an analyst at ING Groep NV.
"The biggest difficulty in tying Gazprom with Naftogaz is the political upheaval that such a deal would cause in Ukraine," he said in an e-mailed note. "Any pro-Western Ukrainian government would likely attempt to nullify it."
'Rusty'
Rahr in Berlin said Putin's economic and political moves shouldn't be interpreted as strong-arming Ukraine, since both countries will benefit from the deals.
"Yanukovych is in favor of opening his markets for investment from Russia and other countries, but he also has his demands and a price he will ask for, such as access for Ukrainian companies to energy exploration in former Soviet republics, including Russia," he said.
Ukraine needs the gas subsidies to stabilize its economy, and Yanukovych has proven himself a good negotiator, Rahr said. The gas deal was struck in exchange for extending a lease for Russia's "rusty" Black Sea Fleet at the Ukrainian Black Sea port of Sevastopol, he said.
Russia's subsidy allowed Ukrainian lawmakers to approve the 2010 state budget with a deficit of 5.3 percent of gross domestic product, opening the way for the next payment of an International Monetary Fund Loan. Russia's shortfall will widen to at least 6 percent of GDP this year, Finance Minister Alexei Kudrin says.
The extra spending, while in line with Russia's strategic goals, makes the world's biggest energy exporter "more vulnerable to oil price swings," said Alexander Morozov, an analyst with HSBC Bank in Moscow. A decline to between $40 and $50 a barrel may cause a "serious blow" to Russia's economy and could topple the nation into recession at the planned level of spending.
'Not Helpful'
EU leaders, concerned that Greece's fiscal crisis may spread, have been involved in almost three months of debate on whether and how to rescue the nation that is on the brink of default. Euro-region ministers agreed on May 2 to a 110 billion-euro ($146 billion) rescue package to stop the worst crisis in the euro's 11-year history from spreading.
The EU is preparing a "macro-financial assistance" of 610 million euros to Ukraine and seeks "very substantial" financial cooperation with the country, Angela Filote, spokeswoman for Enlargement Commissioner Stefan Fule, told reporters in Brussels on April 30.
Statements that say "this region needs to choose between Brussels and Moscow are not helpful," she said.
Don't Rush
EU countries including Slovakia and Bulgaria were affected when fuel shipments to Europe were cut off for the first time in three years in January 2009 during the pricing dispute.
Russian and Ukrainian officials will meet after the May holidays next week to discuss merging the companies, Gazprom Chief Executive Officer Alexei Miller said, adding that Gazprom is ready to consider asset swaps.
Dmitry Peskov, Putin's spokesman, said yesterday "it's too soon" to discuss details of the plan. "There's no room for rushing on this."
Ukraine's Azarov said today it's "a very attractive offer" and "no European country would decline an offer like this."
Still, "If we are talking about Ukraine's participation as a minority holder, this needs a calculation of pluses and minuses" and "we first of all need mutually profitable forms," he told reporters in Kiev.
An asset swap is more plausible and would "almost certainly" involve Naftogaz getting equity in gas production in Russia and investment in the transit pipeline, Chris Weafer, chief strategist at UralSib Financial Corp., wrote on May 3. Russia would regain some control over the delivery system that brings gas to its customers in Europe in return, he said.
To contact the reporter on this story: Maria Levitov in Moscow at mlevitov@bloomberg.net
To contact the editor responsible for this story: Chris Kirkham at ckirkham@bloomberg.net