Yen Falls to Eight-Month Low on Recovery Signs; Euro Declines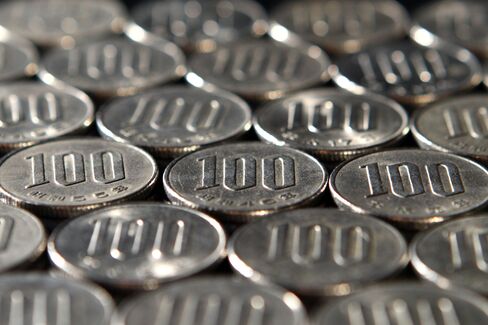 The yen fell to an eight-month low against the dollar and weakened versus the euro as signs the global economic recovery is gaining momentum damped demand for Japan's currency as a refuge.
The yen dropped the most against the South Korean won before reports today that economists said will show U.S. home sales gained for a second month and U.K. manufacturing expanded. The euro fell versus the dollar as Greek civil servants began the first day of a 48-hour strike against austerity measures. Australia's dollar declined after the Reserve Bank signaled it may slow the pace of interest-rate increases.
"The economic environment is continuing to improve and that's helping broad risk appetite," said Jeremy Stretch, a senior currency strategist at Rabobank International in London. "There's also a realization that the Bank of Japan is going nowhere fast. That leaves Japanese investors most likely to look for returns elsewhere."
The yen fell to 94.84 per dollar as of 8:14 a.m. in London from 94.54 in New York yesterday, after trading at 94.99, the weakest since Aug. 24, 2009. Japan's currency also slid to 124.90 per euro from 124.74. The euro was at $1.3170 from $1.3195, after sliding to $1.3115 on April 28, the lowest since April 28, 2009.
Australia's currency slipped 0.6 percent to 92.19 U.S. cents, and fell 0.2 percent to 87.33 yen. It climbed to 88.06 yen on April 30, the strongest since September 2008.
Signs of Growth
U.S. pending home sales rose 5 percent in March, and a gauge of U.K. manufacturing climbed to 57.5 in April from 57.2 in March, according to Bloomberg News surveys. U.S. companies added 188,000 workers in April, up from 162,000 in March, a May 7 report may show, according to a separate survey. Data yesterday showed U.S. manufacturing grew at the fastest pace since June 2004 and consumer spending increased.
"We expect a better-than-consensus non-farm payrolls print to support a medium-term higher dollar-yen," analysts led by Hans-Guenter Redeker, London-based global head of foreign- exchange strategy at BNP Paribas SA, wrote in a research note.
Japan's currency also fell after Standard & Poor's indicated a fiscal plan scheduled for next month by Prime Minister Yukio Hatoyama's government may be key to whether it will cut the nation's sovereign credit rating.
The proposal will be "an important statement of the government's commitment" to rein in the deficit, William Hess, director of sovereign ratings for Asia, said yesterday in Tashkent, Uzbekistan. "Something has to appear to change our assessment for where things could end up."
Euro Falls
The euro traded near a one-year low against the dollar as investors sought more evidence that a 110 billion-euro ($145 billion) rescue package will resolve Greece's debt crisis.
The three-year financial lifeline requires Greece to reduce its budget deficit below the European Union limit of 3 percent of gross domestic product by the end of 2014, a year later than originally planned. Aid for Greece is of "enormous" importance, German Chancellor Angela Merkel said yesterday after convening a special meeting of her Cabinet that approved loans for Greece of as much as 22.4 billion euros over three years.
"Even after the announcement of the aid package, investor uncertainty will unlikely decrease strongly until the member nations ratify the agreement," Brian Kim, a currency strategist in Stamford, Connecticut, at UBS AG, wrote in a research note yesterday. The euro may drop to $1.30 in three months, he said.
Greek Strikes
Greek government workers will shut down hospitals and schools today and disrupt flights as protests escalate after 30 billion euros of additional wage cuts and tax increases were unveiled by the government this week.
Civil servants who are having their pensions and pay slashed under the measures announced by Prime Minister George Papandreou on May 2 will rally at midday, joined by striking teachers. A general strike, the third this year, is planned for tomorrow, with the participation of private-sector workers.
Australia's dollar fell against all 16 of its most-active counterparts after the central bank signaled today's interest-rate increase, the sixth in seven meetings, may be the last for some time. Policy makers led by Governor Glenn Stevens said it represents a "significant adjustment" in monetary policy.
Australia's benchmark interest rate of 4.5 percent is 440 basis points higher than Japan's and at least 425 more than the U.S.'s, making the nation's assets more attractive to investors seeking higher returns.
Thailand's baht rose the most in seven weeks and the nation's stocks advanced after Prime Minister Abhisit Vejjajiva proposed holding a Nov. 14 election to end a political stalemate. The baht gained 0.3 percent to 32.25 per dollar.
"This is definitely a positive step for the baht," said Parson Singha, chief markets strategist in Bangkok at Hongkong and Shanghai Banking Corp. "It's a relief that the situation will not become as bad as people expected."