Senate May Begin Voting on Financial Bill Changes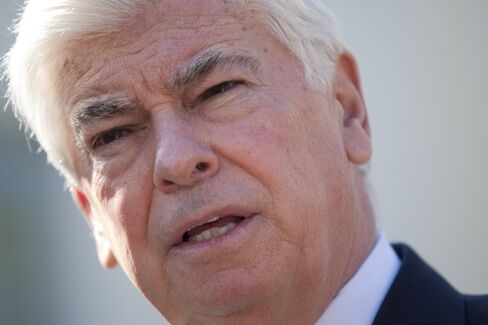 The Senate today may take its first votes on amendments to the financial-overhaul bill, beginning with a proposal to ban taxpayer-funded bailouts of Wall Street firms.
The Senate resumes debate on an amendment offered by Senator Barbara Boxer, a California Democrat, that would ban spending taxpayer funds to keep failing firms in business and require that companies seized by regulators be liquidated. Votes will start "maybe as soon as" today, Illinois Senator Dick Durbin, the No. 2 Senate Democrat, said yesterday.
"There's nothing more important we do in this bill than to end the too-big-to-fail concept," Senate Banking Committee Chairman Christopher Dodd, a Connecticut Democrat who offered the bill, said yesterday.
The Senate last week began debating Dodd's legislation to redesign rules governing Wall Street and aimed at preventing a repeat of the 2008 financial crisis that forced the U.S. to extend $700 billion in taxpayer funds to companies including Citigroup Inc. and Bank of America Corp. The bill is based on a proposal by President Barack Obama and is similar to legislation the U.S. House of Representatives approved in December.
Prevent Bailouts
Staff for Dodd, a Connecticut Democrat, and Alabama Senator Richard Shelby, the banking panel's top Republican, are close to completing a joint amendment to address Republicans' concerns that Dodd's bill doesn't do enough to prevent future bailouts, according to a Senate aide familiar with negotiations. Part of the compromise will be to remove a provision in Dodd's measure that would have created a $50 billion industry-supported fund to pay for unwinding a failing systemically important financial firm, the aide said.
Among the most contentious issues to be resolved in the floor debate are a provision that would require financial companies to separate swaps desks from commercial banking operations; the scope and power of a proposed consumer financial protection bureau; and proposals to restrict the size and activities of the biggest banks.
U.S. lawmakers have filed more than 30 proposed changes to the bill, including a tax on "excessive" bonuses paid this year at firms that received federal assistance, according to a list of amendments obtained by Bloomberg News.
Senator Jim Webb, a Virginia Democrat, offered the amendment to impose a one-time, 50 percent tax on bonuses of more than $400,000 paid to executives of financial institutions that got at least $5 billion from the $700 billion Troubled Asset Relief Program Congress approved in 2008. It would apply to income generated for work in 2009 and paid in 2010.
'Deserve a Share'
"The American taxpayer did not create the economic crisis," Webb said on April 30. "They were required to bail out the people who did create it and they deserve a share in the upside."
The list also includes an amendment sponsored by Senator Kay Bailey Hutchison, a Texas Republican, that would preserve the Federal Reserve's powers to oversee smaller banks. Her proposal would eliminate a provision in Dodd's bill that shrinks the central bank's jurisdiction to the 36 banks with more than $50 billion in assets, including Goldman Sachs Group Inc. and Morgan Stanley. Dodd's plan would move oversight of smaller banks now supervised by the Fed to the Federal Deposit Insurance Corp. and the Office of the Comptroller of the Currency.
The Fed and chief executive officers of smaller bank have urged senators to remove that language, saying the central bank needs to continue its overview of the entire system to set monetary policy.
Fannie, Freddie
Another amendment offered by Senator John McCain, an Arizona Republican, would eventually dissolve government-backed mortgage-finance companies Fannie Mae and Freddie Mac.
"The points raised in the amendments will be a topic of debate," Kevin Petrasic, a lawyer at Washington-based Paul, Hastings, Janofsky & Walker LLP, said yesterday in a telephone interview. "But some of those amendments don't have a realistic chance of passing."
Senator Ben Cardin, a Maryland Democrat, submitted an amendment to provide whistleblower protections for employees of Moody's Investors Service, Standard & Poor's and other credit- rating companies.
Senate Majority Leader Harry Reid, a Nevada Democrat, said today his goal is to complete work on the bill by next week so the Senate can move on to other business.
"We'll finish it one way or the other by next week," Reid said. "We have so much more to do."