Police Seek Person Seen Near Times Square Car Bomb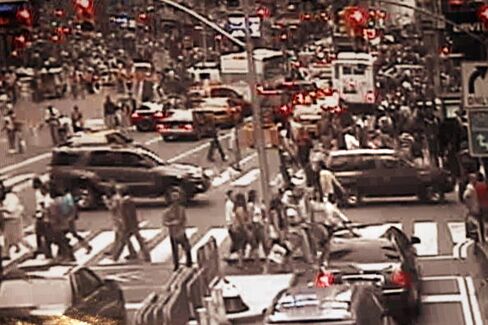 New York detectives sought to identify a person seen in Times Square around the hour of this weekend's attempted car bombing, while police and building owners stepped up security in midtown Manhattan.
Police Commissioner Raymond Kelly said investigators are looking for a man caught on a video camera walking away from the site near Times Square where they found a Nissan Pathfinder SUV on May 1 with an explosive device inside. Police plan to make the video public, Kelly said.
While investigators spoke to the vehicle's registered owner, police spokesman Paul Browne wouldn't give details nor say whether that person was a suspect, the Associated Press reported. The license plate came from a car found in a Connecticut repair shop, AP said. Kelly said he intended to deploy more officers than usual to help ease tourists' minds.
"It wasn't an accident; it was someone who brought this to the area to send a message," Kelly told reporters, defining the crime as terrorism. "If this had detonated, it would have caused casualties, a significant fireball, and would have ripped the vehicle in half."
Transit agency officials and some building owners said they had already upgraded security in the aftermath of the Sept. 11, 2001, terrorist attack on the World Trade Center.
"NYC Transit has remained at the highest state of alert since 9/11, reminding employees to report any suspicious activity," said Paul Fleuranges, a spokesman for New York City Transit, which operates the subways and buses.
Heightened Awareness
He cited an April 30 incident in which track workers spotted someone in a tunnel near Bowling Green in lower Manhattan and turned the individual in to police as "an example of that heightened state of awareness."
In response to the bombing attempt, the Transportation Security Administration began conducting operations at East Coast airports to find explosives in vehicles, a Department of Homeland Security official said.
Authorities also were doing more random screenings as passengers went through security checkpoints and at departure gates, said the official, who requested anonymity.
"The past five weeks, there's been a noticeable increase in military and police," said Scott Froseth, 30, a business consultant who travels from Hartford, Connecticut, through Manhattan's Penn Station to Brooklyn every Monday. "Guys in fatigues with their hands on their guns. It's the same as usual today."
Midtown Surveillance
U.S. Senator Charles Schumer will seek federal funding of a midtown surveillance program that would use security cameras and license-plate readers to record and track "every vehicle moving between 34th and 59th Streets," the New York Democrat said in a press release.
New York City "should increase video surveillance," said cabdriver Nana Sarfo, 41, a Bronx resident and Ghana native. Interviewed along Eighth Avenue in midtown Manhattan, Sarfo said he hadn't seen police searching cars today.
"I haven't been stopped yet," Sarfo said. "I am so offended. Why would anyone want to do this."
Kelly said the person police are looking for, described as about 40 years old, was seen on a neighborhood surveillance camera as he hurried through Shubert Alley, a pedestrian walkway between 44th and 45th Street, steps from where the explosive-laden car was parked.
The person can be seen on the video removing his dark shirt and placing it in a bag, and while dressed in a red T-shirt, he walked from the scene "in a furtive manner," Kelly said.
Tourist Video
Police were also on their way to Pennsylvania, where a tourist reported that he may have unintentionally photographed the person while taking snapshots of Times Square, Kelly said.
Investigators have "no evidence" that a group of Pakistani Taliban sympathizers were responsible for the attempt, although a self-described group took credit for it, Kelly said. He noted authorities have ruled out the group's involvement in other attempted and successful attacks around the world after receiving similar messages in the past.
"Cops aren't going to make me feel any safer because we're not addressing the source of the problem: what motivates these people," said Pepe Palikis, 55, a cattle trader for Australian Agriculture Co. who travels from New York to Philadelphia via Penn Station three times a week. "Right now I'm more concerned with the U.S. dollar going down."
National Security
President Barack Obama, speaking in Louisiana where he had gone to inspect damage from the Gulf of Mexico oil spill, praised the city's police and fire departments, the FBI, and the street vendor who alerted police to the smoking car.
"My national security team has been taking every step necessary to ensure that our state and local partners have the full support and cooperation of the federal government," Obama said. "We're going to do what is necessary to protect the American people to determine who's behind this potentially deadly act and to see that justice is done."
U.S. Homeland Security Secretary Janet Napolitano, in an interview on NBC's "Today" show, said it's "premature to rule in or out" that the bombing attempt is linked to international terrorism.
Plans to host foreign ministers in New York at a United Nations conference on nuclear non-proliferation won't be disrupted, said U.S. State Department spokesman Philip Crowley. The gathering, which will draw participants from Europe, the Middle East and Asia, starts May 4.
Businesses Respond
Among businesses stepping up security was Bank of America Corp., whose 54-story tower is about two blocks from where the vehicle was parked.
"Our corporate security team has increased uniform presence at One Bryant Park," spokesman T.J. Crawford said in an e-mail.
The building "was built with 9/11 in mind," said its owner, Douglas Durst, co-president of The Durst Organization, in a phone interview.
Completed in 2008, the structure "has extra-wide staircases, it has pressurized stairs to keep smoke out, and it's surrounded by bollards," or protective traffic guards, he said.
Durst, whose properties also include the Conde Nast building at 4 Times Square, said his company had installed security cameras and refitted buildings with blast-resistant glass and traffic buffers to protect against car bombs.
Marriott Marquis
At the 1,949-room Marriott Marquis Hotel, where 800 to 1,000 people were evacuated to ballrooms for about seven hours, "everything returned to normal" after guests were permitted to return to their rooms at about 2 a.m., said Kathleen Duffy, a spokeswoman for the hotel chain's New York operations. The hotel is across the street from where the car was parked.
"Guests were all very cooperative," she said. "They understood why this was happening and we received no complaints."
Investigators have examined bags of a granular material found in a gun box in the car, which they believe might be fertilizer, Kelly said. Timothy McVeigh used about 5,000 pounds of ammonium nitrate fertilizer ingredient in the improvised explosive device in the 1995 truck bombing of a federal building in Oklahoma City.
The intended detonator of the Times Square bomb, Kelly said, was a 16-ounce can filled with consumer-grade fireworks. The car also held two five-gallon containers of gasoline and three propane tanks, wired with two clocks, the commissioner said.
'Crossroads of the World'
New York Mayor Michael Bloomberg, speaking to reporters last night in Times Square as a crowd of tourists watched, thanked the federal government for assistance from the FBI and Homeland Security. Relations between the city and federal authorities "have never been tighter," said the mayor, founder and majority owner of Bloomberg News parent Bloomberg LP.
"This is the crossroads of the world and people will continue to come here," Bloomberg said before escorting Wayne Rhatigan, the police officer who was first on the scene, and his wife to dinner a few blocks from where the incident occurred.