Hurricane Forecasters See Worst Looming in 2010 Atlantic Season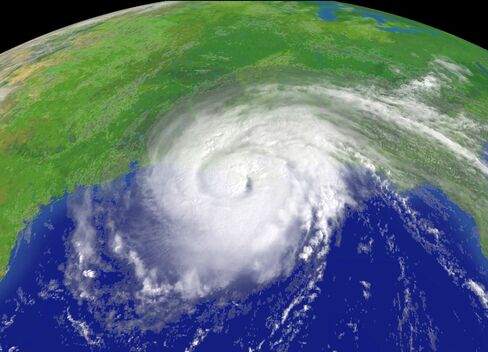 The 2010 Atlantic hurricane season may rival some of the worst in history as meteorological conditions mirror 2005, the record-breaking year that spawned New Orleans- wrecking Katrina, forecasters say.
The El Nino warming in the Pacific is fading and rain is keeping dust down in Africa, cutting off two phenomena that help retard Atlantic hurricane formation.
Perhaps most significantly, sea temperatures from the Cape Verde Islands to the Caribbean, where the storms usually develop, are above normal and reaching records in some areas.
"We have only seen that in three previous seasons, 2005, 1958 and 1969, and all three of those years had five major hurricanes," said Jeff Masters, co-founder of Weather Underground Inc. "I am definitely thinking that this is going to be a severe hurricane season."
With less than a month to go before the official June 1 start of the season, predictions are for 14 to 18 named storms. In an average year, there are 11 named storms with winds of at least 39 mph (62 kph), six of them reaching the 74-mph threshold for hurricanes and two growing into major storms with winds of 111 mph or more, the National Hurricane Center says.
Last year's nine named storms were the fewest since 1997. Three became hurricanes and none made landfall in the U.S. As the number of hurricanes rises, so do the chances of one striking the oil-rich Gulf of Mexico or Florida's agricultural areas.
Gulf Threat
The Gulf is home to about 27 percent of U.S. oil and 15 percent of U.S. natural gas production, the U.S. Department of Energy says. It also has seven of the 10 busiest U.S. ports, according to the Army Corps of Engineers. Florida is the second-largest producer of oranges after Brazil.
Energy disruptions could occur if 2010 produces a repeat of 2008, when hurricanes Gustav and Ike slammed into the Gulf Coast about a week apart, said Andy Lipow, president of Lipow Oil Associates, a Houston-based consulting company.
"The good news going into hurricane season is that we have significant amounts of inventories of gasoline and distillate fuels," he said.
In 1998, storms caused 15 million barrels of oil outages and 48 billion cubic feet of natural gas outages in the Gulf, according to AccuWeather Inc. records. In 2005, it was 110 million barrels and 683 bcf, and in 2008, 62 million barrels of oil and 408 bcf of gas were shut in.
Storms' Destruction
The usual misery and destruction from a Gulf hurricane hit may be magnified if the spill of crude from a burned-out rig near Louisiana hasn't been stopped before storms arrive with winds and waves that could push oil inland.
In 2005, Katrina struck Louisiana, Mississippi and part of Alabama, unleashing floods that devastated New Orleans, killing more than 1,800 people, displacing 250,000 and causing about $125 billion in damage, according to the hurricane center.
Joe Bastardi, chief hurricane forecaster at AccuWeather in State College, Pennsylvania, said he doesn't think the Atlantic can produce 28 storms this year, as it did in 2005, the most active year on record.
"I have 2005 in the mix" of years to compare to 2010, Bastardi said. "But if I had to choose, I would choose 1998 over 2005."
In 1998, 14 named storms formed, 11 of which turned into hurricanes, according to Weather Underground's website. There were 15 hurricanes in 2005.
AccuWeather's Call
AccuWeather currently calls for 16 to 18 storms to form. Bastardi predicts the current El Nino will change into a La Nina, cooling the Pacific in time to influence the hurricane season, which runs through Nov. 30.
While El Nino fades, hot spots in the Atlantic set a monthly record in March, breaking a mark set in 1969, and tied the high set in June 2005, Masters said. Hurricanes draw on warm water to form and gain strength.
Colorado State University researchers William Gray and Phil Klotzbach chose 1958, 1966, 1969, 1998 and 2005 as the years that shared the most similarities with 2010.
In 1958, 10 storms, including five major hurricanes, formed after an El Nino faded.
In 1969, Hurricane Camille crashed into the U.S. Gulf Coast with winds in excess of 200 miles per hour. The exact strength is unknown because the storm destroyed all the wind measurement devices. It killed 256 people and caused $1.4 billion in damage.
East at Risk
The U.S. coast from North Carolina to Maine has a raised risk of being hit by a hurricane this year, said Todd Crawford, chief meteorologist for Andover, Massachusetts-based WSI Inc.
The Northeast usually has about a 25 percent chance of a hurricane strike, Crawford said. This year, it has a 48 percent chance, close to the 50 percent chance the Gulf of Mexico and Florida have every year, he said.
"We're not too bullish on the Mid-Atlantic and Northeast," said Jim Rouiller, a senior energy meteorologist at Planalytics Inc. in Berwyn, Pennsylvania. "We're liking the track threatening Florida and the eastern Gulf, followed by the entire Gulf and the third emphasis would be on the Carolinas."
Rouiller said he believes a trough will develop along the U.S. East Coast from the mid-Atlantic states through New England, shielding the region. That may mean more risk for the Canadian Maritime provinces, which have some oil platforms and refineries.
The U.S. Climate Prediction Center will issue its forecast on May 20.
Get Ready
Each year, the Miami-based National Hurricane Center urges everyone living along the Atlantic and Gulf coasts to prepare for a storm strike, Dennis Feltgen, a spokesman, said in an e-mail.
"It's very important to note that a seasonal outlook cannot forecast where and when storms will form, let alone if or where they will make landfall and at what strength," Feltgen said. "It only takes one storm hitting your area to make it a bad year, regardless of the number of storms that are forecast in the seasonal outlook."
An example of how one storm can overshadow an entire season came in 1992. That year, only six named storms and one sub-tropical system formed, and only two of those made landfall, according to hurricane center records.
One of them was Hurricane Andrew, which devastated parts of Florida and Louisiana, killing 26 people and causing $26.5 billion in damage. Its top winds of 165 at landfall in Florida made it a Category 5 storm, the most powerful on the five-step Saffir-Simpson Scale.
It was only the third time such a powerful storm hit the U.S.